Relic identification: Gatekeepers of national treasures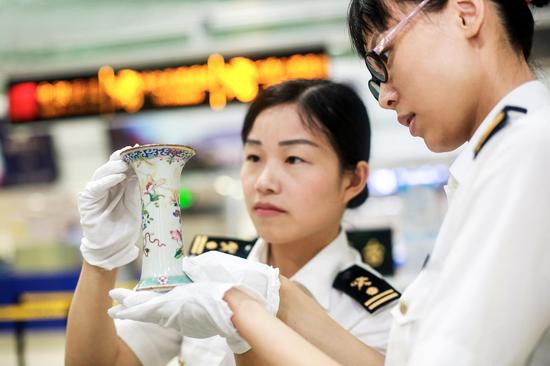 Staff examine relics at Jiuzhou Customs in Guangdong Province. Source: FILE
---
The annual internal exam for working in the relics entry and exit supervision field was held at Nanjing Museum recently. More than 70 relics identification staff from provincial relics supervision administrations across China took the exam. At present, the country is facing a major talent shortage in terms of relics entry and exit identification, according to the National Cultural Heritage Administration.

Only a total of 204 professionals have passed the exam since 1992, and 110 of them are working for the 21 organizations of relics entry and exit supervision. They are crucial to preventing the loss of cultural relics and safeguarding their security.

Relics entry and exit supervision is at the frontier of relics protection. It has a heavy workload—as many as 30,000 items each year. The field, however, is extremely shorthanded, said Deng Chao, deputy director of the Department of Museum and Social Relics at the National Cultural Heritage Administration.

Relics identification is a profession based on theory and practice, with greater emphasis on the latter. In the exam, personnel are assessed on the aspects, including law and regulation, of relics protection. They are also required to identify five categories of antiques both theoretically and practically, namely pottery and porcelain, calligraphy and painting, jade and stone ware, metalworks and miscellaneous.

Experts from Nanjing Museum selected 60 pieces of objects. The examinees must not only judge the authenticity of each piece, but also identify its age, texture and whether it can be transported to foreign countries. Only one in five pass this rigorous assessment in recent years.
Gong Liang, curator of Nanjing Museum, said that the staff responsible for relics entry and exit supervision are responsible for preventing national treasures from being stolen overseas. If they fail, the country will suffer irreversible losses. Therefore, the exam is centered on the ability to practice, instead of only selecting candidates who are good at answering academic questions.

China's relics entry and exit supervision can be dated back to the 1950s. Generations of professionals have been making continuous efforts at their work. Starting from 2012, staff in the field have prevented a loss of more than 5,000 valuable relics.
This article was edited and translated from People's Daily.
(edited by MA YUHONG)