Experts explore Northeast Asia development
ZHAO XUZHOU
|
2018-12-27
(Chinese Social Sciences Today)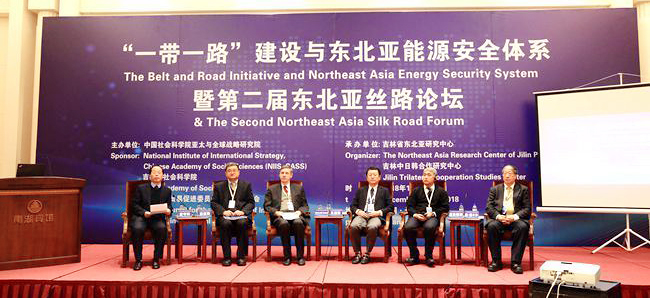 Scholars and experts conducted in-depth exchanges on the common development of Northeast Asia. Photo: PEOPLE.CN
---
CHANGCHUN—Dec. 8 to 9, the Belt and Road Initiative and Northeast Asia Energy Security System and the Second Northeast Asia Silk Road Forum were held in Changchun. More than 90 scholars and experts from China, Russia, Japan, South Korea and other countries conducted in-depth exchanges on the community of shared future, energy security system and regional economic integration in the Northeast Asian region under the framework of the Belt and Road (B&R) initiative.

Li Xiangyang, head of the National Institute of International Strategy at the Chinese Academy of Social Sciences, said that the B&R is an open and development-oriented cooperation mechanism. Scholars from countries in Northeast Asia need to discuss cooperation mechanisms that can meet the development requirements of this region. Li Xiangyang added that energy cooperation among Northeast Asian countries has great complementary advantages.

Shao Hanming, head of the Jilin Academy of Social Sciences, said that as one of the most dynamic and promising regions in the global economy, Northeast Asia is developing with more consensus, an expanded cooperation area and increased cooperation benefits. At present, it is necessary for Northeast Asia to strengthen its sense of common interest and responsibility and deepen the scope of its cooperation in a bid to promote economic growth and common prosperity in the region.

Bao Siqin, deputy director of the Inner Mongolia Academy of Social Sciences, said that to build a community with shared future in the context of the B&R in Northeast Asia, we must make joint efforts to enhance the integration of the development strategies of Northeast Asian countries, promote the interconnection of national infrastructures, and advance cooperation in such areas as energy, cross-border tourism, agriculture and animal husbandry.

Nasambat Tumur, principal research fellow at the Institute of International Relations of the Mongolian Academy of Sciences, said that we can integrate the Development Road proposed by Mongolia with the B&R proposed by China and the Eurasian Economic Union proposed by Russia. A Mongolia-China-Russia economic corridor will create new opportunities for cooperation.
(edited by SU XUAN)