Objective, accurate evaluation key to think tanks
HUANG YANAN
|
2018-11-01
(Chinese Social Sciences Today)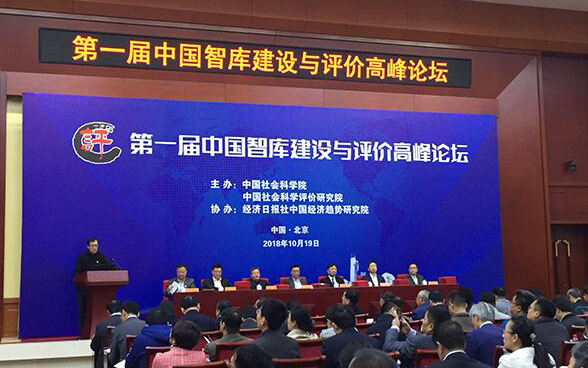 On Oct. 19, the first "China Think Tank Construction and Evaluation Forum" was held in Beijing. Photo:CSSN
---
On Oct. 19, the first "China Think Tank Construction and Evaluation Forum" was hosted in Beijing by the Chinese Academy of Social Sciences (CASS) in joint with the Institute for Evaluation of the Social Sciences under CASS. More than 100 Chinese think tank experts and scholars attended the forum.

Gao Peiyong, vice president of CASS, pointed out that the construction of think tanks requires both practical experience and theoretical research. This is a difficult and complicated project, and it requires a great amount of exploration. Making objective and accurate assessments of think tank construction based on systematic evaluation theories is a bold attempt to promote the construction of think tanks in China. The evaluation can reveal factors contributing to think tank development, explore general rules, and summarize successful experiences, thus accelerating the construction of a new style of think tanks with Chinese characteristics.

Gao emphasized that the evaluation of think tanks, especially that of the new style of think tanks with Chinese characteristics, is in the rudimentary stage, which requires a set of localized standards that suits China's national conditions. As the Chinese economy is transitioning from high-speed to high-quality growth, China's new-style think tanks should take the path of high efficiency and quality.

The Institute for Evaluation of the Social Sciences under CASS released the "2018 China Think Tank Achievements and Talent Evaluation Report" during the forum. Based on a comparative study of think tank construction and evaluation, the Institute has done a series of studies on global and Chinese think tanks.

This evaluation was based on the previous evaluation results of Chinese think tanks, and it conducted more in-depth research from the perspectives of policy suggestions, academic achievements and innovative talent in order to select the most representative think tanks that could set an example for building Chinese new-style think tanks.

In addition, this evaluation deeply analyzed specific aspects of think tank construction from multiple perspectives and studied the characteristics and laws of think tank construction at a more micro level. The aim was to give an objective and accurate evaluation of the present situation of Chinese think tanks, thereby advancing the construction of China's high-level think tanks and helping Chinese philosophy and social sciences rise on the world stage.

The report offered six suggestions for building a new style of think tanks with Chinese characteristics. First, a think tank should have a clear position and constantly improve its strategic design and necessary organizational planning. Its values and cultural standpoints should be continuously strengthened.

Second, a think tank should be professional and distinctive. This is a crucial component for the high-quality growth of policy advice and academic conclusions.

Third, it's important for a think tank to integrate basic theoretical research with applied research to give solutions. Fourth, we should make Chinese think tanks more influential in an all-around way. Fifth, think tanks should strengthen team building and reform their personnel system. Sixth, it's necessary to improve the management of think tanks, especially process management.
(edited by CHEN ALONG)