TV audiences tune in big for 5,000 years of culture
ZHANG GUOGUANG
|
2018-10-25
(Chinese Social Sciences Today)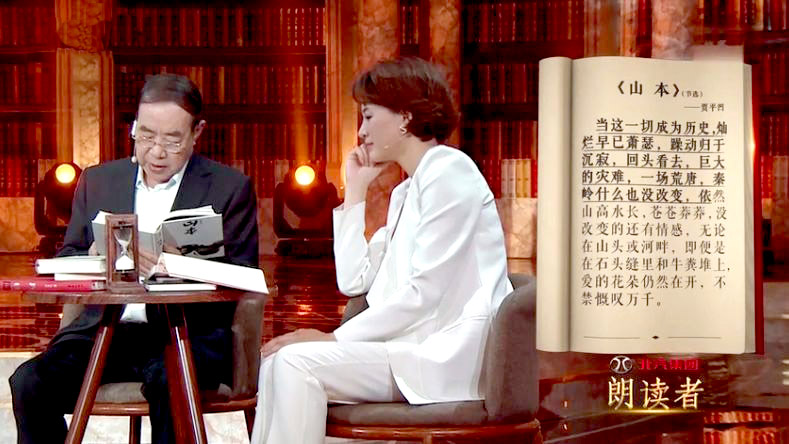 The contemporary Chinese writer Jia Pingwa (left) is reading from his latest novel The Origin of the Mountain in the popular CCTV cultural program The Reader. Photo: FILE
---
In recent years, Chinese cultural television programs have been blossoming. CCTV and other local TV stations have continued to broadcast great new programs, such as Chinese Poetry Conference, The Reader, National Treasure and Everlasting Classics. The programs show growing trends in quantity, quality, broadcast frequency, social attention and public praise. Some programs have become phenomenal works, arousing heated discussion and favorable comments.

Influenced and assisted by the cultural market and industry as a whole, the success of such programs also echoes with people's rising demand for intellectual and cultural life. Policy has also contributed by fostering the programs' rapid development. Since the 18th CPC National Congress, cultural confidence has become prominent and the national cultural fabric has substantially improved. The National Radio and Television Administration released its "Notice on Actively Producing Original Cultural Programs to Carry Forward and Inherit Refined Traditional Culture," requiring the blending of cultural elements with modern TV forms.

Audiences' appreciation and fondness for the programs has been their biggest support. Previously, many entertainment programs mechanically repeated each other. There were no new ideas and they were even vulgar. The audience gradually lost interest in programs that were purely in pursuit of entertainment and sensory appeal. At this time, some cultural programs with rich cultural connotations and good taste entered as a breath of fresh air to the market. Many parents watched with their children, and the shows became a popular topic of discussion.
After a certain type of program is lauded by the public, expectations on the program only grow. For the higher quality and sustained vitality of cultural programs, the following points should be considered.

First, the programs should be both enlightening and entertaining. Many successful shows are both delightful to watch and interesting and flavorful. Though cultural elements are indispensable, they should not be displayed in a rigid, rough way, nor be pretentious or condescending. Both culturally beneficial and delightful to watch—these qualities in parallel are what make a good cultural program. Good programs are not limited to certain genres. Sports, entertainment and news can all make good programs. So can culture. The subject matter and narration mode should strive for diversity, and grand views and small perspectives should be combined. In addition, subject matter must keep pace with the times, which requires the majority of TV workers to seek inspiration from real life.

Second, more cultural resources need to be tapped. The over 5,000 years of splendid Chinese historical culture is profound enough to provide a wellspring for any number of cultural programs. Currently, most programs focus on classical poetry, proverbs and idioms, showing a trend of homogenization. For future development, TV stations should account for local cultural distinctions and explore more cultural resources that reflect unique natural scenery, urban civilization, folk customs, etc. to highlight the charm of regional culture. Meanwhile, tangible and intangible culture and elite and popular culture should be combined to reveal yet more cultural resources.

Today, the Chinese TV industry is at its critical juncture. In an era when the internet and other new media technologies are advancing by leaps and bounds, how the traditional TV industry forges its core competiveness is not just a matter of market returns but an issue that concerns the survival and further development of the industry. As more people take interest in them, cultural programs might become a new way for China's TV industry to break its status quo. Over a long time, the traditional TV agencies have accumulated considerable manpower and material resources, and they possess unique advantages in sound, lighting, setting, costume and makeup design. This gives the agencies mature skills for producing cultural programs. Moreover, cooperation with new media is necessary. For example, there can be warm ups to the programs on new media before the broadcast and behind-the-scenes highlights and interviews after. In this way, the programs can gain more dimensions and enhance their competitiveness.
Zhang Guoguang is from the School of Journalism and Communication at Hunan Normal University.
(edited by BAI LE)