Roadmap proposed for transition to service, knowledge-based economy
HUANG YANAN
|
2018-09-28
(Chinese Social Sciences Today)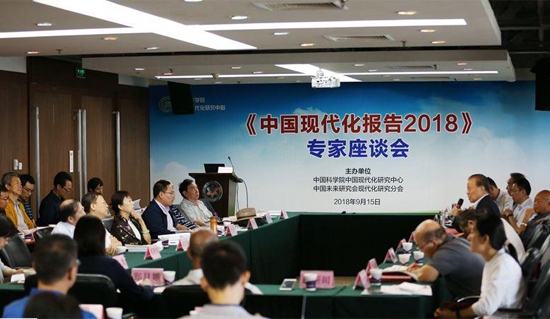 On Sept. 15, China Modernization Report 2018: Industrial Structure Modernization Research was released by the China Center for Modernization Research at the Chinese Academy of Sciences in Beijing. The book proposes a three-step roadmap for China's industrial structure modernization—the Chinese economy will complete the two transitions to a service economy and a knowledge economy in the next 35 years. Photo: FILE
---
The roadmap for China's industrial transition is proposed in a report, which suggests a three-step development strategy to realize a modernized economy.

On Sept. 15, an expert seminar for the newly released China Modernization Report 2018: Industrial Structure Modernization Research was held in Beijing. It was hosted by the China Center for Modernization Research at the Chinese Academy of Sciences in joint with the Modernization Research Association at the China Society for Future Studies. Over 40 experts from top institutions attended the seminar.

The report said that the modern economic system includes the modern industrial system, which itself includes modern industries and industrial structure. Planning a roadmap for industrial structure modernization along with building the modern industrial structure and system is important for establishing a modern economic system.

Starting from the 18th century, the world economic history can be divided into three stages: the agricultural economy, the industrial economy and the knowledge economy. As of 2015, nine developed countries in the world have entered the knowledge economy stage.

Generally speaking, the industries of the industrial economy stage can be classified into three types: agriculture, industry and services. For the knowledge economy, there are also three categories: material, services and knowledge. Material includes agriculture and industry. The services industry refers to labor-intensive services. The knowledge industry means knowledge-intensive services.

He Chuanqi, director of the China Center for Modernization Research at the Chinese Academy of Sciences, said that China's industrial structure modernization needs to conform to general laws and trends, and it should also consider the national conditions. It's important to focus on the future of industrial structure changes and accelerate the transition to service and knowledge economies.

Based on this thinking, the report raises a three-step roadmap for the modernization of China's industrial structure in the 21st century. The first step is to complete the transition to a services economy around 2035. The second is to finish the transition to a knowledge economy around 2050. The third is to realize the modernization of the industrial structure, reach a world-class level and build the country into a modernized strong economy around 2078.

He Chuanqi suggests that the policies for China's industrial structure modernization can be adopted in two dimensions—vertical and horizontal. Also, both internal and external factors should be comprehensively evaluated when selecting goals, paths, models and priorities, keeping pace with the times.

Based on the roadmap above and additional quantitative analysis, the report proposes ideas and suggestions for China's industrial restructuring in the next 35 years. Among the three industrial sectors, it's suggested that the services sector should be developed across the board, the industrial sector restructuring be accelerated, and the agriculture sector be developed in a selective way. The aim is to improve the coordination of the industrial structure and to complete the transition to a services economy as soon as possible. Furthermore, knowledge industries should be prioritized to facilitate the transition to a knowledge economy.
(edited by SHAO YIJIA)