China's robotics market to reach record scale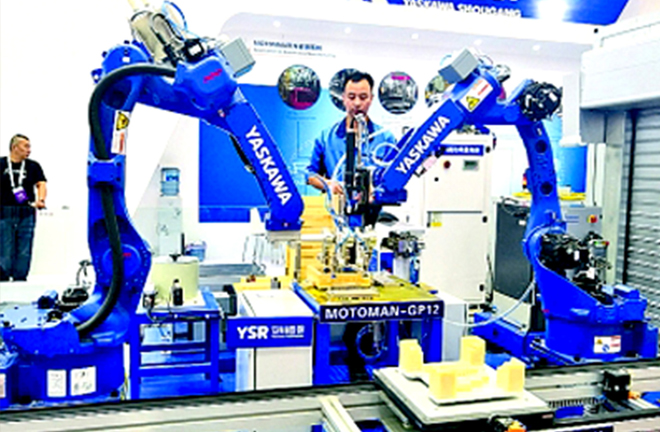 Staff operate an industrial robotics demo at the World Robotics Conference in Beijing. Photo: XINHUA
---
The domestic robotics market will hit $8.7 billion this year, and the sector is about to witness an average yearly growth of nearly 30 percent since 2013, according to the China Robotics Industry Report 2018. In terms of market share, industrial robotics earned $6.2 billion while robotics for service and special use obtained $1.8 billion and $670 million respectively.

The China Institute of Electronics released this report at the recent 2018 World Robotics Congress in Beijing. The report dissected the trends and features of the Chinese robotics market. It also presented the status quo of six major manufacturing regions within the country in terms of economics of scale, innovation capability, overall structure and development environment. These leading manufacturers are grouped in the Yangtze River Delta, the Pearl River Delta, the Beijing-Tianjin-Hebei region, Northeast China and parts of central and western China.

China accounts for about one third of the global industrial robotics market, making it the largest applier of robotics in the world. Compared with in 2016, the field maintained rapid growth in 2017 as its sales volume rose by 30 percent. Of all categories, the growth rate for robotics used for loading and lifting goods was the highest at 65 percent.

Service robotics has huge potential for market expansion and sector development in China due to rapid population aging and sustainable healthcare demands, the report says. The market scale of service robotics is expected to reach $1.8 billion in 2018 with a growth rate at about 44 percent, outpacing the global market. The market value will exceed $4 billion by 2020 because robotics technology will extend to diverse use-cases, such as parking lots and supermarkets.

Special use robotics has achieved fast progress because it can replace humans in many complex circumstances, such as firefighting, disaster relief, security and other work, according to the report. Currently, special use robotics utilizes a certain degree of autonomous intelligence, so robots can complete such tasks as positioning, navigation, tracking and obstacle avoidance with the help of machine vision, pressure sensors and ever-optimizing algorithms.

The report predicts that the domestic market for special use robotics will reach $670 million in 2018 with a growth rate of 23.2 percent, higher than the global level. The market scale is estimated to hit $1.1 billion in 2020. More specifically, robotics for military application, radical operation and emergency rescue will take the lead.

Ding Han is an academician of the Chinese Academy of Sciences and president of the School of Mechanical Science and Engineering at Huazhong University of Science and Technology. He said that the report is the progressive achievement of a research project funded by the Ministry of Industry and Information Technology. It has the goal of setting unified national standards for the robotics industry and establishing a database of sector information. The Chinese robotics sector has shown great momentum with expanding market scale and development potential. Its sector chain is also performing well. However, the field lags behind that in developed countries, facing problems in core technology research and development, division of labor and talent training, Ding said.

The current development of China's robotics industry is robust. Its diverse applications set a context of market segmentation, giving birth to a number of major manufacturers who have made breakthroughs in key components such as reducers, servo controls and servo motors. However, the sector faces problems. For example, many companies engage in price competition for system integration. Innovative manufacturers have to address the challenges brought by capital supply and performance ratio. Meanwhile, the field has emphasized research over application. Relevant departments must handle these issues properly.
This article was translated from Guangming Daily.
​(edited by MA YUHONG)