Migrant workers and future of China's urban, rural areas
DONG HAIJUN, ZENG DONGXIA
|
2018-08-02
(Chinese Social Sciences Today)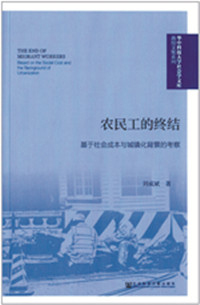 The End of Migrant Workers: Based on the Social Cost and the Background of Urbanization
Author: Liu Chengbin
Publisher: Social Sciences Academic Press
---
Professor Liu Chengbin is from the School of Sociology at the Huazhong University of Science and Technology. His recent book, The End of Migrant Workers, tries to investigate the relationship between migrant workers and the future development of urban-rural China against the background of urbanization from the perspective of the social cost of the movement of migrant workers.

Liu spent four years interviewing migrant workers, college students, villagers, local administrators and prisoners in seven provinces by means of questionnaires and interviews. He reached the conclusion that urbanization and the backflow of migrant workers from urban to rural areas are the two possible directions for the end of the phenomenon of migrant workers in China.

Liu proposes the new concept "excessive migrant working" to describe the situation in which migrants working in China exceed their appropriate role in the rural economy and social development. Excessive numbers of migrant workers in cities bring an increasing negative influence on rural areas and the entire society, including problems of left-behind children and rising crime rates among the migrant population. Liu disapproves of the excessive rural labor force rushing to work in urban areas. He suggests that migrant workers should flow back to the rural areas, and discusses the consequence of this on these individuals, their families, their communities and new rural construction and public infrastructure.

Under the segmented urban-rural socio-economic structure, rural areas, in contrast to the vigorous urban areas, do seem to face decline and withering. Liu suggests that urbanization is just one possible direction for development of rural areas, not necessarily the only one. The backflow of migrant workers, which could help revitalize rural areas, could be another direction. Urbanization may eliminate some villages, but it can never bring all villages, nor the production mode of small farms, to an end, he suggests.

Liu elaborates on the social operation mechanism for avoiding the risk of the movement of migrant workers from the perspectives of rural revitalization and advancing urbanization. He suggests both methods should be valued. Liu suggests that the dual urban-rural structure should be changed, and reforms to the systems of hukou, employment, medical care, social security and rural lands should be speeded up, thereby removing the institutional barriers that result in the imbalance between urban and rural areas of China. Thus, the ebb and flow of migrant workers can be ended.

Such an end would mean the abolishment of unequal social institutions, distribution systems and the urban-rural dual structure. In this sense, the end of migrant workers in China would no doubt represent historical progress.