Consumption of information products, services to be boosted in China
ZHAO LU
|
2018-05-31
(Chinese Social Sciences Today)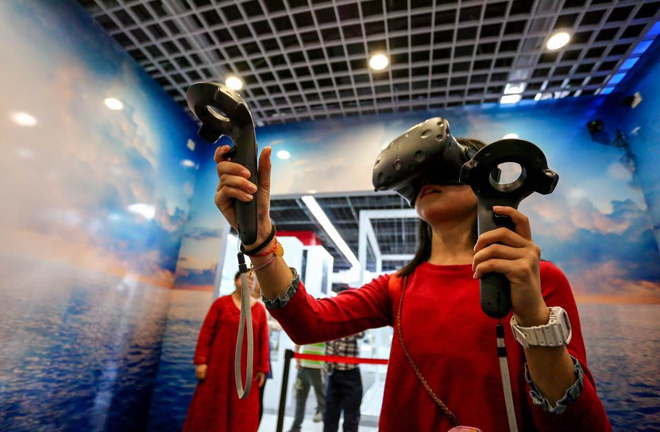 Technology facilitates information consumption. The picture shows a customer experiencing virtual reality.
---
Recently, China's Ministry of Industry and Information Technology and the State-owned Assets Supervision and Administration Commission of the State Council issued practical advice on ways to improve internet speeds and cut fees. The measures are intended to promote the development of the digital economy, expand and upgrade information consumption, and create new sources of momentum for economic growth.

Information consumption is an economic activity that directly or indirectly involves information products and services. Chen Leyi, a professor from the School of Economics and Trade at Hunan University, said that information consumption has exerted a far-reaching influence on China's economic and social development, and its most direct impact has been stimulating domestic demand and promoting the upgrading of industrial structure.

With rapid economic growth, the updating of information technology and the correct guidance of policies, China's information consumption has been developing rapidly and its level has been continuously improved. At the same time, due to its late start and low starting point in China, it also faces such problems as the need for improving capabilities of infrastructure support, and strengthening technological and institutional innovation capabilities.

Information consumption is not competitive, and one person's enjoyment of information does not prevent others from enjoying the same amount of information. In this sense, the sharing of information should be encouraged, said Yuan Zheng, a professor from the School of Economics at Southwestern University of Finance and Economics. However, the issue of copyright infringement still exists. If the intellectual property rights of information producers are not protected, it will not be conducive to encouraging their production activities.

Chen added that there are many hidden dangers in the process of information consumption. For example, recent years have seen frequent incidents in which personal information has been leaked on the internet as well as online fraud, payment fraud and the theft of personal accounts, exerting adverse social impacts and affecting consumers' enthusiasm.

In addition, current communication tariffs are still high, and there is much room to increase speeds and reduce fees.

In terms of the supply side reform in the information market, Yuan said that it is necessary to strengthen the supply of effective information and reduce invalid information. The market should be encouraged to increase the supply of information, such as credit assessments, integrity evaluations, etc.

Chen suggested reducing communication tariffs and optimizing the environment for information consumption. It is necessary to introduce measures to strengthen the protection of personal information and improve the system of the network security standards.

It is also necessary to crack down severely on online fraud. In addition, the level of the information industry needs to be elevated. Compared with developed countries, China's information industry still lags behind, which has restricted domestic information consumption to a certain extent. Therefore, it is critical to increase technological innovation and upgrade the level of the information industry to provide residents with high-quality, high-tech products and services, Chen said.
(edited by JIANG HONG)