'Internet Plus Higher Education:' Opportunities and challenges
LI FANGYING, SUI YIFAN
|
2018-04-08
(Chinese Social Sciences Today)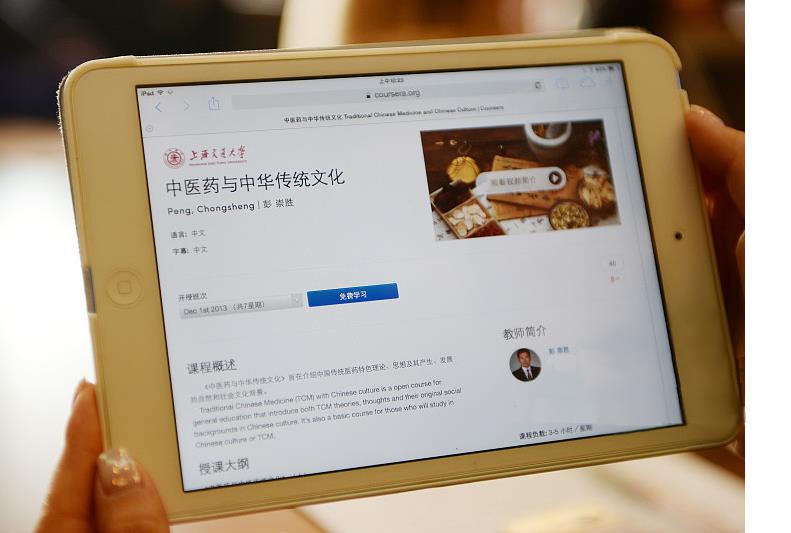 The picture shows an online course named Traditional Chinese Medicine and Chinese Culture offered by Shanghai Jiao Tong University, which has joined the growing number of higher and specialist education institutions to offer MOOCs on coursera.org. The English edition of the course is also available on the website now.
---
The internet, particularly the "Internet Plus" model, has revolutionized life and production. No country or industry is immune to the dramatic social change. Higher education is no exception.

While attempting to maximize the potential of intellectual resources and building adaptable, learning-based organizational systems, higher education should follow the trend of proactively building an innovative "Internet Plus Higher Education" model.

As the new generation of information technology marked by mobile internet, cloud computing and big data exerts increasingly profound influences on resource allocation, economic development, production and living, as well as information transmission and utilization, the internet has become far more than a technological tool in advancing social progress.

Therefore, in the innovative "Internet Plus Higher Education" model, the internet should not merely serve as a technological means for knowledge dissemination to be integrated with higher education. Instead, it should thoroughly penetrate the field in forms of concepts, content, means and effects.

Talent cultivation and knowledge innovation should be the core mission of modern higher education. A discussion of the opportunities and challenges facing the sector in the "Internet Plus" era from the two perspectives has far-reaching practical implications.

Opportunities
The "Internet Plus Higher Education" model can promote the transformation of higher education from elite to public–even universal–education, thereby fostering democracy and equality in higher education.

As a technological means of communication, the model has fundamentally changed the space-time notion of traditional higher education, providing those eager to learn access to universities regardless of geographical, financial and age constraints and offering each member of society equal opportunities to receive higher education.

Moreover, "Internet Plus Higher Education" creates the conditions for learners to enjoy first-class higher education, contributing to the improvement of talent quality. The model of Massive Open Online Courses (MOOCs), for example, breaks the time and space limitations in talent cultivation that affect traditional higher education, making educational equality possible.

With its technological edge in knowledge communication, the model, to a great extent, removes walls encircling universities worldwide, supplying rich educational resources for talent cultivation.
More importantly, students from all over the world can, through the model, share courses opened by outstanding scholars, including great masters at world-famous universities, to broaden their academic vision while learning from and communicating with renowned professors without leaving home.

In addition, the "Internet Plus Higher Education" model can accelerate the internationalization of higher education, facilitating the construction of high-level, world-class universities. Higher education is in essence a system representing top-level knowledge through communication and innovation, so universities that embody higher education are academic organizations engaging in most intensive competition. Opening up and internationalization are necessary ways to enhance their competitiveness.

As an open form of education in itself, "Internet Plus Higher Education" has substantially promoted the transnational sharing of intellectual resources and knowledge innovation achievements through highly efficient information transmission and real-time exchange, making contributions to boosting higher education efficiency of human society.

By fully utilizing intellectual resources on the internet and quick, effective transmission, the innovative "Internet Plus Higher Education" model has played a significant role in encouraging effective integration of global high-quality educational resources, thereby increasing equal education opportunities while advancing the democratization, popularization and internationalization of university education and enhancing the efficiency of excellent talent cultivation and knowledge innovation. Presenting opportunities for the reform of higher education, it is deemed by the international higher education community as a potent lever to revolutionize the traditional university education model.

Challenges
In the "Internet Plus" age, challenges facing higher education can be analyzed at two levels: the government agencies overseeing the sector and universities that carry out higher education.

In terms of the government, it is important to reflect on governance problems in the field to make top-level, comprehensive reform design and institutional arrangements conducive to the construction of a higher education power from such aspects as legislation improvement, investment and policy guidance, and governance structure adjustment.

In the global wave of "Internet Plus Higher Education," China faces grimmer challenges in building high-level, particularly world-class universities. At the helm of the higher education realm, the government should allow universities space to exercise the autonomy of school operation and student education and free them from excessive institutional shackles. Only in this way can universities unleash their vitality and improve efficiency to better serve national development in the cultivation of eminent talent and knowledge innovation.

Since higher education is by nature a system of knowledge innovation, dissemination and application consisting of numerous universities, it is more necessary to zoom in on the institutions of higher learning when discussing challenges facing higher education in the "Internet Plus" era.

Generally, universities in the era should, based on liberty and openness, conduct an all-dimensional reform of organizational objectives, institutional framework, talent cultivation and cultural construction. In terms of talent cultivation, there are looming challenges ahead.

First, the shallow understanding of "Internet Plus" has made substantive breakthroughs in university education difficult to achieve. Many universities regard "Internet Plus" simply as an instrument for efficiently sharing educational resources, so its deeper role in university governance, resource integration and development, and improving the quality of cultivated talent has not yet been realized.

Furthermore, pragmatic value guidance has led universities to neglect their educational mission. Many universities emphasize merely the convenience the "Internet Plus" model provides for students to obtain richer, more modern learning resources. Such a value proposition equates talent cultivation to professional knowledge and skills training, derailing universities from the track of nurturing students' personality as well as their ideals, faith and social responsibility.

Also the disconnect between online and offline has resulted in the undervaluation of teachers' roles. Though the "Internet Plus Higher Education" model proposes changing the role of teachers from protagonists to guides in classroom teaching and enabling students to grasp the initiative of learning, it does not mean that offline education and teachers are insignificant.

Online education is by no means a replacement for offline teaching. They should complement each other. It is highly challenging for teachers to act as learning guides in the new model featuring a high degree of fusion between online and offline education and changing teacher-student relations.

Talent at core of reform
"Internet Plus" has laid a conceptual groundwork for speeding up the modernization of higher education and created technological possibilities. Modernizing the sector should pursue the highest level and leading edge of international higher education with the goals of popularizing and internationalizing it, improving its quality, building a structure for good governance, making it information based, and creating a learning society.

Reform is a critical tool to this end. Reforms aimed at modernizing higher education should solve two problems at the outset.

The first problem is whether we can take modernizing higher education to the "Internet Plus" era as the only way to boost the development of the sector and narrow the gap with the world class. This depends on how resolute and bold we are in reforming outdated ideas and conventions, and getting rid of factors unfavorable to the development of higher education and the mission of universities to follow its own rules in school operation and education.

Second, higher education reform is a systematic undertaking that entails full recognition of its complexity. While establishing the innovative "Internet Plus Higher Education" model and modernizing higher education, we should properly view the epochal connotations of the model and the significance of the reform, and examine its deficiencies to find effective solutions. Careful, comprehensive and systematic top-level design is crucial to reducing uncertainties in the process of higher education modernization and avoiding fragmented reform.

All in all, higher education reform in the "Internet Plus" era should be grounded in an understanding of the nature of higher education and the core mission of talent cultivation, never regarding "Internet Plus" simply as a technological instrument for efficient information transmission and processing.
Li Fangying and Sui Yifan are from the Institute of Education Science at Zhejiang Normal University.
(edited by CHEN MIRONG)