Chinese classics served as vehicle for historical cultural exchange
ZHANG QINGLI
|
2018-02-08
(Chinese Social Sciences Today)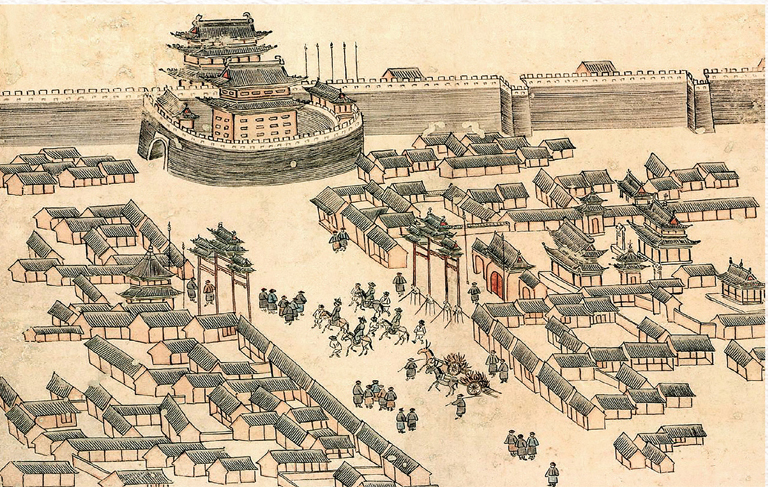 An illustration in the Yeonhaegrok depicts the Korean envoys' journey to Yenching, the capital of China in the Qing Dynasty.
---
Classical Chinese literary works are crucial carriers of traditional culture. Yet they remain scattered around the world. In the late 20th century, academics began to realize the value of these classics, and more scholars became engaged in the collection and research on these classics. These scholars often went overseas to explore the "Classics Route" that is linked with the origins and development of ancient culture exchanges between China and other cultures.

In a broad sense, Chinese classics refer to historical literature recorded in Chinese languages on various forms of media, such as books, bamboo slips, metal and stones. In a narrow sense, the term "Chinese classics" refers to books written in Chinese. Sun Xiao, a research fellow from the Institute of History at the Chinese Academy of Social Sciences, said many Chinese classics are scattered in countries around the world, such as Japan, South Korea, North Korea, Vietnam, India, Turkey and other neighboring countries, as well as countries in Europe, America and Australia. A considerable number of these classics are rare editions, or the only existing copy.

According to a survey conducted by the teams led by Zheng Wenjie, dean of the International Sinology Research Center of Shandong University, there are about 300,000 Chinese classics around the world, of which about 20,000 are in Japan and Korea, 30,000 are in North America, and 50,000 in Europe.

Since the late 20th century, with improved academic support, more scholars have become engaged in this collection work. Sun said recently scholars have been compiling Overseas Chinese Classics Rare Edition Library. The goal of the project is to find rare books overseas, particularly those that do not have a copy in China, and to publish them as soon as possible.

However, it is hard to find the original editions of these Chinese classics in a short term. Academics have put forward the idea of "regenerative retrieval," which refers to the process of bringing these works back to China by scanning and copying them. Based on this idea, Shandong University proposed a project entitled "bringing together all Chinese classics around the world." Since the commencement of the project, the International Sinology Research Center of Shandong University has signed cooperation agreements with many significant overseas Chinese collection agencies in order to carry out further investigation, collection and research.

As the dean of the compilation committee of the Overseas Chinese Classics Rare Edition Library, Liu Binjie wrote in the introduction that there are two pathways in the history of China-foreign cultural exchanges: one is the Silk Road and the other one is the route of the Chinese classics.

In the 1980s, Chen Qinghao, a research fellow from the Centre National de la Recherche Scientifique, proposed the idea of "integrated study of Chinese culture," which refers to coordinating the collection and research of Chinese classics within Chinese cultural circles, regardless of national borders. In this light, many scholars have advocated that Chinese classics include the historical literature written, copied, and inscribed by Chinese people and spread overseas for various reasons, in addition to Chinese literary works copied and annotated by foreigners, as well as literature composed by foreigners in Chinese.

Sun argued that this idea goes beyond nations and regions, and grouping Chinese literature together based on culture. In addition, the comparison between overseas Chinese literature and materials handed down from ancient times can provide rich resources for Chinese historical studies.

Ge Zhaoguang, a professor from Fudan University, suggested studying these works in China with the help of foreign insight. Sun elaborated that there is little description of the appearance of Chinese emperors, which can be found in Yeonhaegrok, a book written by Korean envoys during the Ming and Qing dynasties.

Liu Mingxin, a professor from the International Sinology Research Center at Shandong University, said that the collection, selection, research focus and translation of Chinese classics by French Sinologists show that the French Sinology study occurred in various distinct periods. The Sinologists in early 17th and 18th centuries attempted to learn Chinese philosophy, literature, art and language by studying and translating the Books of Changes and the Book of Poetry to better aid missionary work. In the 19th century, more professionals emerged in French Sinology who did not limit their purpose to aiding missionary work and had broader research scopes. These professional Sinologists were engaged in researching multiple aspects of Chinese classical literature. After the 20th century, sinology studies in France were deepened and preserved more Chinese literature.
(edited by SUI JINGJING)