Architecture: Epics in stone
XUE ZHONGWEN
|
2018-01-04
(Chinese Social Sciences Today)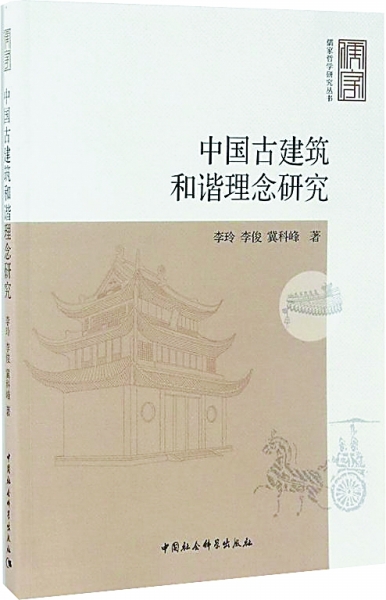 Research on Harmony of Ancient Chinese Architecture
Author: Li Ling, Lijun and Ji Kefeng
Publisher: China Social Sciences Press
---
Development of architecture has paralleled development in civilization and culture. From the first holes dug for shelter, to the stone and wood based structures and more solid, comfortable and visually appealing modern architecture built with various materials, humans have never stopped exploring ways to make the buildings better adapted to human needs. However, modern architecture also brings crises that depart from the development of human civilization, requiring a theoretical reflection on these issues.

By examining the development of traditional Chinese architecture, Research on Harmony of Ancient Chinese Architecture explores the development and changes to human architectural forms and the evolution of human cultural ideas, political forms and living habits. In particular, the authors focus on the traditional Chinese cultural core embedded in the evolution of various architectural forms, that is, the concept of "heaven-human induction."

The book summarized the concept of "harmony" embodied in ancient Chinese architectural culture in three aspects: the consciousness of an ecological balance that integrates man and nature; the collectivism that promotes harmony and union among individuals and the spirit of "pragmatic reasoning" that integrates body and mind. These three characteristics demonstrate the pragmatic values embodied in the concept of harmony within ancient Chinese buildings: the coordination and balance between green architecture, market efficiency and ecological environment; the inheritance and innovation of traditional architecture; the reference and integration of national architecture and global civilization.

The authors detailed the evolution of ancient architectural forms and its inherent cultural meanings. First, it charts the development of ancient Chinese architecture, and explores the inherent relationship between the Taoist idea of harmony man-nature and ancient Chinese architecture.

Then it illustrates how the concept of "harmony" between people within Confucian rituals also revealed in different forms of architecture. Third, the book examines how architectural activities were influenced by the introduction of Buddhist culture into China by looking at the different forms of religious buildings such as Buddhist temples, pagodas and grottoes. Then it concludes that religious buildings are where people could find a balance between the spirit and the flesh, ideals and reality.

Finally, by comparing the ideas of "harmony between man and nature" in traditional Chinese architecture and "the unity of gods and people" in traditional Western architecture, the authors attempt to explore the humanistic and ecological characteristics as well as the spirit of pragmatic reasoning of the ideal of harmony in ancient Chinese architecture. From the perspective of "harmony," the book extracts philosophical concepts from architectural history, by analyzing how harmony between humans and nature, among individuals and within oneself are achieved, offering enlightenment for the better development of modern architecture.