Literary leagues or writers' communities
YANG HONGCHENG
|
2017-12-07
(Chinese Social Sciences Today)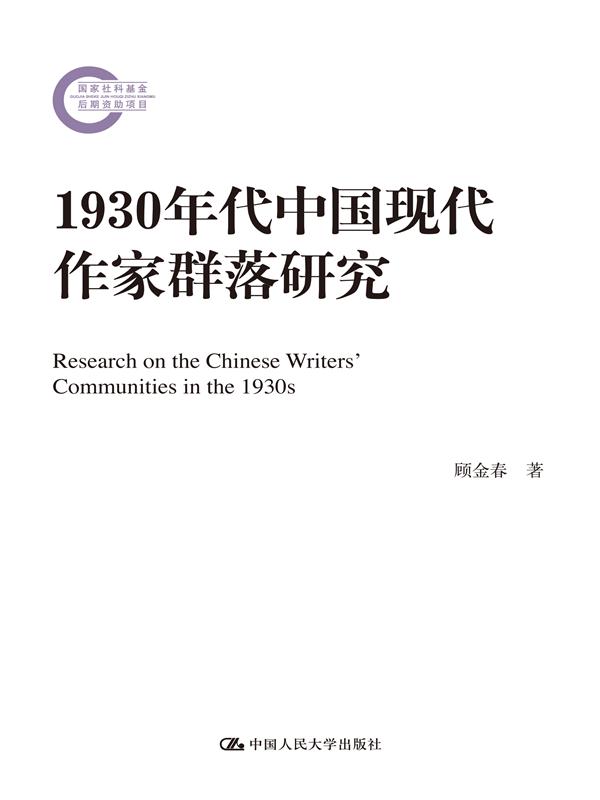 Research on Chinese Writers' Communities in the 1930s
Author: Gu Jinchun
Publisher: Renmin
University of China Press
---
In light of the difficulties facing research on the schools of modern Chinese literary genres, Gu Jinchun put forward the concept of "modern writers' communities" in his monograph Research on Chinese Writers' Communities in the 1930s, and applied the research methods of writers' communities to analyze the generational context, literary form, cultural mentality and method of literary publishing of contemporary modern Chinese writers' communities.

The study of the genre of modern writers' leagues is among the most dynamic phenomena in the history of literature. In the first half of the 20th century, there was a rich variety of schools of modern Chinese literary leagues, such as the Literature Research Society, the Creation Society, the Crescent Society, the Yusi Society, the Lake Poetry Society, the Crescent School, the New Sensation Novel School, the Beijing School, the Chinese Left-wing Writers Alliances, the July School of the Chinese Literature and Art Association and the Nine Leaves School, to name a few. They supported the magnificent foundations of the history of Chinese modern literature.

To this end, the concern of this whole school of thought and individual writers has always been the mountain of literary history they tried to climb. In the introduction, Gu reexamined the traditional literary history concept of "schools of literary leagues" and introduced the concept of a "literary community" to examine the connections between different writers' groups in the 1930s.

The book put forward the concept of a "writers' community" and used it to differentiate the rich and complex cultural phenomena that are interwoven with the humanities (emotions, interests, hobbies, aesthetics and criticisms) and natural sociality (geography, education, occupations and media). This helps to reveal the rich composition of the literary field in a more realistic and stereoscopic manner.

Gu tried to overcome the disadvantages of the single orientation of the existing studies in the field of "community" theory. He believes that "the greatest value of the writers' community lies firstly in its rich intellectual and cultural pedigree, which infuses geographical features, educational background, political economy, and publishing and media, mapping out complex human relations and a cultural mentality. Therefore, the adoption of the concept of a writers' community can help remove the restrictions imposed by the framework of traditional literary societies, and objectively reveal the literary community in the complicated cultural ecology.

The most prominent feature of the book is that it focuses on ideological discourse, tastes and hobbies, and the creative orientations and literary styles of core writers of literary communities. In addition, Gu emphasized the analysis of specific cases of communities. For example, he analyzed the consciousness and cohesion of a writers' community by penetrating the characteristics and differences of the core leaders of "intellectual authority" and "spiritual leaders" in each group of writers, or by examining the editorial philosophy, team building, and the manners to deal with manuscripts.