Further integration of Guangdong, HK, Macao planned
LI YONGJIE
|
2017-12-07
(Chinese Social Sciences Today)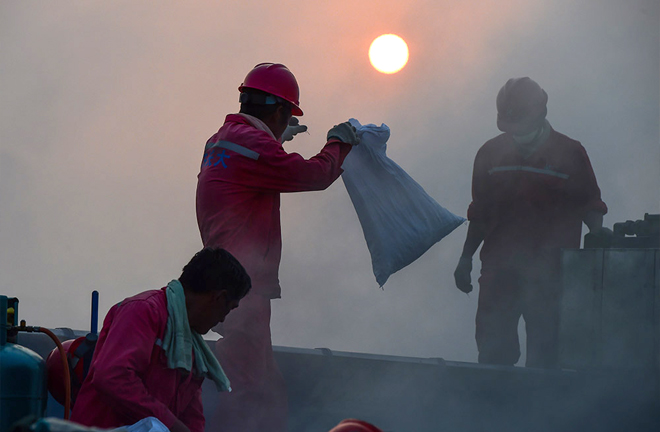 Workers pave the bridge deck with asphalt. As the longest cross-sea bridge in the world, the Hong Kong-Zhuhai-Macao Bridge will be completed by the end of this year. It will play a vital role in the construction of the Guangdong-Hong Kong-Macao Greater Bay Area. (PHOTO: XINHUA)
---
On Nov. 22, the sixth China South Think Tank Forum, with the theme "Construction of the Guangdong-Hong Kong-Macao Greater Bay Area and Building a New, Open Economic System" was held in Guangzhou. More than 180 scholars were in attendance.

Zhang Jiang, vice president of the Chinese Academy of Social Sciences, pointed out in his speech titled "Economic and Social Integration: Prospects and Paths for the Construction of the Guangdong-Hong Kong-Macau Greater Bay Area" that the Bay Area already has the basis for becoming a world-class bay area and urban agglomeration. The Bay Area is poised to become a powerful force in the development of China's regional economy. It is also a major practical experiment carried out on the basis of the "one country, two systems" policy and a sign of national rejuvenation as socialism with Chinese characteristics enters a new era.

Zhang also said economic and social integration are two important paths and essential goals for building the Bay Area. Guangdong, Hong Kong and Macao must break through the narrow perception of competition that focuses solely on the interests of their administrative divisions via multi-level division of labor and cooperation within and between industries. Starting with the concepts of agglomeration and spillover, the three parties should transform competition into coalition, and promote the development of a large-scale regional economic integration, to maximize benefits.

In addition, he emphasized that close economic cooperation also depends on the integration of society. A higher degree of social integration will facilitate economic cooperation. Social integration is multi-dimensional, including life, cultural and psychological integration. It is not only institutional but also subjective.

The Bay Area economy is a kind of regional economy based on harbors and geographical conditions. It has an open economic structure, efficient allocation of resources, strong agglomeration spillover capability and developed international exchange network.

As an important coastal economic form, the Bay Area economy often leads global growth and innovation, said Fan Hengshan, deputy secretary-general of the National Development and Reform Commission. It brings together internationalized and modernized first-class cities. He suggested that Guangdong, Hong Kong and Macao should work together to improve the coordination mechanism at the provincial and district levels, set up daily working organizations in the Bay Area, build an international business environment, increase support for R&D activities and create various cooperation platforms.

Chi Fulin, dean of the China (Hainan) Reform and Development Research Institute, said the key to the construction of the Bay Area lies in whether Guangdong can be open in aspects. Against the backdrop of economic globalization, the rapid development of service trade has become an important engine for promoting global trade and economic growth. Guangdong should further emphasize service trade to increase its strategic importance in China's opening-up policy, he added.