Forum sheds light on targeted city governance
LI YU
|
2017-11-15
(Chinese Social Sciences Today)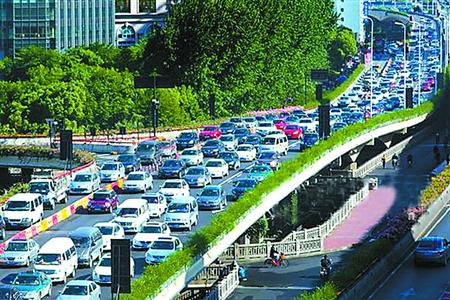 Proper solutions are urgently needed to tackle increasingly severe traffic problems in big cities.
---
A forum on global city governance was recently held at Shanghai Jiao Tong University. Jointly organized by the Development Research Center of Shanghai Municipal Government, the UN Human Settlement Programme and the World Bank, the forum gathered more than 300 experts and scholars from universities and research institutes around the world. Participants focused on targeted city governance, discussing such topics as smart cities, big data, urban environmental governance and emergency management.

Big data plays a leading and fundamental role in the establishment of smart cities. The current approaches to building smart cities rely on technologies and case studies abroad while neglecting local experiences and failing to engage the public, said Kevin Desouza, a professor of public affairs at Arizona State University. Therefore, smart cities should be built based on local circumstances because cities will vary slightly in many ways, he said.

At present, smart cities encourage economic transformation and optimize the functions of city management. Smart services for the general public also have the potential to facilitate a better relationship between residents and cities. Gao Qiqi, director of the Research Center for Politics at East China University of Political Science and Law, suggested that the development of artificial intelligence (AI) may produce new solutions for city governance in the future, but it may pose new challenges as well. In the future, city governance needs to properly handle the issues raised by AI, Gao said.

Globally, people will continue to flow into cities and a new model of urbanization in the context of new technology is emerging. Hou Yongzhi, director of the Institute of Development Strategies and Regional Economy at the Development Research Center of the State Council, emphasized the crucial impact of new technology on the new model of city development. In terms of physical layout, technology will give birth to larger city clusters. With regard to economic and social patterns, it will lead to fully automated factories as well as increasingly complex social networks. Also, it will reduce face-to-face communication and complicate city governance.

China's big cities are growing in scale, and they will become increasingly important due to their role as regional transportation hubs. However, a growing number of problems are challenging the development of transportation. Chu Dongzhu, a professor of architecture and urban planning at Chongqing University, said that Chinese cities have made great progress in rail transportation, but the distribution of stations in most cities is not dense, and the transit systems are underdeveloped. In the future, it is necessary to build short-distance transit networks surrounding subway stations to better utilize public transportation resources. With appropriate planning, the structure and quality of urban transportation as well as the comfort of public space will be improved, Chu said.

City clusters have become a decisive factor for national competitiveness. Participating scholars suggested that China's 20 most promising city clusters would serve as engines for the Chinese economy in the coming decade. Tang Shaoqing, deputy director of the School of Management at Beijing Union University, said that three areas in China—Beijing-Tianjin-Hebei Province, Shanghai-Ningbo-Hangzhou and Guangdong Province-Hong Kong-Macau—are expected to lead the global economy in terms of development concept and economic structure, thus becoming crucial hubs along the proposed routes of the "Belt and Road" initiative.
LI YU is a reporter at the Chinese Social Sciences Today.