Relocation offers successful approach to reducing poverty
WANG XIAOYI
|
2017-11-09
(Chinese Social Sciences Today)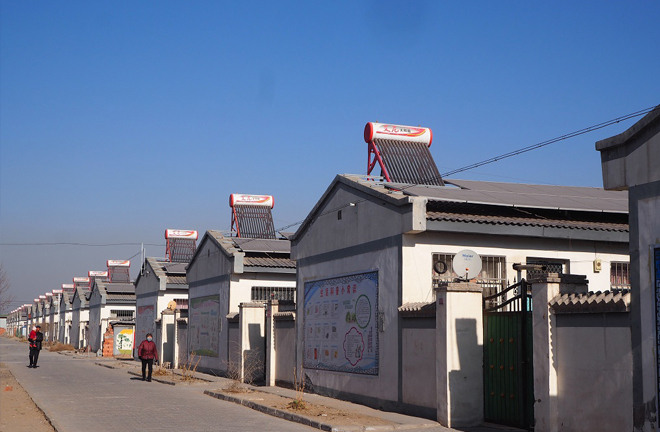 This is the new village of Xinrong near the capital Yinchuan of the Ningxia Hui Autonomous Region. In 2011, many people were relocated here from Xiji County, which is in south Ningxia and lies in the farming-pastoral transitional zone between the semi-arid loess plateau and deserts. The community sprawls out in neat blocks of single-storey homes, all with white walls and blue tile roofs. There are solar-powered streetlights every 10 metres and outdoor gyms in the squares. Except for the house numbers, each building looks identical.
---
Relocation is an effective way to reduce poverty, and it can simultaneously relieve pressure on fragile ecosystems. During the 12th Five-Year Plan period, more than 11 million people nationwide improved their living conditions through relocation, while during the 13th Five-Year Plan period, nearly 10 million people are expected to escape poverty thanks to this policy.

The Ningxia Hui Autonomous Region was one of the first regions to implement this program and as many as 1.16 million people were relocated from the 1980s to the end of 2015.

Through joint efforts of the government, society and migrants, Ningxia reclaimed a great deal of fallow land to build new villages. By improving infrastructure and public services in the villages, the migrants' incomes increased and their quality of life was secured.
Relocation in Ningxia
The relocation program in Ningxia was initially launched in the 1980s to help farmers in the mountainous areas of the south, which suffered frequent droughts. They were moved to the northern and central areas, where the Yellow River could be used for irrigation.

Then in the years after 2000, non-agricultural job opportunities became the major attraction for immigrants. In addition to improving infrastructure and public facilities, the new villages built for immigrants also strengthened career training and promotion while vigorously developing the tertiary industry, creating more non-agricultural job opportunities.

Once villages became well developed, people began to voluntarily move there without any sort of government incentives.

In order to adapt to the country's urbanization process, Ningxia began in recent years to transfer immigrants into places surrounding cities and towns, where industrial or entrepreneurial parks were built and labor-intensive enterprises were invited in. Instead of land, immigrants were enticed with more non-agricultural job opportunities and they enjoyed the same social security benefits as the locals.

Nevertheless, relocation is only the first step, and more supporting work is needed to eliminate poverty. First off, the local government of the destination should implement comprehensive measures to increase incomes. For example, the government could encourage them to develop industries, especially planting food and commercial crops.

Normally, it is hard for immigrants to survive on subsistence agriculture given their limited land because some latecomers in the new villages are only allotted 1 or 2 mu (a unit of area equal to 666.67 square meters) of land per capita.

To raise productivity, the local government offered discount loans to immigrants to build greenhouses and plant commercial crops. Also, the government implemented measures to increase non-agricultural employment, such as offering more public welfare posts to immigrants.

The government also encouraged land circulation between enterprises and farmers to increase agricultural efficiency. During the 12th Five-Year Plan period, one person was only given 1 mu of barren land which was newly exploited. At that time, the local government motivated the farmers to transfer their land to agribusinesses to plant commercial crops. These labor-intensive companies would employ farmers in seeding or harvest seasons.

For the relocation program, poverty reduction should be integrated with ecological protection. For example, during the process, the population pressure of the southern part of Ningxia was relieved. And also, the overexploited land was set aside for environmental restoration. The areas around the arid and sandy land in the central part were also improved due to ecological construction and allocation of water resources after villages for migrants were built.

Through the relocation program, the population distribution was improved. The northern part, endowed with natural resources and a better population-bearing capacity, has seen steady population growth while the ecologically vulnerable southern part has seen a gradual decrease in population.

Nevertheless, ecological restoration takes time. The relocation program in Ningxia was a long process. Immigrants had to adapt to a new life while it also required years of hard work to rehabilitate the environment and to build the necessary public services and infrastructure. Therefore, improving living conditions of immigrants also requires constant effort.

In fact, some villages have become relatively prosperous after 30 years of development. But in others, problems persist, and the joint efforts of the government and farmers are needed.
Lessons from Ningxia
Ningxia's success of reducing poverty through relocation can serve as a lesson for other regions.
The first is to choose the right place for building new villages. In China's western regions, the population density is small but most unused land is ecologically vulnerable. Therefore, there are not many areas that can accommodate immigrants even if the infrastructure is improved.

Ningxia chose ecologically fragile places to build villages for immigrants, such as the edge of sandy areas and arid areas in the central part. Authorities channeled water from the Yellow River to irrigate and exploit the land.

This approach improved the ecological condition of some areas, but in other parts the environment deteriorated and the land showed signs of desertification and salinization. Water shortages greatly restrained the development of immigrant villages and ecological degradation can greatly impact people's living conditions. People may slide back into poverty for these reasons.

Therefore, an environmental assessment of candidate areas for relocation is essential.

The second is to adopt diverse allocation models based on practical needs. In the early stage, the major mode was to cultivate wasteland. But now, this model is experiencing more and more difficulties.
For one thing, suitable land for massive allocation is increasingly scarce. Some destinations are small and remote areas that are not attractive to immigrants. Furthermore, a large amount of resources was used to build homes and exploit land.

But agricultural resources in these areas are not sufficient for farmers to make a living through agriculture alone. Even after the housing problem is solved, people still need to find jobs outside the immigrant village. Hence, some of the houses are standing vacant, and this is a waste of resources. One way out is to promote urbanization and integrate immigrants into the urbanization process.

The third is to attach importance to the flow of immigrants. The flow in the first place refers to the move between their hometown and immigrant destination. Also, immigrants may move to other villages and towns temporarily or permanently because job opportunities in immigrant villages do not meet their needs.

One thing to note is that people may move into immigrant villages voluntarily rather than under government planning.

Many immigrants adapt to the new environment and escape poverty just in the process of moving from one place to another. Hence systems for residential registration, assets, and social security should be innovated to enhance the flow of immigrants.

Finally, the needs of special immigrant groups should be catered to. For example, not all middle-aged and elderly people or women can have agricultural job opportunities due to insufficient agricultural resources in the immigrant area. Also, they tend to be rejected when applying for a steady non-agricultural job. The authorities should implement measures to ensure their social welfare benefits.
Wang Xiaoyi is a research fellow from the Institute of Sociology at the Chinese Academy of Social Sciences.