Philosophy, social sciences made strides in last 5 years
ZHANG FAN, SU PEI
|
2017-10-19
(Chinese Social Sciences Today)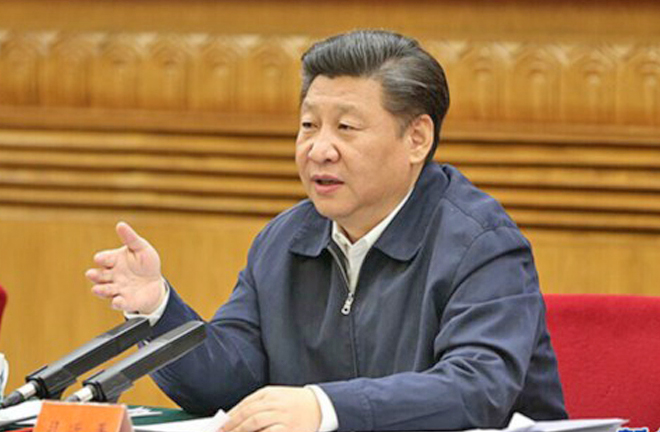 Chinese President Xi Jinping addresses the symposium on philosophy and social sciences in May 2016. (PHOTO: XINHUA)
---
Scholars stressed the progress Chinese philosophy and social sciences have made over the past five years while looking forward to new research topics that will be presented at the 19th CPC National Congress, which opened on Oct. 18.

Since the last congress, the Party has continued to vigorously promote the development of philosophy and social sciences. At a symposium in May 2016, Chinese President Xi Jinping, who is also general secretary of the CPC Central Committee, called for a special focus on philosophy and social sciences so that China can adhere to and develop socialism with Chinese characteristics.

In the past five years, Chinese philosophers and social scientists have lived up to expectations. The compilation and publication of philosophical textbooks on Marxist research and construction have yielded fruitful results. The joint efforts of teams of scholars have resulted in the publication of a series of textbooks and works, including History of Marxist Philosophy, History of Chinese Philosophy and Ethics.

On Sept. 21, the Ministry of Education, the Ministry of Finance and the National Development and Reform Commission released the "Double Top" plan, which aims to develop a batch of world-class higher education institutions and disciplines.

Universities like Peking University, Tsinghua University and Renmin University of China are among the 42 institutions listed, and another 95 have been designated to develop world-class programs. The plan also specifies 459 disciplines to be elevated to a world-class level.

Jing Linbo, director of the Chinese Evaluation Center for Humanities and Social Sciences under the Chinese Academy of Social Sciences (CASS), noted that the government is paying increasing attention to building philosophy and social sciences systems, especially evaluation systems integrated with Chinese practices and characteristics.

"We are gradually casting off evaluation systems based on impact factors," Jing said, adding that the talent team of each discipline has become more scientific, professional and refined structurally.

Philosophy and social sciences have an irreplaceable role to play in the development of socialism with Chinese characteristics, said Jiang Hui, Party secretary of the Institute of Information Studies at CASS.

With the development of practices, ideas should advance as well, which will require philosophers and social scientists to innovate theoretically as the country gets closer to realizing the Chinese dream, Jiang said.

As China's comprehensive strength grows, China's experiences and model have captured the world's attention, showcasing the unique advantage of Chinese development ideas and paths.
The "going out" of Chinese philosophy and social sciences is a prerequisite for coping with challenges posed by globalization and enhancing the cultural soft power of China.

To go out, philosophers and social scientists should have a global vision and international perspectives, said Liang Qidong, vice-president of the Liaoning Academy of Social Sciences. "We should bring in and cultivate a batch of top internationalized talent in the meantime."
Liang suggested encouraging academic exchanges and supporting scholars of philosophy and social sciences to assume posts in international academic organizations and take part in important global academic conferences.

Efforts should be made to build a sound cooperative mechanism to deepen the comprehensive partnership between high-level universities and research institutions at home and abroad, thus improving their capacities for international academic dialogue, Liang said.

It is also necessary to make full use of platforms, like think tanks, to export excellent outcomes and grasp the initiative in international academic communication, he added.