Forum: 'Belt and Road' injects vitality into world economy
LU HANG
|
2017-10-11
(Chinese Social Sciences Today)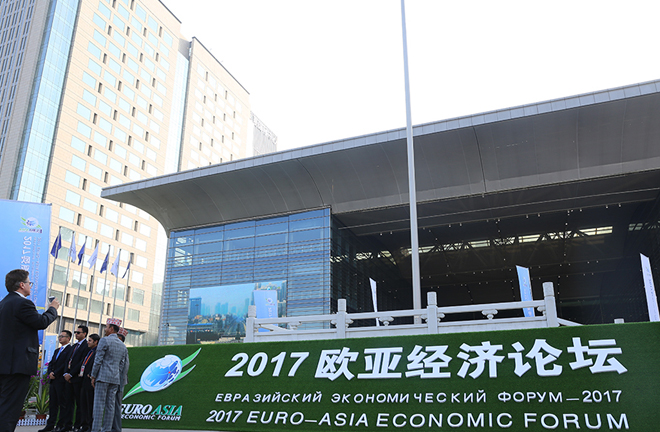 The 2017 Euro-Asia Economic Forum was held in Xi'an, capital of Northwest China's Shaanxi Province, from Sept. 21 to 23.
---
At the recent Euro-Asia Economic Forum, scholars said the "Belt and Road" ("B&R") initiative has played a vital role in Eurasia and the global economy.

The forum was held in Xi'an, capital of Northwest China's Shaanxi Province, from Sept. 21 to 23. Under the theme of "Jointly Building the 'Belt and Road' Initiative: Synergizing Development Strategies," it gathered more than 3,000 politicians and diplomats in China as well as scholars and experts from 76 countries. The event consisted of sessions and topical meetings focusing on such issues as finance, culture, science and technology, ecology, tourism, agriculture, education, geoscience and mining, and meteorology.

The Euro-Asia Economics Forum is a mechanism for economic cooperation under the framework of the Shanghai Cooperation Organization. It has been held six times since it was founded in 2005.

Feng Zongxian, a professor from the Research Institute of the Euro-Asia Economic Forum at Xi'an Jiaotong University, said that the forum has played an important role in promoting mutual understanding and pragmatic cooperation in all fields between Eurasia and countries along the Belt and Road. The China-proposed initiative has offered a broad platform for Eurasian countries to enhance cooperation, he said.

Cooperation was a consistent theme in previous forums, and the range of cooperation has expanded from Central Asia and Russia to the entire Eurasian continent. Walter Schwimmer, former secretary-general of the Council of Europe and chairman of the Austrian New Silk Road Association, said that the "B&R" initiative has brought shared benefits to related nations.

The ancient Silk Road provided fertile soil for the exchange between China and European civilizations, while today Austria and China are collaborating in multiple areas, including nanotechnology, information and communication technology, health care and life science, Schwimmer said. He expressed hope that Austria can deepen cooperation with related countries by leveraging the "B&R" initiative, thereby expanding the development space for itself and Europe at large.

Thanks to the "B&R" initiative, Nepal has built more connections with China, said Onsari Gharti Magar, a speaker of the Parliament of Nepal, adding that Nepal will garner more support in China and Eurasia while creating more investment opportunities for related countries and contributing to economic trade breakthroughs in Eurasia.

Since the initiative was proposed in 2013, B&R construction has followed the principle of achieving shared growth through discussion and collaboration, with the goal of forging a community of common destiny and interests.

In the past four years, China's cooperation with West Asia, Northeast Asia, and Central and Eastern Europe has progressed steadily. From 2014 to 2016, the volume of trade between China and B&R-related countries and regions totaled more than $3 trillion, while China's cumulative investment in these countries exceeded $50 billion.

Noting that the B&R guiding principle of achieving shared growth through discussion and collaboration has been included into UN General Assembly resolutions, Schwimmer said the initiative has become an essential international public good that has revitalized the world economy. Despite sluggish global trade in the past few years, China's trade with "B&R" participants has steadily risen, he said.

Hu Sishe, vice-chairman of the Chinese People's Association for Friendship with Foreign Countries, pointed out that the "B&R" initiative has set the stage for building an innovative, open, interconnected and inclusive world economy.

China has established partnerships at different levels with 97 countries and regions, fostering a worldwide partnership network, Hu said. Under the initiative, countries are equal, he said. Big or small, strong or weak, rich or poor, they work together to build an open, inclusive and balanced regional economic cooperation framework, he said.