Filling in blanks of economic geographical transitions
WU SONGDI
|
2017-09-28
(Chinese Social Sciences Today)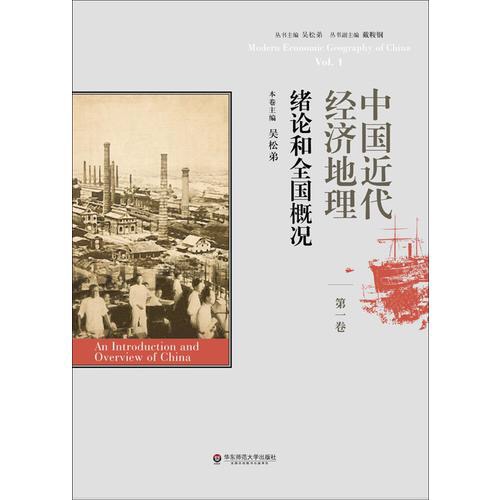 Economic Geography in Modern China
Editor-in-chief: Wu Songdi
Publisher: East China Normal University
---
Modern economic geography is an important part of China's historical economic geography. However, in the last two decades, in contrast to the significant progress in studies of Chinese historical geography and modern Chinese economic history, there has been very little research on economic geographic patterns in the modern transformation of the economy. Therefore, Economic Geography in Modern China attempts to contribute to a large-scale, comprehensive and integrated collection of works on the economic geography of modern China, so that academia can better understand the politics, culture and regional differences that exist in this historical period.

Altogether, 25 scholars from the Chinese mainland, Hong Kong, Macau and Taiwan joined in the editing process, completing a book series with 5 million words in total.

The collection is divided into nine volumes. The first volume is a general introduction and overview of national economic geography. It also introduced the theoretical framework, methodology and materials used in this research. The other eight volumes elaborate on eight specific regions. Namely, Shanghai, Jiangsu and Zhejiang provinces, Central China, Southwest China, South China, Fujian and Taiwan provinces, North China and the Mongolian Plateau, Northwest China, and Northeast China.

In terms of content, each volume can be roughly divided into two major parts: for one thing, the background, spatial process and content of modern regional economic transformations are elaborated upon so as to further discuss the motivations, process and major performances of the spatial transition occurring in the economy. The other part of each volume covers the appearance of modern economic geography in each region, focusing on the geographic distribution of industries, the characteristics of regional economies, and the major factors that influenced the regional economy.

The modern economic transformation of China initiated at a point when advanced productivity arrived and upgraded port cities along the coast and riverside. Then it extended along the major transportation routes and penetrated the mass inland area. Hence, in general, the transformation mode is characterized by "from the east to the west and from the seaside to the inner land." This is actually a "ports-inland" model.

There are eight major characteristics of the economic geographical transformation in modern China. To name a few: First, the national and regional material flow mainly heads toward the coastal cities and modern transportation centers. Second, the transportation system centered on the national and provincial capitals has been gradually converted to being oriented around coastal cities and provincial capitals. Third, the railway zone along the sea and rivers became the main distribution belt of cities. Fourth, Hong Kong and Shanghai became the two leading forces that promoted economic development in modern China. The biggest regional economic difference in China has changed from the North-South gap to the East-West gap.