Saihanba forest farm provides effective ecological solutions
WU WEIZHENG, LIU YI, SHI ZIQIANG
|
2017-09-27
(Chinese Social Sciences Today)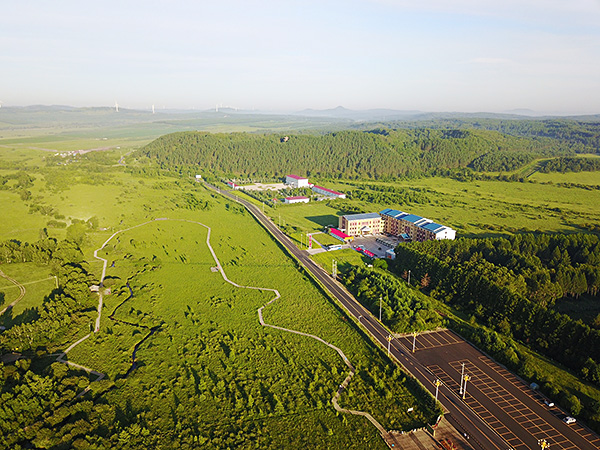 Aerial view of Saihanba
---
The State-owned Saihanba Forest Farm is managed by the Hebei Provincial Forestry Administration. Saihanba is a portmanteau of Mandarin and Mongolian words meaning "a beautiful mountain ridge on the plateau." Situated in the very northern part of Hebei Province, Saihanba was historically home to rich water resources, lush grass and dense forest as well as a variety of birds and beasts. In the Qing Dynasty, Emperor Kangxi ordered the establishment of the Mulan hunting ground in 1681 where Saihanba stands today.

The late Qing court suffered internal turmoil and foreign aggression. The beleaguered emperor opened up the hunting ground in the 1860s to balance the national treasury. Reckless deforestation and constant mountain fires had destroyed all the old-growth forest by the 1950s.

Fifty-five years ago, 369 staff members from all over China, who were younger than 24 on average, gathered on the northern plateau and started construction on the forest farm. They overcame myriad difficulties and built at most a total of 5,336 hectares of forest in a year. Currently, the reform and implementation plan has been made. The forest farm will great improve forest ecology, and innovations to the management pattern will be implemented by 2020. Also, it will promote sustainable development by clarifying its orientation, perfecting mechanisms and improving livelihood.

Timber production was once Saihanba's dominant sector, accounting for more than 90 percent of revenue. In recent years, Saihanba sharply reduced production so that figure has fallen to less than 50 percent. The decreasing reliance on timber production has laid the foundation for the continuous usage and sustainable development of resources.

The forest coverage of Saihanba has increased from 16,000 hectares to 74,700 hectares, making it the largest man-made forest in the world. The forest coverage rate has grown from 12 percent to 80 percent. The ecological value of Saihanba forest is worth 40 times the value of its timber, creating an ecological service worth more than 10 billion yuan. The total value of Saihanba forestry resources has hit 20 billion yuan.