Future of domestic manufacturing to be smart, green
LIU KUN
|
2017-08-31
(Chinese Social Sciences Today)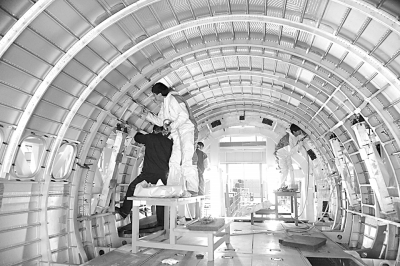 Interior part of C919, China's first nationally-produced large passenger plane
---
Shenzhen-based DJI Technology in Guangdong Province produces a variety of unmanned aerial vehicles (UAV). A drone with sensitive induction can be controlled by hand gestures to take off and land. "High-end products developed by innovation can create new demand," a staff member of DJI said. In recent years, the company has continued to research and upgrade UAVs for aerial filming and developed new products for agricultural and industrial use.

"UAV wasn't a sector when I started my business in Lianhua Village in Shenzhen a decade ago," said Wang Tao, general manger of DJI. The company created a market for consumer drones by releasing the first generation of UAV with four rotors, the first Chinese product to stand at the frontiers of world technology.

By last year, the number of UAV enterprises in Shenzhen had grown to 300, and the city was producing 96 percent of the world's consumer drones. "It is safe to say that Shenzhen was the birthplace of the UAV industry. It also witnessed the industry thrive and became a global city of drones," Wang said.
High-end products
The seeds of innovation are spreading up in China. A 2016 investigation showed that China was among the top three countries ranked by global manufacturing competitiveness. New domains in Chinese manufacturing are taking shape while problems such as sluggish growth of investment inhibit future industrial development. Also, the manufacturing sector's value added is declining as a share of GDP while resources are increasingly flowing from the real to the virtual economy, said Miao Wei, minister of the Ministry of Industry and Information Technology (MIIT).

China's lower position at the global value chain is due to a lack of core components, material and technologies, said Xin Guobin, deputy minister of MIIT. He recommends creating an innovation-friendly environment and stimulating advanced manufacturing, thus encouraging enterprises that are heavily reliant on resources and energy to invest more in innovation. Meanwhile, a team should be established to resolve crucial and widely seen technical problems while greater support is needed to help enterprises develop smart terminals. In this way, Chinese products can become more competitive in the field of technology.

Smart manufacturing
Midea Group's smart factory in Guangzhou, Guangdong Province, has more than 100 robots that can bend steel pipes and assemble components. Staff members can monitor the whole production process. "Midea's smart manufacturing not only improves efficiency but also opens new markets by reducing costs," said Gu Yanmin, vice-president of the company.

A report on China's industrial robotics by global statistics company IDC projected that the usage of industrial robots in China would increase by 150 percent by 2018. As technology advances, a growing number of industrial robots will be adopted in manufacturing and other traditional sectors.

China aims to become a global AI innovation center by 2030, according to a plan for AI development recently released by the State Council. The new generation of AI is entering manufacturing while new production and business models are emerging.

An era dominated by internet, AI and big data is arriving. Cloud manufacturing is the application and expansion of cloud computing in manufacturing. It offers a model and method to achieve the goal set by the "Made in China 2025" strategy, said Li Bohu, academician of Chinese Academy of Engineering.

The application of information technology to traditional manufacturing is a skeleton key for unlocking the potential of the sector. It also has been embraced in such fields as the clothing industry, domestic appliances and equipment manufacturing, resolving excess inventory and improving low efficiency. In this process, a number of new business models have taken shape, such as the share economy, crowd-sourcing and mass entrepreneurship.
Green model
Rusty waste engines have been refurbished through professional remanufacturing by FAW Jiefang Automotive Co Ltd. Wuxi Diesel Engine Work. The production base can meet special demands of customers to renovate and overhaul traditional engines in quantity production. The company has realized engine recycling and its whole production process is environmentally friendly. "Liquid pollution can be reduced by 80 percent in the cleaning procedure alone," said Jiang Boming, the head of the remanufacturing base.

More than 5,000 sets of remanufactured engines have entered the market in the past six years, and their added value has exceeded 125 million yuan. A total of 1,800 tons of steel has been recycled, saving 700 kilowatt-hours of electricity and cutting more than 300 tons of carbon dioxide emissions.

In recent years, China has undergone a green transformation in traditional manufacturing sectors to protect its environment. Steel, nonferrous and chemistry industries have improved energy efficiency and reduced emissions, thus optimizing the reuse of waste resources. Also, industrial parks in various regions serve as platforms to promote low-carbon development patterns. Industry is a big consumer of energy and the main source of greenhouse gases in China. It accounted for about 70 percent of the country's total 4.36 billion tons of standard coal consumption in 2016.

Experts suggest China widely implement green manufacturing and promote clean production and energy efficiency to establish an energy-efficient high-tech manufacturing system that minimizes environmental pollution. In addition, China should guide industrial parks and key industrial companies to save and properly use resources and energy, thus making green production a characteristic of Chinese manufacturing.
The article was abridged and translated from Guangming Daily.