Intelligent manufacturing offers a new driving engine for domestic growth
FANG XIAOXIA, YANG DANHUI, LI XIAOHUA
|
2017-03-30
|
Hits:
(Chinese Social Sciences Today)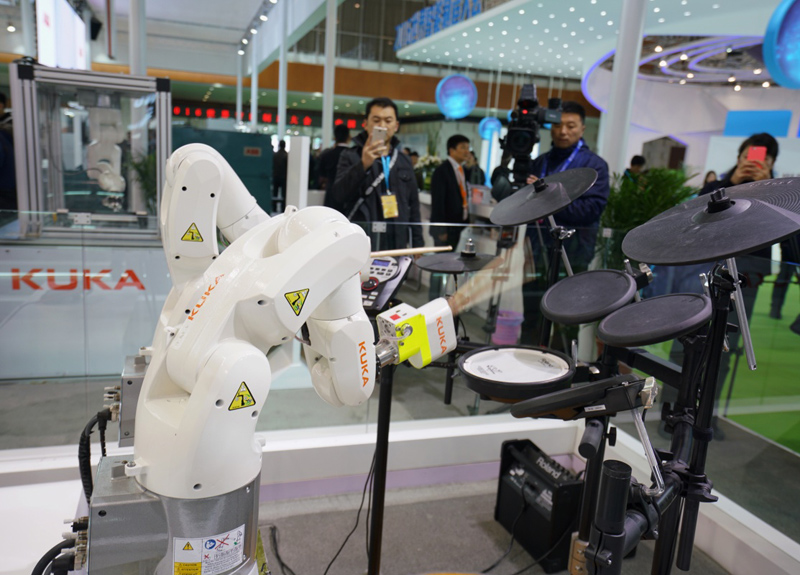 A robot plays drums at the World Intelligent Manufacturing Summit in Nanjing, capital of East China's Jiangsu Province. Representatives of policymakers, industry organizations, research institutes and enterprises from China, the United States, Germany, Switzerland and other countries attended the summit held from Dec. 6 to 8, 2016. China released a five-year plan for intelligent manufacturing at the summit, which is a long-term strategic task to develop intelligent manufacturing and generate new growth to improve the country's manufacturing sector.
---
In recent years, developed countries have responded to global competition in the context of the new industrial revolution by universally focusing on intelligent manufacturing as the future orientation of the increasingly digitized industry.

The National Strategic Plan for Advanced Manufacturing of the United States aims to promote an intelligent manufacturing framework featuring industrial Internet and a new generation of robots. Germany, the advocate of Industry 4.0, intends to take charge of the dialogue about establishing standards for smart factories and other rules of this sector. Japan has proposed such plans as its Robot Strategy and Society 5.0 to support intelligent manufacturing in an effort to make its domestic industry more competitive.

As the home of the world's largest manufacturing industry, China has become an important link in the global value chain, but the industry remains at its low end. There is little independent innovation and high resource consumption while low-end overcapacity and a shortage of high-end supply coexist.

Each industrial revolution of the past has boosted productivity and transformed production modes, which has also offered opportunities for late-movers. It is essential for China to take the opportunity of intelligent manufacturing to facilitate supply-side structural reform, move up the value chain, become a manufacturing power, avoid the middle-income trap and achieve prosperity.
Fusion of manufacturing, IT
Intelligent manufacturing aims to take advantage of advanced information and manufacturing technologies, like sensors, the Internet of Things, Big Data and cloud computing, to enable flexibility in physical processes.

It introduces human expertise into manufacturing activities, including perception, decision-making and execution, empowering the process to acquire knowledge independently. Added value is created through the integration of smart equipment, digitized design, automatic production, modern management and grid marketing.

Intelligent manufacturing generates efficient synergy in the whole system, connecting all the links on the supply chain, including equipment, factories, upstream and downstream enterprises, and users. In this way, enterprises are able to predict and dynamically respond to users' diversified demands while supervising the whole production process in real-time with greater efficiency, less demand of human labor and lower cost.

As for China, higher productivity offsets to some extent the shock of increased labor cost, maintaining the competitiveness of "Made in China." In addition, development toward intelligent marketing will escalate the demand for smart equipment, smart sensors, new material, industrial software systems and related services, serving as a new growth engine. Moreover, with dynamic response to demand, intelligent marketing reduces excess capacity and consumption of energy, perfectly matching the goal of supply-side structural reform. Economy growth thus gains vitality.
Challenges
To develop intelligent manufacturing, China still faces steep challenges due to the late start of its industrialization, low intensity of technology accumulation and a low level of IT development.
To start with, there is a striking imbalance of IT development among different regions, industries and enterprises. Some enterprises have adopted tentative steps toward intelligent manufacturing, while others in underdeveloped regions are still semi-mechanical or even employ manual labor.

According to the Development Report on Integration of Informatization and Industrialization of China (2015), by 2015, only 3 percent of enterprises achieved inter-enterprise synergy and model innovation, 14.6 percent had a high level of IT development, and 40 percent had taken no steps to integrate into IT processes. There's still a long way to go.

Even if we have such an awareness, R&D in this sector lags far behind enterprises in the United States, Japan and Europe. The lack of independently developed technology forces enterprises to import high-end sensors, operating systems and key parts, blocking the development of intelligent manufacturing.

In addition, the production model of intelligent manufacturing has yet to advance. Most enterprises have become accustomed to competing in the global market by using the advantage of cheap labor, so they lack the incentive to replace labor with smart equipment. Even the ones that have introduced such equipment have not tapped its full potential. Few can integrate the value chain and business models with intelligent manufacturing, let alone foster strategic thinking and establish a general plan for an intelligent manufacturing system.

In addition to its weak foundation, China has limited influence over setting standards despite its status as a manufacturing giant. High-tech powers and business tycoons compete among each other to be rule-makers, which affords them a voice on competition and value distribution. Again, Germany is not only promoting Industry 4.0 at the national and EU level but also establishing relevant consultation teams in the International Organization for Standardization. By contrast, there are not many international standards chiefly drafted by China, and they are not well recognized globally.

In terms of industrial software, the mainstream ones for Product Lifecycle Management (PLM) are developed by Siemens of Germany, PTC of the United States and Groupe Dassault of France, while China is at a disadvantage with few Independent Intellectual Property Rights (IIPR).

All these issues boil down to personnel. There's a shortage of multitalented professionals at all levels. At the grassroots level, more senior and modern technicians with multiple skills are needed. As for management, far-sighted pioneers are rare, as are professionals in R&D, market development and financial management. While in terms of national strategy, senior experts in rule-making, international negotiations, and laws and regulations concerning intelligent marketing are particularly in short supply.
Moving up global value chain
To develop intelligent manufacturing, key technology is crucial. The government should step up its support for basic and independent R&D of key hardware with IIPR, such as industrial robots, additive manufacturing equipment, intelligent sensing and control equipment, and key software, such as industrial software, especially operating systems for intelligent manufacturing, in order to achieve breakthroughs and promote their application.

With such a technological foundation, the Chinese government should next facilitate cooperation among governments, industries, universities, institutions and users, form industrial innovation alliances to accelerate the establishment of Chinese standards for intelligent manufacturing, and improve its level of industrialization.
Enterprises
Enterprises also need to adapt to the highly flexible production and more complicated management required by intelligent manufacturing.

Internally, they need to improve management of the value chain and establish an efficient intelligent operation system by integrating the design of product concept, prototype development, resource and order management, provision and execution of production plan, logistics and energy management, marketing, and after-sales service to create added value.

Externally, they should be encouraged by the government to transform from a closed value chain to an open value network, establishing a platform providing systematic service and intelligent products. This is required by the new production and business model of "product plus service," which is consumer oriented and based on Big Data. Consumers may also be involved in the process of manufacturing.

Further beyond, enterprises should try to go global. Government resources need to focus on pilot campaigns of intelligent manufacturing to nurture a group of backbone enterprises with innovation capacity, distinct business models, bright prospects and a strong catalytic role. Enterprises should go global to utilize international innovation resources. At the same time, they need to promote Chinese standards and platforms to establish an intelligent manufacturing system.
Talent
Talent is at the root of the sound development of intelligent manufacturing. Application-oriented professionals with craftsmanship should get training through vocational education, continuing education and vocational skill training as a primary level, and study in talent-training bases established by backbone enterprises and universities with resources at a higher level. Then the foundation of human resources is strengthened.


Fang Xiaoxia, Yang Danhui and Li Xiaohua are from the Institute of Industrial Economics at the Chinese Academy of Social Sciences.