Chorographic museums make past places live through media
By Pan Jiejun
|
2016-09-14
(Chinese Social Sciences Today)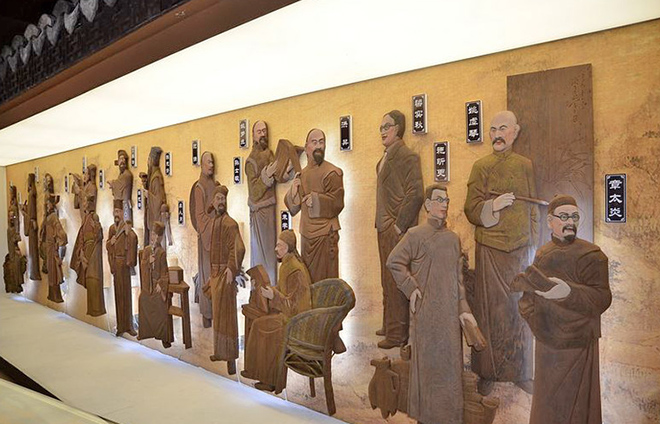 At the chorographic museum in Hangzhou, an exhibition hall displays local luminaries throughout the history of Hangzhou, including calligrapher Chu Suiliang (596-658), scientist Shen Kuo (1031-1095) and scholar Zhang Taiyan (1869-1936).
Chorography, the systematic mapping and description of locations, is a distinctive form of traditional Chinese culture with a long history. To carry forward the tradition, specialized museums have been established to collect, preserve and compile chorographic materials to serve as a resource for researchers and the general public.
Historical evolution
The form of chorographical organizations has changed over time. They create a record of ethnic cultures and traditions, adding nuance to the story of China's ancient civilization while at the same time documenting contemporary development achievements for the world.

In the Western Han Dynasty, a section of the imperial palace was reserved for storing documents and books. The Northern Wei and Northern Qi dynasties established specialized agencies, which were later integrated into a formal system during the Sui and Tang.

The first official chorographic agency was set up in the Northern Song Dynasty. The Yuan Dynasty was the first to commission a comprehensive chronicle of the entire dynasty, and the Ming Dynasty followed suit.

The Qing Dynasty set up agencies at the national and local level, and despite social unrest in the Republic of China (1911-1949), more than 20 provincial agencies were set up.

The historical background shaped how chronicles were compiled, and methods varied from period to period. During the Western and Eastern Han dynasties as well as the Northern and Southern dynasties, pictures, maps and descriptions of locations were integrated, but in the Song Dynasty, visual and text records were kept separate.

Influenced by the idea of integrating historiography and chorography, historical and chorographic agencies overlapped for a long time before separating due to various historical factors. In terms of management, private compilation in the beginning gave way to official monopoly in later periods.

It should be noted that because professional agencies emerged quite late, the official tasks of chorographic agencies fell to a loose patchwork of official organizations, such as the bureaus in charge of historical records. In ancient times, folk organizations, such as academies, took on this role and were later replaced by modern libraries, archives and museums. Some set up rooms for collections, and some held exhibitions, providing valuable reference for the construction of chorographic agencies.

Modern transformation
A more comprehensive type of chorography museum came into being after the founding of the People's Republic of China that broadened the scope of the field beyond simple compilation.

In the early 1950s, the Soviet Union established chorographic museums dedicated to nature, social economy and culture, which attracted attention from the Chinese circle. In 1951, the Ministry of Culture called on museums of administrative regions, provinces and municipalities to display records about local natural resources, democratic construction and historical development.

Two years later, the ministry conducted a pilot program in Shandong Province. A dozen professionals were assembled from across the nation to establish the first museum of chorography under the guidance of renowned Chinese historians including Guo Moruo (1892-1978), Wu Han (1909-1969) and Fan Wenlan (1893-1969).

It soon became a hot trend, and after one year, 31 new chorographic museums were established among the total 73 museums in all types. After that, the ministry convened a series of meetings on deployment. These museums containing comprehensive records of a locality were models for those that would follow.

After the reform and opening up, the construction of chorographic museums sped up in sync with the first round of nationwide compilation work.

In 1990, the Zhejiang Chorographic Museum was established, which was described by the state media Xinhua News Agency as the first to collect first-generation chorographic materials from the socialist period. Similar chorographic museums emerged in quick succession in Wuhan, Shanghai, Guangzhou and other major metropolitan areas.

However, most of the museums established at that time focused on building collections that were to be compiled and exhibited at a later date. Generally, they were undergoing transformation from traditional to modern patterns.

In the 21st century, new chorographic museums are opening to the public at the national and local level, driving innovation in content, forms of exhibition and operational modes.

New features have emerged. There are records on the general history of a place as well as documents on specific periods and certain subjects. The same is true for geographic records. Also, there are records on eminent persons in this field, the evolution of chorographic agencies and compilation achievements at different times. Life stories of famous persons are displayed as well as artifacts with special meanings. With a larger size, richer content and more advanced methods, contemporary museums will better help people understand local development history and achievements.
Challenges vs innovation
At present, the development of chorographic museums is in full swing. Nonetheless, further innovation in ideas and technologies is needed to realize the strategic goal put forward at the 18th CPC National Congress to carry forward excellent traditional culture.

Internally, they should be aware of and face various challenges brought by modern information technologies like the Internet as well as competition from libraries and other cultural venues. In response, chorographic museums should strengthen digital reform, optimize planning and design, and improve management while learning to harness competitive advantages to promote sustainable development.

Externally, they need to adopt an international perspective. As a professional platform for the display of a unique Chinese cultural form, chorographic museums have taken up the mission of spreading ethnic cultures and traditions around the world.

At present, the international cultural circle shows growing interest in the unique cultural form of China. For a long time, China has been hemorrhaging a large quantity of chorographic documents. It is essential to combine the retrieval of lost documents with the spread of national documents to better spread Chinese culture and achievements. There is still a long way to go.
Pan Jiejun is a research fellow from the Zhejiang Academy of Social Sciences.