Social media bridge gap between academia, public
By Yu Qian
|
2016-08-18
(Chinese Social Sciences Today)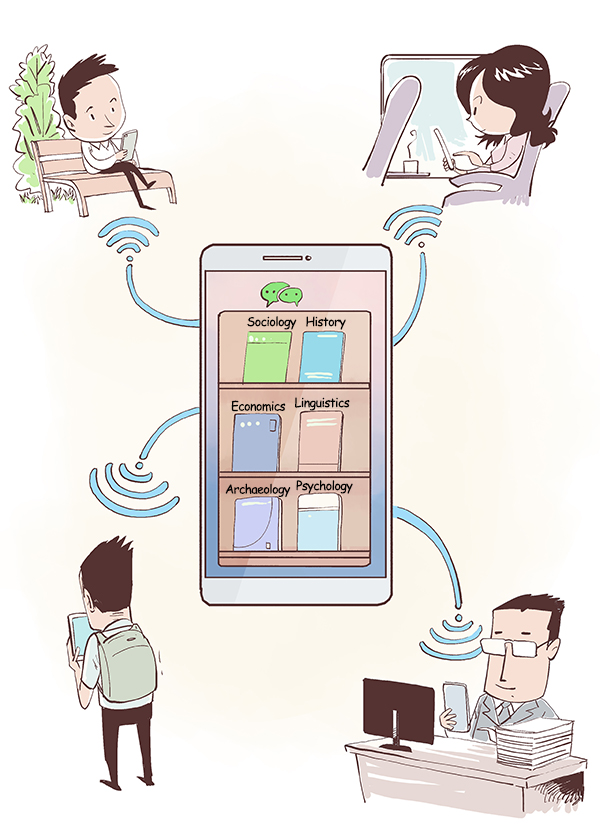 Academic wisdom on the Web
Cartoon by Gou Ben; Poem by Long Yuan
For journals to thrive in a digital age,
They must be placed on a Webbed page.
Hands-free, convenient and mobile,
Online media makes the human mind agile.
The platform of Wechat thus arises,
With videos, graphics and assorted surprises.
As the reading habit gets informatized,
Publishing needs to be personalized.
Registration and authentication prevents perfidy,
To ensure the messages' validity.
---
In recent years, China has released a raft of policies and regulations in response to the rapid progress of new media technology.

In a 2014 regulation on instant messaging applications, the Cyberspace Administration of China encouraged "governments and Party organizations as well as public institutions to open WeChat official accounts in order to serve economic and social development while meeting public demand."

Also, the "Internet Plus" action plan proposed by Premier Li Keqiang paved the way for the integration of traditional media with new media. WeChat official accounts are altering lifestyles and working patterns.

WeChat is a free cross-platform application for instant messaging developed by Tencent in 2011. Its official account platform, which was launched one year later, enables individuals, enterprises and organizations to effectively interact with their subscribers by sending text, voice messages, pictures and videos.

The number of subscription accounts surged right after the launch of the platform. Recognizing the opportunity to publicize the research findings of academic journals using social media, many academic journals of social sciences opened official accounts.

Official accounts have multiple functions, including digital publishing, online reading, thesis retrieval and publicity. In addition to printed versions and website updates, academic journals can publish and promote themselves on WeChat.

At the same time, official accounts have a number of advantages, including the ability to rapidly update information, low overhead and a wide array of choices. The accounts enhance the relationship between journals and subscribers through customized, unique and high-quality services. In this way, the subscribers tend to become more loyal to the journals and have a stronger incentive to interact on the WeChat platform.

In 2014, the Chinese Evaluation Center for Humanities and Social Sciences at the Chinese Academy of Social Sciences chose 733 Chinese journals to build a system for evaluating academic outcomes in the field. The author searched more than 700 journals on the WeChat platform and found 185 official accounts had been opened as of March 25, 2016. The analysis is on the basis of registration, authentication and message updates of these 185 subscription accounts, revealing the performance of social science journals that have utilized the Wechat platform. Also, it exposed major problems.

The social science journals emphasize registration and authentication of official accounts. About 120 of the total registered accounts have been verified. However, of all the journals, 84 have registered journal names, while the remaining 72 have not applied for any official accounts.

Registration and authentication help journals to promote themselves through the WeChat platform while ensuring the validity, effectiveness and security of the messages that are released by subscription accounts. Also, WeChat users are able to quickly and accurately identify the official accounts.

Academic journals should stress brand-building while encouraging registration and authentication of WeChat subscription accounts to guard against account theft, false information, cybersquatting and other phenomena that could hurt their credibility.

The messages of the subscription accounts should conform to subscribers' reading habits. Most users read the messages on mobile phones during spare or travel time but a majority of the subscription accounts fail to develop micro websites targeting mobile phone readers. Twenty-five of the subscription accounts studied in the survey link all their columns to websites, making it convenient for mobile reading and the other 24 connect a part of the columns to websites.
A majority of journal accounts link columns directly to their official websites, making mobile reading inconvenient. Also, a number of links are not accessible on mobile phones or the Internet speed will slow on mobile networks, greatly undermining the user experience.

Journal accounts need to consider the reading habits of their subscribers rather than directly linking to official websites. They should promote user experience by developing websites designed for mobile reading.

Editors of journal subscription accounts should pay more attention to content and maintenance. They may have registered accounts, but a large proportion of them are "zombies." For example, some accounts have no messages at all or they seldom update, and some links are broken.

Of the subscription accounts studied in the survey, 136 released messages in the period from January to February of this year. But 57 accounts updated once weekly while 17 of them updated at a rate of about once every two days. In addition, 23 journal subscription accounts released no messages during the time range because Spring Festival fell in February this year, so many of the universities were on holiday.

One of the most important functions of subscription accounts is building a rapport with users through messages. If the accounts are updated infrequently, it may hurt journal influence and efficiency. Therefore, the subscription accounts should update often and release high-quality messages, thus honing the reading habits of the subscribers.

At the same time, they should adopt diverse forms of editorial content, including pictures, charts, videos or article links. Better readability will help journals to take full advantage of the WeChat platform.

Journal subscription accounts need to focus on featured services in operation. According to the survey, a number of accounts have launched functions like search engines for manuscripts and published theses or platforms for online communities and advertisement.

In addition, some accounts enable subscribers to search across multiple fields to find article links or even read full texts online. In terms of interaction, a few of the subscription accounts have opened online forums and communities, strengthening the two-way relationship between editors and readers.

However, a number of accounts place greater emphasis on creating featured services than they do on maintaining them. For example, some services are only listed but subscribers cannot access them.

WeChat's subscription accounts constitute a cross-platform service provider based on Internet technology and WeChat applications. The platform has great advantages in terms of tailored services. Journals should take full advantages of the services in the aspects of development and maintenance, which provides convenience to users and helps to improve their ability to serve. The most important thing is for good services to expand the influence of academic journals.

Social science journals are paying close attention to advancements in social media and the development of preferential government policies. More and more journals are following in the footsteps of their peers and preparing to register official WeChat accounts.

The short-term development of the WeChat platform and disciplinary characteristics of social sciences can be attributed to the obstacles in building and operating journal official accounts. But the emergence of the platform has altered traditional media, which is evidenced by the hundreds of millions of WeChat users and low costs, easy maintenance and diverse services.

Social sciences academic journals should actively respond to opportunities and challenges of the new information environment in order to make headway in dissemination methods and effectiveness.

To fit into the new trend, academic journals need to take full advantage of subscription accounts by integrating new media with traditional academic journals. Also, the construction and maintenance of subscription accounts should conform to journal guidelines and orientation to provide the best service from the subscribers' perspective. In addition, accounts should improve editor-subscriber communications to achieve greater academic influence, thus driving the healthy development of social science journals.
Yu Qian is from the Chinese Evaluation Center for Humanities and Social Sciences at the Chinese Academy of Social Sciences.