Short videos present diversified rural life
GUO LIANCHUN
|
2022-08-04
|
Hits:
Chinese Social Sciences Today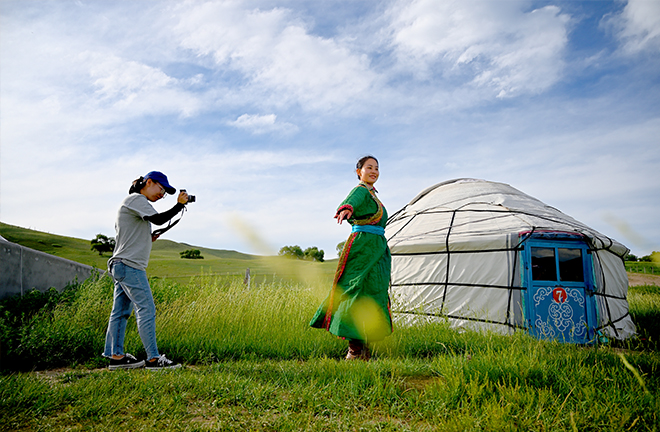 Wu Yin-Ga, a girl from Inner Mongolia, becomes popular online by recording her life in the grassland. Photo: Liu Wenhua/CNS
---
As an important part of the internet culture industry, short videos have become a new method of communication used to record features and elements of agricultural sector, rural areas, and farmers. By means of short videos, online celebrities have rapidly gone viral across major online platforms. According to statistics, the daily average VV (Video View) of these short videos exceeded more than 4.2 billion by the end of 2021.
Delineating farming culture
These short videos display the diversified charm and present the norms of rural life by recording habits of daily life, and the wild environment in its natural state flows through the videos. While returning to the origin of life itself, these videos place viewers in particular scenarios, and offer them with perpetual subjective experiences. The viewers' emotions further inspire their actual support of video content and creators. In this process, viewers' feelings and memories of villages are evoked with resonance.
For example, the TikTok vlogger "Student Zhang" has accumulated as many as 16 million fans, which although unexpected, also seems reasonable. His videos depict the farming culture in an authentic way, which resonates with viewers and makes them feel deeply involved in the immersive scenes. This content not only meets users' needs for information acquisition, but also satisfies their emotional needs, bringing both personal recognition and economic benefits to the vlogger. Growing grain and vegetables, plowing farmland, planting seedlings, a simple diet and homemade food—all these components make people yearn for the farming culture that they are estranged from.
Boosting agricultural economy
As digital start-ups have become the new development trend, business forms such as selling goods through live-streaming have become vogue for farmers. Driven by policy and platform dividends, several "new-type farmers" have sprung up. The rising number of short videos about rural life also endows many young people with opportunities to return to the countryside. Some outstanding young people return to their hometowns, devote themselves to hometown building, and lead rural citizens and entire villages towards a wealthy future. Camellia seed oil in Xiangxi Autonomous Prefecture, Hunan Province, pomegranate in Lijiang City, Yunnan Province, and Chinese tiegun yam, a species of dioscorea opposite in Wenxian County, Henan Province—all of these superior agricultural products with regionally distinctive brands are very competitive online.
Through live-streaming, people have managed to sell their hometowns featured agricultural products, and with pre-sale purchasing models, the pressure of traditional inventory models has become outdated. Notably, the experience economy is also booming. For example, experience activities such as fruit plucking festivals, collecting farm-fresh eggs, and digging for bamboo shoots play a part in improving the agricultural economy and brands' influence. At the same time, content generated by such activities is once again presented in short videos, forming a circular model.
Guo Lianchun is a research fellow from the Institute of Philosophy at Liaoning Academy of Social Sciences.