Emojis involve linguistic and legal implications
ZHANG YIXIN
|
2022-08-04
|
Hits:
Chinese Social Sciences Today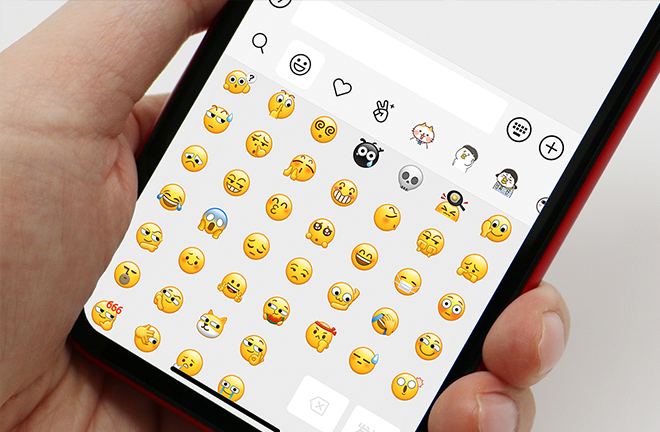 Emojis on WeChat, a popular social media APP in China Photo: CFP
---
While adding fun and a human touch to online communication, emojis spawn linguistic and legal issues.
Emojis, memes, and stickers have become wildly popular thanks to how well they help people convey semantics. In daily communication, in addition to relying on contextual factors, people can also transmit meaning through verbal and non-verbal symbols. In face-to-face conversations, meaning is conveyed by the linguistic signs of sound, while non-linguistic signs include gestures, facial expressions, standing and sitting postures, the length of pauses, etc. Huang Guowen, dean of the School of Foreign Studies at South China Agricultural University, believes that in written communication, meaning is delivered by words (signs), which are linguistic signs, while non-linguistic signs are fonts, word sizes, word spacing, line spacing, and rich emojis. Emojis contain various elements such as gestures, expressions, and postures, and can effectively complement the emotional attitude of words.
In cyber communication, both sides generally cannot hear each other's voice, nor can they see expressions, resulting in a lack of visual clues or emotions to some extent. When passing on the basic meaning, emojis can make up for this deficiency and become an auxiliary means of communication that people are willing to use. According to Zhao Xiaogang, a professor from the Faculty of Liberal Arts at Northwest University, in the classification of semiotics, signs are divided into "icons" (such as pictures depicting the shape of objects), "indices" (such as traffic lights at crossroads), and "symbols" (such as words). These three kinds of signs complement each other. The internet emojis are icons, which can effectively complement the emotional attitude of words. Just as in communication with spoken language, the process is often appropriately matched with body language (such as curling lips, glaring, waving, etc.), which makes the semantic expression vivid and complete.
"Emojis can express attitudes and emotions more simply and visually, and convey content that is not suitable for words," said Wang Guiyuan, a professor from the School of Liberal Arts at Renmin University of China. Conversational exchanges that people often use on social software are essentially a written form of face-to-face oral communication. However, in this process, the communicator's auxiliary means such as facial expressions and movements are unable or inconvenient to present in words, reserving a "place" for emojis.
As the sending of emojis makes emotional communication more efficient, they also carry risks. As there is a richer variety of civil evidence in China, emojis have begun to appear frequently in the judgment of cases in recent years. Similar to the content of words, they have become an important form of adminicular evidence for judges to try cases. In a dispute over a house-leasing contract tried by the Shenzhen Intermediate People's Court, the plaintiff, as the lessor, asked the defendant to increase the rent on WeChat, and the defendant responded with a "sun" emoji. The plaintiff interpreted this as "agreement and thanks." The court deemed that the defendant "did not express a dissenting opinion" after the plaintiff told him about the rent increase on WeChat, thus upholding the plaintiff's claim.
In the case mentioned above, the final judgment was influenced by the interpretation of the "sun" emoji by the plaintiff, the defendant, and the court. As for the issue of differentiated interpretations of the same emoji by different people, Huang believes that no matter how rich or complex an emoji is, it is artificial rather than natural. Emojis are artificial machine languages. The meanings they express can independently convey meanings or auxiliary meanings in a certain range (usage occasion, or language community), but for complex concepts or formal occasions, their use and expression of meanings are limited. Since each emoji often has a different meaning in the eyes of different people, the interpretation of its meaning is very individual.
Xie Hongfei, director of the civil law research office at the Institute of Law at the Chinese Academy of Social Sciences, said that in terms of determining the expressive meaning of emojis, the evidence identification standard should be based on whether the public has reached a consensus. To determine whether the public has reached a consensus, emojis can be differentiated according to whether they represent "emotions" or "meanings." Emojis that convey emotions, such as a smiling face and the sun, should not be used as evidence for identifying an expression of agreement. However, the "OK" gesture can usually be identified as expressing agreement, which does not violate the provisions of the Civil Code that silence cannot be presumed to be consent.
Emojis, as adminicular evidence, cannot play a decisive role in the judgement of cases, and their legal effect cannot be exaggerated. Judging from the foregoing judgment of the house-leasing contract dispute, the court's determination of the evidentiary effect of WeChat emojis is not simply based on WeChat's appointment of emojis and people's usual interpretations in the use of such emojis, but combined with other specific circumstances of the case. According to Liu Deliang, director of the Asia-Pacific Institute for Cyber-Law Studies at Beijing Normal University, the judge's determination of the meaning of emojis in the dispute is based on the existing legal relationship between the two parties, chatting background, contextual logical relationship, and other factors, rather than a single emoji. The judge's determination process of the probative force of the sun emoji is actually the specific application process of adminicular evidence rules.