Constructing China's modern communication system
LI JIDONG
|
2022-06-23
|
Hits:
Chinese Social Sciences Today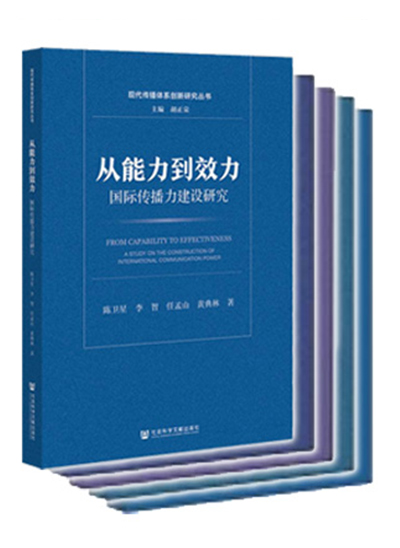 Modern Communication System Innovation Research Series
---
Modern Communication System Innovation Research Series, edited by Hu Zhengrong, director and a professor from the Institute of Journalism and Communication at the Chinese Academy of Social Sciences, consists of five books written by different scholars, including From Capability to Effectiveness: A Study on the Construction of International Communication Power and Chinese Media and International Communication.
The series is based on "the overall goal of national rejuvenation and in a context of the world's profound changes unseen in a century," from the perspective of integrated development and multi-dimensional historical analysis. The construction of a modern communication system is placed under changes in the international pattern and the world information transmission order, as well as under the context of the great rejuvenation of the Chinese nation. Responding to major practical needs brought about by the emerging communication ecology, the new pattern of public opinion, and the rise of China, the series is committed to the construction of an international communication knowledge paradigm with Chinese characteristics beyond Western centrism and simple dualism, exploring the strategy, approach, and mode of building China's modern communication system.
Conceptually, the series tries to surpass the single linear views of history and "civilization hierarchy theory," go beyond the state-centric dominant analysis mode, and grasp dynamic international communication in the dual analysis framework of nation and class. It emphasizes the combination of various social forces inside and between states, and offers criticism of the nation-state logic, forming historical, interconnected, dynamic, and political multidimensional perspectives. In knowledge-power relations, it highlights multiple dialogues, interactions, and fusion.
The series aims to grasp how international communication and international political and economic systems reinforce each other's construction. It elaborates on international communication's relationships with socialism and modern capitalism in history, clarifies the development of international communication, and positions China's modern communication system in the process of interrelated dynamic historical processes, establishing an interdisciplinary analysis framework that integrates domestic and international landscapes. Meanwhile, based on the online practice in China, it delves into the external constraints, internal demands, and role composition of the state as the main transmission subject, interaction subject, and action subject, rendering a new interpretation framework with both universality and differentiation in the era of global digital communication.
Li Jidong is deputy director of and a research fellow from the Institute of Communication Studies at Communication University of China.