Steering handcraft towards high-quality development
XU GANLI
|
2022-06-16
|
Hits:
Chinese Social Sciences Today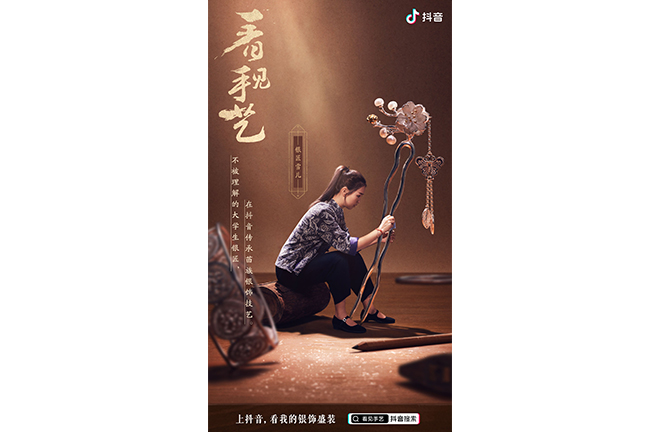 FILE PHOTO: In October 2020, Douyin launched an online competition prpgram, "The Wonder of Craft."
---
The creative transformation and innovative development of traditional handcrafted work is conducive to nourishing our cultural ecology, enriching cultural resources, and improving China's cultural soft power and international competitiveness. Based on field surveys conducted in recent years, and the national research reports from 2018 to 2021 published by Chinese Handicraft, this article summarizes the current creative transformation and innovative development of the traditional handcrafting industry, and proposes relevant suggestions.
Traditional handcrafts are undergoing a creative shift from production methods to cultural productivity. The main feature of this shift is the development of handcraft brands.
At present, handcrafted brands have been established based on ethnic and regional features. These take up the largest share of all handcraft brands: these two types of brands account for over 65% of the 407 national traditional arts and crafts recognized as intangible culture heritage. It implies that local cultural specialties and strong policy support are the foundation for building handcraft brands. Most brands have developed a variety of production models to ensure evolution in both quality and output, with household items, fashionable cultural and creative products, and high-end custom-made products concurrently forging ahead.
According to the 2021 Research Report on New Handcraft Brands in China, more than 20% of artisans attach importance to the transmission of cultural concepts and brand storytelling. It shows that handcraft brands have thought deeply about the communication of cultural concepts and lifestyles while focusing on their skills, and that tasteful brand concepts are taking shape.
The creative transformation of handcrafts from a practical function to a cultural service has attracted more people to participate in the endeavor and promoted the integration of handcrafts with everyday life. Transformation into a cultural service is mainly reflected in traditional handcrafts with low thresholds to entry, such as paper-cutting, patchwork, embroidery, and weaving.
First, the educational function of handcrafts is explored. With the introduction of handcrafts into the classrooms of primary and secondary schools, students can deepen their knowledge of traditional culture and exercise creative thinking and hands-on skills through a systematic study of handcrafts.
Second, handcrafts are made available to the public for hands-on experience. According to the China Craft Consumption Market Research Report 2020, the share of craft experience projects in the industry has rapidly jumped to 2nd place from 9th place in 2018. Consumers learn about the handcrafting process through experience. Crafting experiences have become an integral part of daily leisure consumption and businesses are able to generate revenue.
Finally, handcrafting has a strong capacity to serve communities and the elderly. As intangible cultural heritage gradually enters communities, more and more handcrafting techniques have been integrated into community classes, and many residents have signed up for such activities. It helps reinforce emotional connections to neighborhoods and adds more fun to the lives of middle-aged and elderly people. The function of handcrafting to serve communities and an ageing society is thus highlighted.
The innovative development of promotion channels for handcrafted items has increased their popularity. Traditional crafts have become a new favorite topic in documentaries and variety shows, and the fusion of traditional crafts with documentaries and variety shows has created a ratings boom, in addition to the usual channels of communication such as newspaper publicity and news broadcasts.
Beautifully illustrated and well-presented programs bridge the gap between traditional crafts and audiences by telling the vivid life stories of craftspeople and demonstrating specific production processes. Hundreds of skills are showcased in programs such as "Masters in the Forbidden City," "Extraordinary Ingenuity," "Earth and Ingenuity," and "The Great Shokunin." "Masters in the Forbidden City" obtained an online rating of 9.4 out of ten on Douban [a Chinese social networking service website], with more than 110,000 people participating in the rating.
The use of short videos has facilitated the popular spread of handcrafted goods. On Kuaishou, a short video platform, over 15 million content creators are making videos of intangible cultural heritage. In October 2020, Douyin, another short video platform, launched "The Wonder of Craft" program, which highlights handcrafts through traffic support, fee concessions, and other platform policy measures.
A multi-layered talent cultivation system has promoted innovative development of handcrafts. Since 2015, the formerly Intangible Cultural Heritage Department of the Ministry of Culture, in collaboration with higher education institutions, implemented a training program for people who have inherited intangible cultural heritage. This training is currently the largest cultural education project implemented through the higher education system in China. By the end of 2019, the program received a cumulative investment of RMB 500 million from the central government and saw over 100,000 participants nationwide. The vision, comprehensive quality, and enthusiasm of people who preserve intangible cultural heritage have all been enhanced.
Local vocational and technical colleges actively engage young and talented people and cooperate with handcraft enterprises, institutions that aim to protect intangible cultural heritage, and industry associations. Students' practical skills have been improved with production and teaching, and considerable innovative professional and technical talent has been trained.
Local governments, in collaboration with intangible cultural heritage protection institutions, organize non-profit classes and short-term paid classes for craftsmen. Such programs help identify and train craft enthusiasts. Inheritors can select successors with ease, promoting the transformation of enthusiasts into craftsmen, and providing the right condition for handcrafting to become a social inheritance.
Handcraft brand products have limited popularity and influence, and weak cultural narrative capacity. The development of handcraft brands is still at the stage of small-scale dissemination relying on regional cultures and policy benefits, with a limited brand radiation range. According to the 2019 China Traditional Craft Brand Research Report, the cultural narrative for handcraft brands lacks awareness of service and function.
The depth and breadth of cultural service functions need to be improved. At present, teaching handcrafts is mostly a demonstration process. Classes are not designed with distinct pedagogy for different age groups, and the courses suffer from a high degree of homogenization. Handcrafting experiences are highly commercialized.
However, many of the handcrafts selected for sharing are easy-to-operate ones with limited activities for consumers to experience. Consumers cannot truly appreciate the cultural connotations of handcrafts, resulting in a low repurchase rate. The lack of a professional intermediary platform limits the transformation of handcraft functions.
The management of dissemination platforms needs to be strengthened, and spatial dissemination is underutilized. The management of short video platforms is not sufficiently regulated, and the quality of videos varies. Some videos use the popularity of handcrafts to earn clicks, with homogenized and over-commercialized content. False information and wrong demonstrations of craftsmanship may also mislead the public, which is detrimental to the inheritance of handcrafts and the development of the industry.
The overall quality of craftsmen and trainers needs to be improved. The current market-oriented and information-based social environment places higher demands on craftsmen. Some craftsmen master exquisite skills, but have little knowledge of the cultural connotations, patent protection, and market operations of handcrafts, and some lack understanding of modern design and consumer needs.
In terms of training programs for intangible cultural heritage and local handcraft training workshops, the curriculums are not systemic and relevant enough. Some trainers are not equipped with profound professional knowledge, so they cannot provide authoritative and cutting-edge information on the industry, and trainees' needs are not met.
First, the resource integration and cultural export capacity of handcraft brands should be strengthened. We should combine handcraft brands with e-commerce platforms to maximize the integration of brand resources, guide cross-category and cross-regional cooperation among handcrafts, tap into potential consumer groups, and help brands break geographical restrictions to enter domestic and international markets. We must pay attention to cultural narratives, enhance our ability to export culture, improve cultural narratives' awareness of service and function, demonstrate specific content in plain language, focus on conveying the cultural connotations embedded in handcrafts, and lead a healthy, environmentally friendly, and tasteful lifestyle through cultural narratives.
Second, the depth and breadth of cultural service functions should be improved. We should fully explore the aesthetic education function of handcrafts, develop teaching and experiential courses for different groups of people based on schools, communities, and consumption places, enrich the teaching content, and add cultural history explanations and aesthetic knowledge in addition to demonstrating skills, to mobilize people's interest in handcrafts. We should accelerate the construction of cultural intermediary platforms and strengthen the breadth of functional transformation.
We should also speed up the development of professional cultural intermediary platforms, standardize their operation, and promote cooperation between handcrafts and industries such as clothing, beauty, home furnishing, real estate, and architecture, with a focus on investment in inter-generational education, leisure, and entertainment.
Third, the management of communication platforms should be regulated, and an aesthetic space should be built. National legislation and regulations should establish standardized management of short video platforms. Platforms should be urged to create a video screening mechanism, set up professional teams to identify bad content, to improve the creativity and professional level of videos, provide positive guidance to viewers, and lead the industry's healthy development.
We should focus on creating aesthetic spaces, promote integration of handcrafts into the decoration of consumer spaces, public cultural spaces, and community living spaces, and fully demonstrate the aesthetic characteristics of handcrafted goods in public spaces through carriers such as text, sound, images, and video, as well as new technologies such as VR, so that handicrafts become visible, audible, and palpable.
Fourth, training of high-quality talent must be accelerated, and their innovative development should be improved. We should improve the comprehensive quality of inheritors and professional craftsmen, focus on shoring up the shortcomings of craftsmen in cultural history, patent protection, market operation, and modern design, promote deep exchange and cooperation among peers, provide craftsmen with relevant platform resources to support them, and accelerate the cultivation of multi-disciplinary talent.
We should accelerate the training of design talent in the handcraft industry, enhance the design capabilities of craftsmen, pay attention to guiding design professionals to join in the creation of handcrafted works, and carry out creative designs based on an in-depth understanding of the cultural connotations, materials, techniques, and other basic handcraft content.
We should improve the curriculum for handcraft training and raise the selection criteria for trainers. Handcraft training workshops at all levels should be flexible, and offer courses which fit the trainees' actual skill level, to help them develop a knowledge structure. We should also strictly review trainers' qualifications, raise the selection criteria, and invite experts to give lessons according to the actual situation of trainees and courses.
Xu Ganli is the director of the Institute of Folklore at the School of Social Development at East China Normal University.
Edited by WENG RONG