Smart support system key to online litigation involving elderly
LI JIASHUO
|
2022-06-09
|
Hits:
Chinese Social Sciences Today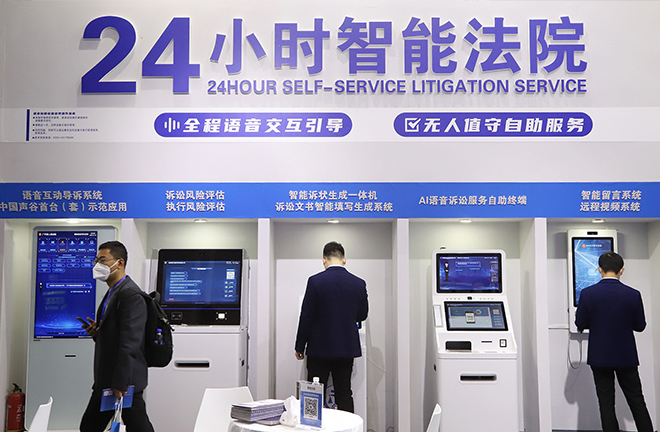 A 24-hour self-service litigation service system in Beijing Photo: CFP
---
To respond to people's higher demand for dispute resolution, the Supreme People's Court (SPC) released the "Notice by the Supreme People's Court of Strengthening and Regulating the Online Litigation Work During the Period of Prevention and Control of the COVID-19 Outbreak" in 2020. From Jan. 1, 2020 to May 31, 2021, China's courts filed about 12.197 million cases online and held around 1.288 million open courts online.
As online litigation booms and big data technology becomes more widely applied, it is time to apply both approaches to ensure the interests of the elderly. The government needs to build a smart case handling system to facilitate online litigation involving older citizens.
It is feasible to establish an online support system for senior citizens. The "Resolution of the Central Committee of the Communist Party of China on the Major Achievements and Historical Experience of the Party over the Past Century" was adopted at the Sixth Plenary Session of the 19th CPC Central Committee. The Resolution has made important arrangements for the first year of China's 14th Five-Year Plan (2021–25), including seizing the new round of technological revolution, facilitating the revolution of productivity driven by ICT breakthroughs, and building a modern rule of law that takes an aging society into account.
On June 17, 2021, the SPC issued the "Rules for Online Litigation Activities of People's Courts." The first paragraph of Article 3 provides that "People's courts may apply online litigation to the following cases after comprehensively considering the circumstances of the cases, the wishes of the parties, technical conditions, and other factors." This means the application scope for online litigation has been expanded to civil cases, commercial cases, and administrative cases, among other ordinary cases. The rule serves as legal basis for developing online litigation involving elderly people.
As China's population ages further, it is necessary to build a support system to help elderly people with their lawsuits online, by making litigation easier for them. The Seventh National Population Census, released by China's National Bureau of Statistics, shows that 13.5% of the Chinese population are aged 65 and over. According to the "49th China Statistical Report on Internet Development" released by the China Internet Network Information Center, the internet penetration rate with Chinese people aged 60 years and up was 43.2% by the end of 2021.
A wide gap between elderly people and other age groups remains in terms of information accessibility and resource distribution in the big data era. Bridging this gap calls for a support system to help meet elderly people's ever increasing litigation demand.
Internationally speaking, China has the latecomer advantage in establishing its online smart support system for elderly people. As digital technology increasingly merges with judicial practice, traditional offline litigation has innovated continuously. Some countries started their journey of legal digitization earlier than others, and their online court systems are better developed with each passing day. Their work serves as great examples for China.
A smart support system can make litigation easier for elderly people with inadequate IT skills. In the big data era, science and technology have become the bridge linking people with court systems, fairness, and justice.
For that to happen, internet accessibility and the basic capacity to operate a computer is a prerequisite for online litigation. However, 60% of the country's senior residents live in rural areas, and the proportion of aging population in rural areas is generally higher than that in urban areas. Therefore, a precondition to increasing coverage for national online litigation lies in increased network signal strength in rural areas.
Guided by the philosophy of serving the elderly, China has continuously increased investment in the country's infrastructure since completing the building of a moderately prosperous society in all respects. The problems of having no signal, or poor network connections in rural areas has been overcome.
Now that the elderly are able to access the internet, the key obstacle to promoting online litigation is their lack of computer skills. This is when a smart support system comes in handy. A smart system could close the digital gap for the elderly by making online litigation less challenging.
Online litigation makes it easier for the elderly to access legal aid. Elderly people are more likely to have compromised physical and cognitive abilities, as well as abilities to speak. While their somatic functions deteriorate, they are more susceptible to injuries, and are less capable of living and traveling by themselves. Therefore, traditional lawsuits that require litigants to prosecute, file a lawsuit, and go through court hearings, pose a great physical burden to elderly people.
A survey shows that the severity of aphasia is in positive correlation to old age. While using digital technology, users can now adjust the volume when they attend a hearing online. Necessary text notices are also available for those who have lost their ability to speak, thus making litigation more accessible to elderly people with aphasia.
For those with dementia, at the moment, digital technology contributes mainly by automating processes. An all-in-one smart support system can help dementia patients process lawsuits by doing tasks that would traditionally require manual operation, and facilitating seamless man-machine interaction.
Digital technology can help integrate the resources available and assist litigation in every possible way. The existing online litigation platform in China is not adequately developed, with information construction completed in a fragmented way. Online litigation platforms are not yet built in some areas, exhibiting a sharp regional gap.
To solve this issue, it is essential to ensure unblocked sharing of data among different platforms. With digital technology in hand, and data in mind, the SPC built the country's first centralized data management platform in June 2014. The platform has gathered judiciary information across China, and it is able to generate judiciary data instantly. Digital technology has integrated trial dynamics, an analysis of similar cases, judicial interpretation, data, and suggestions. Elderly users can search for, and learn from, similar archival cases. The platform has made it easier for elderly people to file for a lawsuit online.
So far, the platform has engaged over 3,500 courts across the nation, with all of their case information on board in real time. To safeguard elderly people's lawful rights and interests, and promote online litigation, it is important to integrate the resources we have and strengthen data management.
The government needs to build a smart support system for online litigation involving elderly people. It is necessary to strengthen research and development of intelligent voice assistants in the field of law. It is worth offering every elderly member in society an exclusive intelligent voice assistant, which helps the user with his/her affairs through the process of case filing, delivery, testification, court trials, and execution.
The elderly user can accomplish all these tasks by simply giving out voice instructions. With no need for manual operation, the voice assistant can facilitate litigation for the elderly in an automatic and intelligent way. Meanwhile, the intelligent voice assistant should be equipped with the ability to learn like a human being, to adapt to all legal scenarios flexibly—based on how the cases progress.
For that to happen, developers need to step up efforts in R&D to hone their products. The government should also work with software developers and fully activate social resources. Cities like Chongqing, Ningbo, and Guangzhou have begun to combine "smart courts" with APP development as an intelligentization move. Making these products easier to use, and barrier free for seniors, is also worth consideration.
In addition, an online information database should be established. The support system should feature a bigger database that enables an intelligent voice assistant to update in real time, in a bid to match elderly people's needs more accurately. This database should be built on open data and data sharing.
Indeed, China has completed the building of its four open platforms that link all courts in China with the SPC's official website. However, in practice, they are only open in form. It is not a thorough reform. Only by sharing open data among platforms, regrouping them, and distributing them in a rational way, can we truly facilitate ligation for the elderly. Data sharing fuels the digital legal construction, which means we must enhance information sharing among courts, government, banks, postal services, and beyond.
We must also build an efficient information treatment system. The development of rule of law, with the help of data, is oriented toward efficiency, fairness, and justice. With a database as the backstage support, senior citizens can send voice instructions to their legal voice assistants, and better participate in rule of law online.
Li Jiashuo is from the School of Law at Heilongjiang University.