Family education seeks new approaches in migrant cities
Chen Wulin, Luo Rongping
|
2022-06-02
|
Hits:
Chinese Social Sciences Today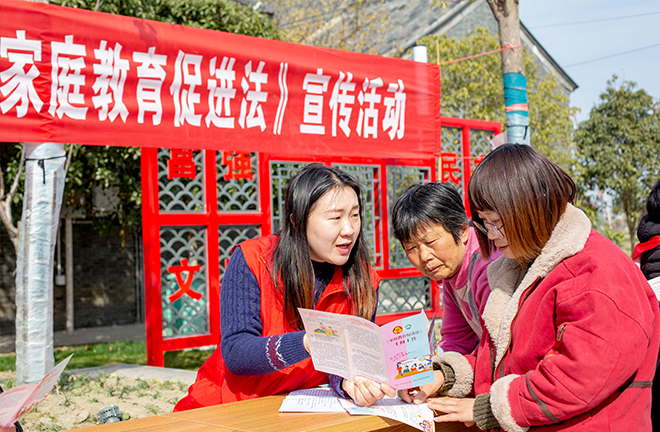 Publicity activity of The Law on Family Education Promotion of the People's Republic of China Photo: Zhai Huiyong/CNS
---
As The Law on Family Education Promotion of the People's Republic of China entered into force and was implemented, parents' obligations to educate their children within their households has gained legitimacy.
China places high premium on family education, which has been elevated from a "family issue" to a "national issue." Therefore, creating a healthy environment for family education has become an important cause inspiring coordination from families, schools, and society.
For families who have migrated to cities, these changes to legal rules and policymaking will undoubtedly bring new opportunities. In the rapidly changing information age, the value of education has been fully demonstrated, but the boundaries between family education, school education, and social education are being re-deconstructed and integrated. Family education in migrant cities also faces new contradictions and challenges.
New family form of migrant cities
The first challenge is how the unique new family form influences the way family education performs. With the emergence of immigration waves, the number of parents and families migrating from other cities is increasing, and the "left-behind" children, divorced single parents, and other families in special forms, coexist in a scattered way. As the leading city in China's reform and opening up and a special economic zone, Shenzhen (from Guangdong Province), possesses a large number of immigrant workers.
At the same time, while urbanization has certain advantages in providing people with a better life, the extremely high housing prices and heavy-loaded busy jobs also bring constraints to the way that families interact with external society. Currently, the structure of urban families is relatively in single form, with a correspondingly smaller size. With this trend, people tend to have a relatively simple understanding of inter-generational influence and kinship within large families. These factors are restricting how family education can perform effectively.
High expectations bring anxiety
In addition, high expectations for education from society generate anxiety among parents. In the process of urbanization, young people dominate a large part of Shenzhen's population structure, with the population totality growing rapidly and populations flowing frequently. In addition, the development of educational resources in some parts of the city is still uneven. These factors aggravate contradictions between supply and demand in basic education degrees, and also give rise to the phenomenon of abnormally fierce competition for educational resources across society.
Shenzhen's Seventh National Census showed that given the generally high education level among citizens, most well-educated parents demand superior education resources and scholastic attainments for their children. The consequence is that their children's academic performance becomes the focus of family education, but the other more important parts of child development such as personality, moral character, mental health, and so on, are ignored.
The next concern is about multicultural concepts, which affect family upbringing norms. Shenzhen's multicultural background is characterized by the coexistence of Guangfu culture, Hakka culture, Chaoshan culture, and other foreign cultures, which, together consist an immigrant culture in the city. For urban families, it is a common choice for grandparents and social institutions to take part in children's upbringings, and increasingly diversified child rearing methods have emerged. However, the new generation, born after China's reform and opening up, makes up the majority of Shenzhen's current group of parents. They have grown up in a diametrically different environment from their parents. This will inevitably bring challenges to upbringing practices due to certain differences in education concepts and modes among different generations of parents. As Shenzhen has improved in terms of internationalization, many parents have come to know about new education concepts, with generally greater awareness of scientific education. They are also trying to reshape the relationship between their children and themselves, and adjust the way they get along with each other.
As the "intermediate zone" between school and life for children, families should neither completely tilt toward intervening in study, nor toward merely focusing on daily life. For parents, less anxiety and more guidance is needed. After all, family education differs from school education, and focus should be placed on parents guiding children to enhance their growth and creating a healthy and harmonious family environment.
Chen Wulin and Luo Rongping are from The Division of Education at Shenzhen University.
Edited by BAI LE