Chinese-language education in South Africa needs to be localized
BAO RUI
|
2022-05-19
|
Hits:
Chinese Social Sciences Today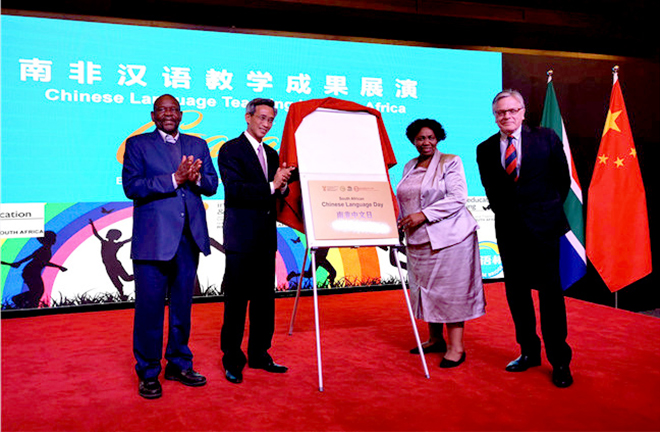 The launching ceremony of Chinese Language Day designated by the South African government Photo: Chen Cheng/XINHUA
---
Chinese-language education is an important channel for overseas dissemination of the Chinese language and culture. Since there are a large number of overseas Chinese living in South Africa, Chinese-language education in South Africa has a long history and has made remarkable achievements after nearly 100 years of development.
In the context of economic globalization, the "Belt and Road" initiative and the deepening of China-Africa cooperation have brought new opportunities for Chinese-language education in South Africa, as well as new challenges.
Sources for hiring teachers in South African Chinese-language schools can fall into two categories: one category is local Chinese, but with a small number of options; the other includes teachers and volunteers dispatched by the Ministry of Education of China, who lead the teams of Chinese-language teaching in South Africa.
In terms of curriculum, most Chinese-language schools focus on developing students' reading comprehension, Chinese character writing, pinyin reading, and oral expression. The teaching methods are similar to those used in Chinese courses from primary and middle schools in China. Some Chinese-language schools also offer math courses and classes for hobbies in calligraphy, traditional Chinese painting, martial arts, Chinese musical instruments, and dancing. In addition, Chinese-language schools in South Africa actively organize their students to participate in cultural activities held by various organizations and institutions in China. In recent years, with the growing demand for Chinese-language education, some schools have even opened "one-to-one" after-school classes.
Recently, cooperation between China and South Africa in the fields of humanities, education, and academia has shown good momentum. In 2011, the Chinese Culture and International Education Exchange Center was established in Pretoria, the administrative capital of South Africa. The Center has played an important role in promoting cultural and educational exchanges between China and South Africa.
Statistics show that from 2013 to 2018, five Chinese-language schools were established in South Africa. After designating 2015 as the "Year of China," the South African government added support to Chinese-language teaching. In March of the same year, the Ministry of Basic Education of South Africa officially launched a plan to promote Chinese as an unofficial language. In order to implement this plan, Chinese language, as an elective course, has been incorporated into the curriculum system of primary and middle schools in South Africa since 2016. Textbooks and teachers are offered by China's Jiangsu Education Department.
Despite remarkable strides in Chinese-language teaching, with the constantly expanding scale and improving quality of schools, there are still some problems and challenges.
The first is inadequate funding. Most of the funding for Chinese-language schools in South Africa is from local overseas Chinese associations, students tuition, and individual donations, which can barely support the schools' daily operation and management expenditures. The funding for updating facilities and improving conditions for teaching is very limited, which affects the overall development of local Chinese-language education and hinders the realization of localized transformation.
The next challenge is the lack of unified market norms. Some Chinese-language schools lack a sense of pursuing collective success, and there is limited communication and cooperation between schools. Frictions even arise between some schools due to competition over students. As private tutoring becomes increasingly popular due to its low tuition fees, well below the market price, it has adversely affected local schools. It can be said that the lack of unified market norms has resulted in a state of disordered competition among schools, which themselves deviate from the mainstream local education system.
The last obstacle is the incomplete local training system for teachers. For many years in the past, teachers in Chinese-language schools in South Africa mainly consisted of local overseas Chinese and Chinese teachers dispatched abroad. However, due to the short tenure and high mobility of these teachers, gaps quickly formed within teaching faculty, or the dilemma of no successive faculty members from year to year followed. Although some local overseas Chinese joined the teaching faculty team by virtue of their advantages in language, they may not be suitable in terms of their majors, and it is also hard for them to find training opportunities in teaching skills. Therefore, to improve Chinese-language education in South Africa, it is quite necessary to cultivate a professional, stable, and high-quality team of teaching staff.
Bao Rui is from the School of International Culture and Education at Zhejiang Normal University.