作者:WU CHUNYAN, WANG ZHONGYAO 来源:(Chinese Social Sciences Today) 发布时间:2017-12-21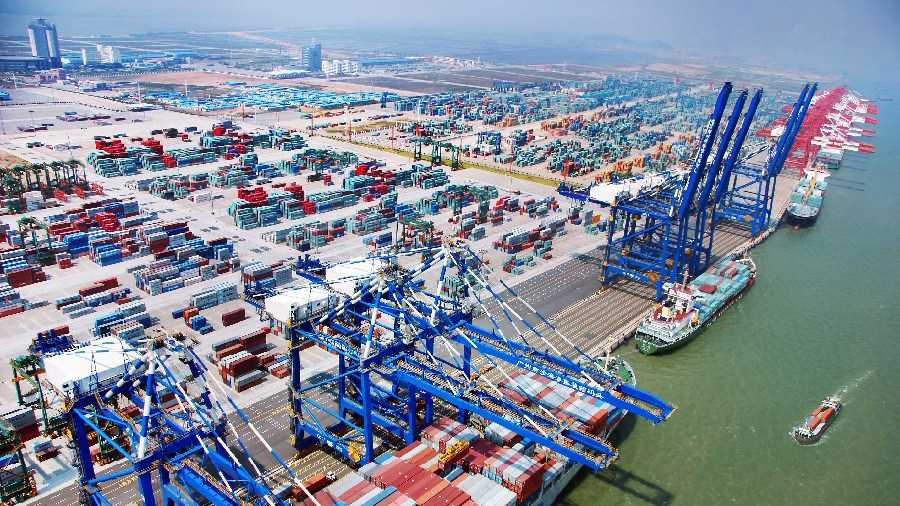 Nansha Port at Guangdong Free Trade Zone (PHOTO: XINHUA)
---
Bay areas and their surrounding regions generate 60 percent of the global economy, according to the World Bank report on bay areas. In most cases, bay areas are characterized by an advanced economy, open attitude toward maritime activities, excellent living conditions, intensive resources for innovation as well as profound integration. For example, New York Bay Area and San Francisco Bay Area produce one-sixth of the United State's GDP while accounting for 10 percent of national population and a paltry 0.4 percent of land area. They house the headquaters of more than 50 Fortune 500 companies and the leading Silicon Valley innovators.

"The biggest three bay areas in the world are all populous and economically prosperous metropolitan areas that lead by virtue of their massive economic volume, pleasant environment and diverse cultures. They are also centers of global economy and finance," said Zhu Wei, mayor of Foshan in Guangdong Province, in his speech at the forum.

"Currently, the world economic landscape is in a state of constant change. Competition and the development of city clusters have become economic engines for innovation and capital accumulation, with a huge influence that radiates outward," said Yu Haifeng, president of Guangdong University of Finance and Economics.

A bay area drives and guides the economic development of its home country. Given the circumstances of the Chinese economy, the plan of Guangdong-Hong Kong-Macao Greater Bay area is a corollary.

Guangzhou is situated at the mouth of Pearl River with Zhuhai, Zhongshan, Foshan, Jiangmen and Zhaoqing on one side and Shenzhen, Dongguan and Huizhou on the other side. These nine cities form a bay area in the marginal territory of southern China that also covers two special administrative regions: Hong Kong and Macao. The area has a total population of roughly 66.7 million and its GDP exceeds $1.3 trillion. It is one of the leading regions in the Asia-Pacific in terms of economic vitality and development potential.

The city cluster in the bay area is in the planning stage, drawing great attention from the forum attendees. Confident about the project, experts frequently noted three key words in their suggestions: openness, coordinated mechanism and supplementary development.

The bay area needs to be open in all aspects to succeed as a frontrunner. Wang Renzeng, director of the Research Center for Financial Market at South China University of Technology, pointed out that bay areas serve as the birthplaces of high technology and provide supporting environment for technological companies. They attract numerous entrepreneurs and investors because of their openness, innovation, globalized cities and pleasant living conditions, creating a significant growth pole within the world economy, he said.

Lin Jiang, a professor from the Lingnan College at Sun Yat-sen University, suggested that Guangdong-Hong Kong-Macao Greater Bay Area can fuel China's supply-side structural reform and "Belt and Road" construction. "The bay area can improve private enterprises' access to advanced technologies and talent from overseas, thus increasing the effective supply. Meanwhile, domestic companies can expand their business in the markets along the proposed routes," Lin said.

"It is difficult to improve the ability to coordinate various parts and develop a cooperating mechanism. Cooperation among multiple groups should be promoted by starting with the planning and construction work of infrastructure projects, such as roads," said Wang Jun, president of the Guangdong Academy of Social Sciences. The Pearl River Delta should follow principles of global counterparts and improve business environment that touches upon rule of law, globalization and convenience and address the gap with Hong Kong and Macao. Such efforts are also the underpinnings of multilateral consensus and cooperation.

Financial insurance industry strongly backs the bay area's economic development. Zou Xinyue, vice president of Guangdong University of Finance and Economics, said that construction of the financial center should focus on advantages of the involved cities and achieve a supplementary development model. With varied financial circumstances, these cities should strive to develop financial sectors with distinctive characteristics. He suggested Shenzhen emphasize technological finance, while Guangzhou is perfectly suitable to serve as a center for commerce, trade and services. A platform for bond exchange and business trade will provide various forms of financial resources across the bay area.

Each renowned bay area has a distinct financial system. New York is the biggest and most developed financial center in the world while Tokyo is the backbone of Japanese banks. In other words, a strong financial system is an essential element of a bay area's economy.

Guangdong Financial High-Tech Zone, the host of this forum, has existed for a decade. It has geographical advantages in terms of connecting global resources and exploring the market of the Pearl River Delta and the hinterland due to its crucial location in Guangdong-Hong Kong-Macao Greater Bay Area and its emergence as a new city center. The zone has maintained close contacts and cooperation with Hong Kong since 2007 and it was designated as the demonstrative base for free service and trade among the region. This March, it signed strategic cooperative agreements with Shanghai, Shenzhen and Hong Kong stock exchanges and won a 20 billion yuan project from the National Equities Exchange and Quotations. The high-tech zone is poised to attract quality financial resources from Hong Kong and Macao, facilitate financial cooperation in the region, and provide financial support for the future establishment of manufacturing and service clusters in the bay area.
The article was translated from Guangming Daily