Editor's Response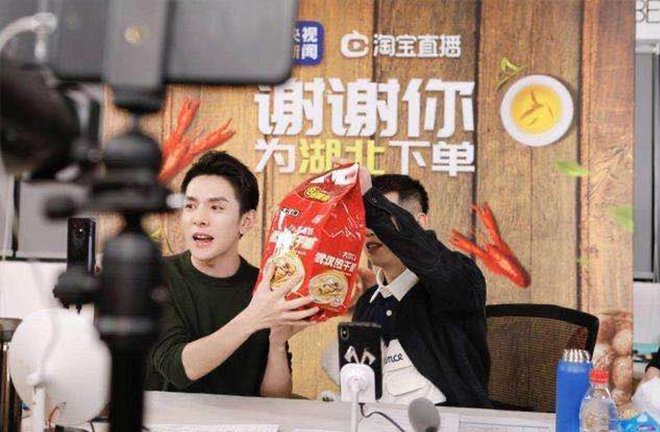 Live streamers selling products that were produced in Hubei Province and unsalable during the epidemic. Photo: FILE
---
Since the beginning of this year, online consumption has grown rapidly, and new models and formats have proliferated, such as e-commerce live streaming, community group purchases and non-contact food delivery, becoming a beacon of growth in the consumer market.
According to the National Bureau of Statistics, in the first half of 2020, online retail sales across China rose by 7.3% year on year. Since the outbreak of the epidemic, online consumption stole the spotlight of the entire consumer market. New business formats and models based on internet technology have experienced explosive growth. Against the backdrop of a sluggish market, the non-contact economy has sprung up with the thriving of other forms of online consumption, such as fresh produce e-commerce, online education and online doctor consultation.
"The sudden rise of online consumption can be attributed to how the epidemic has caused people to spend more time at home, fueling the rapid development of the stay at home economy," said Yi Shaohua, director of the Circulation Industry Research Office under the National Academy of Economic Strategy at the Chinese Academy of Social Sciences. Furthermore, years of infrastructure construction have led to today's more mature e-commerce platforms, revving the engine of online consumption. For example, e-commerce platforms such as TMall and JD.com have jointly launched a massive number of consumer coupons with local governments to leverage the potential of mass consumption. The emergence of new formats such as live streaming e-commerce has allowed for the online trade of goods such as houses and cars, which was nearly impossible in the past. These new formats have embraced online consumption's rapid development.
The fast growth of online sales has pushed the iterative upgrade of the consumption structure, which has been showcased in the reshaping of consumption patterns, Yi said. The thriving of fresh produce e-commerce, store-to-home and other new business models has enriched consumption scenarios, shed temporal and spatial restrictions and allowed consumers to make purchases anytime and anywhere. New modes represented by community e-commerce and community group buying have created a new consumption experience. Consumption no longer merely refers to the purchase of goods or services but also implies social exchange, interaction and leisure. The penetration rate of online consumption among communities and households continues to go up.
At the same time, new consumption hotspots have been emerging, and consumption upgrades have been pronounced. Zhao Ping, director of the International Trade Research Department at the Academy of China Council for Promotion of International Trade, said that the epidemic has reinforced residents' awareness of public and personal health and reversed the consumption growth of medical supplies and fitness equipment from negative to positive, maintaining a relatively high level of growth. In terms of the enterprises above designated size, their retail sales of sports and entertainment products and Chinese and Western medicines have generated a growth of 6.1% and 5.8% respectively in the first half of 2020.
Experts held that the unexpected expansion of online consumption has benefited from the advantages brought by China's super-large-scale market, increasingly mature digital information technology, and a sound and complete industrial chain and supply chain system. At the same time, its growth also means that the country has entered a crucial juncture in which the consumption structure is undergoing an accelerated upgrade, the iteration of consumption modes is gathering speed, and consumption is cementing its role in driving the economy.
"The successive emergence of new online consumption approaches has not only relieved the poor performance of offline consumption to a certain extent by expanding domestic demand and promoting consumption but also presented a strong vitality that can produce traction effects and stimulate the consumer market," said Wang Jinbin, executive deputy secretary of the School of Economics at Renmin University of China and a research fellow from the National Institute of Development and Strategy. If the online shopping habits developed by consumers during the pandemic persist, Wang explained, an impetus will be continuously injected into the consumer market. As a result, this will stabilize the consumption environment while encouraging offline companies to maintain their vitality.
Take live-streaming e-commerce as an example. With the help of the technical advantages of e-commerce platforms, live streaming e-commerce efficiently matches the consumer demand with services and reduces the information asymmetry between supply and demand through "face-to-face" communication. This move stimulates viewers' willingness to purchase and taps consumer potential. At the same time, the simpler distribution procedure can attract more online consumers back offline, promoting the development of the real economy. In addition, some enterprises are also optimizing production based on consumption data provided by live-streaming e-commerce platforms. They offer customized and specialized products and create new business patterns, forming a positive circle of supply and demand in which the two sides promote each other.
Online sales also allow markets to reach consumers in underdeveloped areas. Experts said that due to factors such as information asymmetry, the distribution industry has been haunted by how to promote agricultural products in cities and how to introduce industrial products to rural areas. New formats have brought new changes. The timely integration of the strengths of production, logistics and sales has allowed cities and villages to develop a circulation channel for their products. Agricultural products once unsalable during the epidemic have quickly found buyers. Also, consumers in the villages and towns who could not conveniently purchase online can now access more high-quality brands and products. They can even buy products across the globe thanks to the rise of e-commerce.
Online consumption has replenished consumption and become a major pillar for expanding domestic demand and fueling the domestic economic cycle. In the future, the growth of online consumption will remain high. It has led to the rapid growth of investment in e-commerce services and other pertinent industries. In the first half of 2020, the growth rate of investment in e-commerce services was as high as 32%, securing the supply side for the next half year. Furthermore, more forms of online consumption will take form as a new generation of applied information technology arrives and the country tailors more supporting policies.
At present, the recovery of the consumer market is still facing many constraints, especially amid continuing normalized epidemic prevention and control measures. Some consumption activities that require face-to-face gathering and contact require supervision, and people are still worried about going out for entertainment, tourism, dining and other activities.
However, the popularity of online consumption and the upgrading of the consumption structure have provided new ideas for economic recovery and development. "In the future, we should seize the opportunity for the development of new forms of online consumption, continue to promote the vigorous development of online consumption, and deeply integrate online and offline norms. We should focus on the overall situation and introduce plans to guide and support emerging new consumption models. Policies should target such aspects as funding and taxation to help new online consumption grow faster. At the same time, they can also nurture new consumption growth poles in combination with new business formats, stimulating consumption and endogenous motivation," Wang said.
To leverage online consumption to aid the recovery of the consumer market and activate economic development, it is necessary to better meet consumer demand from the supply side. The healthy and sustainable development of consumption requires enterprises to hone their supply structures; integrate production, supply and marketing links; and provide high-quality and high-level goods and services. Only by continuing to deepen the supply-side structural reforms and expand effective supply can we better meet the iterative consumer demand and stimulate long-term economic growth.
Many experts have agreed that although consumption has been temporarily held back, consumer demand is still in place. China has a population of 1.4 billion of which 400 million are in the middle-income group; the potential of the consumer market is immense. "The overall consumer market will continue to bounce back. Currently, China has formed a relatively mature and effective model for epidemic prevention and control t hat is conducive to the restoration of economic and social order. Also, the model can speed up the resumption of work and production and lend strong supply-side support for the rapid recovery of the consumer market," Zhao said.
This article was translated from Economic Daily.
edited by MA YUHONG