Contactless logistics system helps build future communities
SHEN YUYAN and QIN LIFANG
|
2023-05-11
|
Hits:
Chinese Social Sciences Today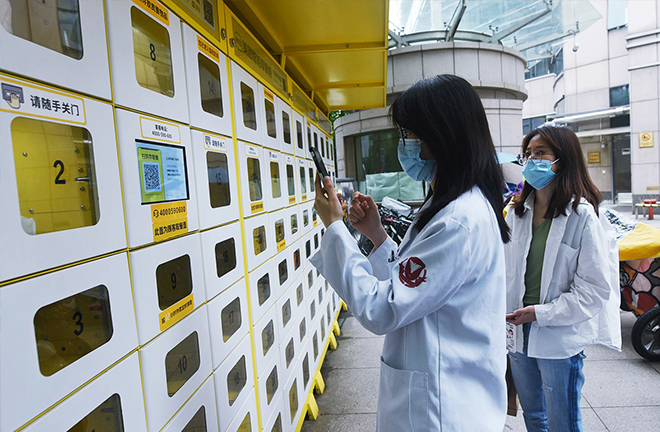 Two medical workers pick up food from a take-out locker in Hangzhou, Zhejiang. Photo: CFP
---
The 20th National Congress of the Communist Party of China's report pointed out that "the immutable goal of our modernization drive is to meet the people's aspirations for a better life," "building livable, resilient, and smart cities" and "improving people's well-being and raising their quality of life." 
Smart cities place great importance on community development, with a focus on creating intelligent, humanized, and convenient living experiences for residents. Community development for the future aims to enhance the quality of life for residents through innovative and technology-driven solutions. Sociologist Professor William Mitchell from MIT and communication researcher Roger Fidler were among the first to study "future communities." In recent years, smart construction techniques have been applied to create more and more classic examples of future communities at home and abroad, such as the impressive smart communities like "Punggol 21 Community Club" in Singapore and "Canary Wharf" in London. When developing communities for the future, we can apply emerging logistics technologies to integrate community express delivery, retail, and catering distribution.
Driven by social demands
In the digital age, the growing popularity of online shopping has led to higher expectations for community logistics. The pandemic also further highlighted the importance of safety and efficiency in community logistics. Concepts like "big cloud moving material intelligence (big data, Cloud Computing, Mobile Internet, Internet of Things, Artificial Intelligence)," "block chains," and "Smart Cities" have been integrated with contactless supply chain and emergency logistics. As a result, supply chains featuring new types of logistics have come of age, fueling contactless delivery.
As internet technology continues to advance, contactless delivery has emerged as a new growth pole in China's express delivery industry. Delivery persons can now use smart express lockers and other tools to deposit goods in customer-specified locations without direct contact. This model prioritizes customer experiences and utilizes network information sharing and big data technology for accurate positioning, providing personalized and customized services. In contrast to traditional door-to-door delivery services that require customer signatures, this method is "contactlessness," which satisfies demand for more efficient delivery services. It is achieved through integrating community logistics terminal resources, information matching, and efficiency optimization.  
In reality, contactless delivery has emerged as a response to modern urban production and living. First, it meets the needs of a mobile society. For instance, the high mobility of delivery people makes it difficult for them to form a trust relationship with community residents. Hence, the two would usually try to avoid direct contact with one another. Second, contactless delivery assists with the separation between living and working spaces. It is common for parcels to be delivered while residents are at work or otherwise not at home. As a result, the two groups' working hours rarely overlap. Third, with the changing age structure of society, there aren't enough delivery people around to meet the growing demand for logistics and distribution within communities. Finally, there are significant individual differences among delivery people, and average service levels may not be sufficient to meet the future needs of residents.
Vast application scopes
As new retail continues to gain momentum, there is a quiet transformation of and competition within community logistics' "last-mile" delivery sector. E-commerce giants have begun to invest in the community logistics and distribution sectors, aiming to boost service quality and efficiency using the internet. Contactless delivery is not just a logistics model born out of commercial operations, but also a manifestation of corporate participation in community governance, which reflects the participation of multiple entities in social governance. 
Advanced technologies like cloud computing and big data have led to the application of contactless logistics in community building and governance. For instance, mobile internet technology in community security and transportation has made diversified shopping needs and better consumer experiences possible. However, high-volume logistics involving delivery people has also increased community security and management costs. Contactless delivery reduces delivery people's mobility, reducing the pressure on community security and infrastructure. Similarly, the model provides a safer way for the elderly to shop and offers a broader space for community elderly care. 
Essentially, contactless delivery is more than sheer commercial logistics, for it has been widely applied in various fields of community governance. Its application prospects are broad. Actively exploring its potential applications can provide guidance for innovative community building.
Sustainable community governance 
The C2M (Customer-to-Manufacturer) model is a customized service model based on the internet, big data, and AI. It features automation, customization, energy efficiency, and flexibility. This model is based on feedback from users to service providers, using their needs as the basis for customization. By applying the balanced C2M contactless logistics system to integrate various resources in the community, we can minimize unnecessary steps to rapidly link residents with the community. This connection is based on the contactless logistics systems of future communities and can optimize various elements of the community governance system. The balanced contactless logistics system consists of four dimensions: quantity, structure, time, and space balance. It not only brings quick, convenient, and reliable delivery services to future community residents but also comprehensively improves the ability and level of social governance.
A balanced contactless logistics system can also enhance the emergency management capabilities of future communities through quantity balance and dynamic adjustments according to changes in supply and demand. For instance, based on our visits to communities in an attempt to understand supply and demand, as well as the data collected from intelligent cloud warehouse, the logistics system can make automatic calculations and adjust the quantity of goods to ensure efficient and prompt delivery of daily essentials to residents. Additionally, the logistics information system can receive feedback from residents' user experiences and user demand, while bringing in contactless equipment like express cabinets and thermal insulation cabinets to enhance the quality of community delivery services. This type of system can also integrate technology and emergency management mechanisms by utilizing big data to access the community's emergency resources so as to provide efficient information technology support. This can ensure timely and standardized development of emergency management.
Regarding structural balance, such a system can provide robust support for the safe management of future communities. Unmanned intelligent delivery devices can inspect prohibited items and identify individuals. Since they are also connected to information platforms, they can effectively identify and prevent prohibited items and potentially dangerous individuals. In the application scenario of unmanned delivery robots in communities, many technologies can promote the digitization of future communities, including virtual digital humans and intelligent robots, intelligent pickup cabinets, unmanned delivery stations, other intelligent end-point delivery facilities, as well as intelligent vending machines, intelligent micro-markets, and intelligent recycling stations, among other intelligent retail. At the same time, the system greatly enhances disease prevention and control as well as hygiene governance within the community, which is useful for preventing and containing the spread of major infectious diseases. 
Regarding time balance, these systems are beneficial for improving delivery efficiency and meeting the increasingly personalized needs of residents. Community logistics delivery solidifies information construction and realizes sharing and mutual use, providing services around the clock. Through the logistics information network platform for logistics ordering, residents can independently choose personalized services such as delivery time, pick-up location, and second delivery. The system can plan delivery schedules in an organized manner, thus preventing large gatherings of people to avoid conflicts and mass incidents.
The system can also enhance the governance of public spaces and improve community services, thereby promoting spatial balance in future communities. To achieve this, future communities can leverage various social resources to build a comprehensive and multi-level logistics network with wide coverage, supporting distribution services in challenging environments such as severe weather or dark nights. Express cabinets can also improve contactless logistics delivery, gathering information about sources of goods, as well as information sharing, thus enabling the two-way flow of goods. By doing so, the system can enhance community governance and prevent goods from taking up public space.
These systems also can have a stronger ability to guarantee key elements and strength multi-party participation, thus promoting the sustainable development of resilient governance in future communities. Contactless logistics integrates various scientific and technological achievements such as the Internet of Things, mobile internet, artificial intelligence, big data, and cloud computing, creating a platform for displaying and integrating modern technological trends. This helps expand the knowledge and improve the spiritual outlook of community residents. By providing better services to people through applying modern technology, contactless logistics lives up to its original goal of creating future communities that are convenient and beneficial to people.
Future cities rely on the construction of future communities. As a crucial link between future communities and cities, contactless logistics can also provide support for cities' resilience improvement and efficient operation.
Jiang Yuyan is from the Hangzhou Normal University Qianjiang College and Qin Lifang is from the Zhejiang Development and Planning Institute. 
Edited by WENG RONG