Blockchain helps tiered treatment and diagnosis
FANG BIAO
|
2022-12-08
|
Hits:
Chinese Social Sciences Today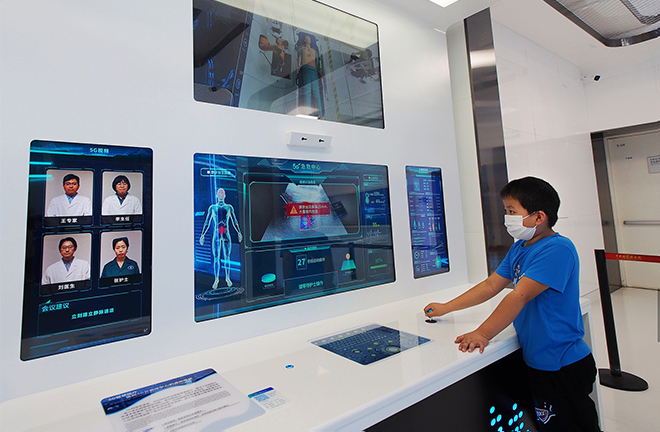 A boy tests the 5G cloud medical service experience at the China Science and Technology Museum in October, 2022. Photo: CFP
---
As technology develops and digital transformation continues, we are now seeing several cutting-edge digital technologies being applied to public health and medical treatment. 
The integration of the internet, big data and cloud computing are now fueling digital hospitals, yielding extraordinary results in disease prevention and early warning, diagnostics, medical resource distribution, etc. AI is also driving the innovative development of diagnoses, biopharmaceuticals, and even gene sequencing. Another breakthrough development is the combination of 5G and VR technologies, which help break the limitations of space and time for doctors offering medical services remotely. Blockchain technology, as a universal underlying technical framework, also has enormous potential to integrate and share big data in medicine, for the development of smart medical services, and for building Tiered Diagnosis and Treatment (TDT) systems. 
TDT systems mainly consist of an initial diagnosis at primary level hospitals and clinics, dual referrals, separate channels for treating emergency and non-emergency patients, as well as interactions between different tiers of medical institutions. In short, it is a system in which patients with different states of illness and levels of treatment are assigned to different tiers of medical institutions for diagnosis and treatment. Practices for equalizing medical and health services continue to showcase the importance of enhancing TDT. 
Newly emerging blockchain technology is essentially an online distributed ledger that allows both sides of the transactions to take part in keeping accounts, signing contracts, settling accounts, transferring assets, and more. This feature makes blockchain ideal for storing, integrating, and analyzing medical data when combined with TDT. Data remains private and secure, thus protecting the TDT information systems. When applied creatively in various scenarios, blockchain can help improve TDT systems as we organize and manage regional medical associations and equip them with medical resources and services.
Trigger points
Certain structural problems have long been lurking in China's medical service system, including "hospital-centered medical services," "treatment-centered approaches," and disorienting hospital experiences. The utilization of blockchain in TDT can help us tackle these trigger points regarding medical service provision, privacy protection, overall supervision, as well as adapting to patients' habits when seeking medical advice. 
Implementing TDT requires unencumbered sharing of patient information among medical institutions. Medical service providers and researchers need to consider how to balance medical information disclosure with privacy protection. Incorporating blockchain technology can therefore be useful for protecting patients' privacy during this process. Since blockchain data can be encrypted and trusted, it is ideal for the job. As cutting-edge algorithms can be used in a blockchain system to encrypt medical data and patients' information, security is enhanced while also enabling open data exchange. In addition, these algorithms can also effectively solve issues concerning authorized access to medical data within medical associations, non-transparent information, and susceptibility to outside attacks. 
Another blockchain benefit is that its database can function as both an archive and a bookkeeper, therefore all medical establishments within the medical association can take part in keeping accounts and uploading medical data. Furthermore, information can be displayed chronologically and transparently, making it difficult for data to be forged or tampered with. This way, medical workers and patients can access genuine medical information without going through intermediary agents, which can strengthen the confidential relationship between doctors, patients, and medical institutions. 
Secondly, blockchain can be used to enhance overall supervision. On May 20, 2022, the General Office of the State Council issued the "14th Five-Year Plan for National Health," which pointed out that it is necessary to accelerate building a tiered system of diagnosis and treatment, deepen interconnected reform in related fields, and improve the comprehensive regulatory system for medical treatment and public health. Introducing blockchain technology to TDT regulation could be of great benefit, since it can provide a solution to supervising and sharing medical information, hence making notarization of free online information possible. Patients can use the blockchain system to check diagnostic records, information on medical institutions, or find information on medications anytime and from anywhere. By allowing patients to review the credibility of a hospital or a doctor, the blockchain system strengthens the relationship between doctor and patient, and allows patients to play a regulatory role to protect public health security. 
Meanwhile, government regulatory agencies can be authorized to access the medical association database so that they can conduct "full-cycle" management over doctors, pharmaceutical enterprises, patients, and other participants in medical service activities. In other words, blockchain's distributed ledger will keep track of all the changes in data throughout the entire diagnostic process, which can help regulators track and review the relationship between medical workers and patients, while also overseeing the TDT diagnostic process.
Third, blockchain can help patients adjust to the TDT model and change unhelpful habits when seeking medical help. Blockchain is not only supported by strong algorithmic technology but is also closely associated with a unique mechanism for stimulating innovation. In the primary blockchain system, participants can jointly maintain and expand the system by building new blockchain, through which they can obtain virtual currency as a reward. This stimulating mechanism has been extensively practiced and creatively applied in business models like online shopping platforms and new media platforms. As a result, more people have become involved with maintaining this mechanism. Similarly, this stimulative mechanism and its logic can be applied to TDT to attract more people to its practice. Namely, through applying blockchain's stimulative mechanism, we may be able to guide patients to opt for the medical resources that suit them the best, while also taking part in bookkeeping tasks in exchange for rewards. This approach can subtly change people's habits when seeking medical help.
System building
Embedding cutting-edge technologies like blockchain into the TDT system can improve TDT disease screening, early warning, treatment decision making, management, and referral procedure optimization.
First, a blockchain system can facilitate early warning. TDT was created mainly to assist patients with choosing the right medical establishment for them. This makes the sharing of medical records and disease prevention particularly important. A blockchain system within a medical association will enable medical records to be accessed and obtained openly with authorization within the community. Consequently, doctors from different hospitals can quickly acquire information they need, which can reduce repetitive examinations and wasted resources. Assisted by the blockchain, big data, AI, and doctors at primary level medical institutions can make fast screening decisions and diagnoses, which will guide patients to seek medical help at the appropriate tier going forward. This will not only make early warning easier for acute or chronic diseases, but also help prevent concentrated outbreaks of infectious diseases. 
Second, blockchain can aid in decision-making and management. Research shows that blockchain systems can improve the quality of medical research and protect patients' privacy when sharing data. For instance, we can establish patient-oriented data sharing platforms for medical imaging and enable user-defined access permission for image sharing. This platform not only allows data encryption, but also facilitates data sharing and data-driven clinical research. It is fair to say that a blockchain system can function as an information exchange platform that enables various parties in hospitals to take part in disease analysis and diagnostic decision-making. As a result, the system will become "smarter." Blockchain can help make the TDT system flatter in structure, so that both doctors and patients can become a part of the brand-new system in which online inquiries, treatments, and prescriptions will be made much more convenient. Intermediary costs can be immensely reduced. 
Third, transferal procedures and services can be improved with blockchain. A "smart contract" is a program stored on a blockchain that can be automatically executed when predetermined conditions are met. As the "2.0 version" of blockchain technology, smart contracts can go a long way in various TDT application scenarios and in contract signing with family doctors, which are a key component of TDT referrals and services. They can make a TDT system more complete, and hence better realize vertical movement of quality medical services from the top tiers to the bottom and primary tiers. 
In March, 2022, six departments including the National Health Commission of the PRC, the Ministry of Finance, and the Ministry of Human Resources and Social Security jointly issued the Guiding Opinions on Promoting the High-quality Development of Contractual Services from Family Doctors. IAs a result, related institutions can establish a transferal platform based on blockchain and smart contracts, which can make communication among family doctors, their patients, and specific departments in medical institutions more convenient. Specifically, patients and family doctors can sign contracts directly via smart contracts, which will allow them to automatically share relevant medical information with each other while executing an agreement. This will promote high-quality development of contractual services from family doctors. Meanwhile, residents can seek medical help under the guidance of their family doctors. Follow-up visits can also be done on the transferal platform, which can facilitate smooth transferal and healthcare experiences. 
In conclusion, TDT based on blockchain can solve many existing health care issues like data sharing among medical establishments, privacy protection and overall supervision. It can encourage better patient habits when seeing doctors. To some extent, it can also improve hospital procedures and trust between medical workers and patients. 
However, we must remain aware that blockchain can only play a supportive role in empowering the medical industry. Efforts still need to be made to integrate other technologies to improve the quality of medical care. At the end of the day, what determines the quality of medical care is still a comprehensive system and the outstanding medical skills of doctors. Also, blockchain data encryption may one day be challenged by emerging quantum computing technology. As time goes by, the trading capacity and the operating maintainability of the blockchain system will also face questions. These difficulties deserve further research and exploration as we try to apply blockchain in TDT. In a nutshell, the development and application of new technologies like blockchain, big data, and AI require us to put people's lives, safety, and health first. 
Fang Biao is from the School of Public Administration at Central South University. 
Edited by WENG RONG