National standard language aids Chinese modernization
CHEN LIXIANG
|
2023-05-18
|
Hits:
Chinese Social Sciences Today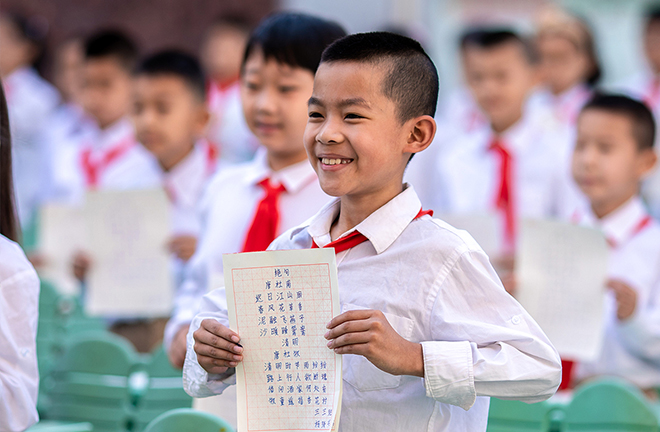 Students demonstrate their calligraphy work in a primary school calligraphy competition in Hohhto in June, 2022. Photo: CFP
---
China is a united multi-ethnic state, and the promotion and popularization of the national standard language is a prerequisite for fostering communication, exchange, and integration among various ethnic groups, as well as achieving shared prosperity and development. 
In China, the dissemination of the national standard language adheres to a people-centered approach, resulting in the formulation of academic concepts such as "creating a harmonious language life," "enhancing citizens' and the state's linguistic capabilities," and "facilitating barrier-free social communication." These approaches effectively meet the practical needs of the people, elevate their scientific and cultural literacy, and help advance Chinese modernization. The Report to the 20th National Congress of the Communist Party of China said "we will intensify efforts to promote standard spoken and written Chinese," describing how language can help safeguard and support Chinese modernization.
Significance
Promoting and popularizing a national standard language is an important way to consolidate the sense of community for the Chinese nation. A national standard language functions as a unifying cultural symbol for all ethnic groups. It plays an essential role in overcoming language barriers, preserving social interaction, safeguarding cultural heritage, and promoting unity. The formation and development of a national standard language have a lot to do with the convergence of different ethnic groups across China's vast landscape. By popularizing the standard language, China has brought different ethnic groups closer through better interaction, exchange, and integration in politics, economy, and culture. This has laid the linguistic groundwork for a shared spiritual home. 
The popularization of a national standard language can help build a high-quality education system and a strong, well-educated nation. Languages are carriers for information and knowledge, and their level of application directly impacts the quality of education and the holistic competencies of the population. A notable achievement stemming from the popularization of a national standard language is the improvement of both citizens' and the nation's linguistic capabilities. This helps improve the lifelong learning system and cultivates a learning society. Meanwhile, this effort also helps people of all ethnic groups enjoy more equitable and high-quality education. It helps modernize education, as it fuels China's endeavor of becoming a major learning nation, a strong nation in terms of human resources, and a talent powerhouse.
Popularizing a national standard language provides enduring support for the establishment of a new development model while encouraging high-quality growth. Having a mutually intelligible language is a pragmatic requirement for channeling all ethnic groups towards socialist modernization. It paves the way for unblocked information and resource channels, while effectively assisting people from diverse ethnic backgrounds enhance their developmental capacities and living standards. This will ultimately help fulfill people's aspirations for a better life. Proficiency in the national standard language is also a vital skill for talents if they want to compete outside their hometowns. Competency in the standard language can efficiently foster the circulation and organic integration of production factors, so as to strengthen the endogenous dynamics of China's domestic economy. The national standard language plays a pivotal role in enabling unobstructed social communication, as it provides the linguistic groundwork for poverty alleviation and building a moderately prosperous society in all respects. 
Necessary measures
First, we need to deepen the theoretical interpretation of the promotion of the national standard language from the perspective of macro-history, and advance its practical development. A profound historical background serves as a theoretical and practical source for generating strong momentum. By elucidating the origins of the national standard language, delving into the historical driving forces behind the formation of Mandarin and standardized Chinese characters, and analyzing the emergence and development of the standard language of the Chinese nation, we can better understand the language's historical inevitability. When conducting specific research, we should establish a "theory-history-method-experience" paradigm, examining the popularization of the language at different stages within specific temporal and spatial contexts. We should pay attention to the dialectical relationship between policy environments, institutional frameworks, and social structures, seeking theoretical foundations for promotional practices between "what is" and "what should be." We should  investigate the logic and concepts behind them. We should also analyze special cases, making them more universally significant, so as to provide effective theoretical support for language development in the new era and offer valid experiential evidence for national-level decision-making.
Second, we should recognize the value of popularizing the standard language from the perspective of modernization, in a bid to form scientific understanding. Since the founding of PRC, under the strong leadership of the Central Committee, our country has achieved historic accomplishments in this regard. The standard language has been popularized throughout the country, and linguistic communication barriers have been essentially eliminated. This shows how the innovative practices of language can serve Chinese modernization. The language has effectively responded to the communication needs of different historical development stages, in alignment with the historical trajectory of the Chinese nation from standing up, becoming prosperous, and growing strong. This highlights the power of language in a country's development process.
Reflecting on the Party's century-long endeavor in this area, we can identify many important experiences regarding the successful popularization of the standard language. These experiences include safeguarding and developing the linguistic rights and interests of the broadest population, adhering to the dialectical unity of subjectivity and diversity, emphasizing the investigation of the national language situation, focusing on school education as the main channel, and regulating linguistic life according to the law.
To better guide the high-quality development of language and script affairs and actively contribute to Chinese-style modernization, it is crucial to comprehensively assess the vital role of the national standard language in this process, promptly summarize relevant experiences, and elevate them into progressive theoretical achievements.
Thirdly, to advance Chinese modernization in line with its fundamental characteristics and essential requirements, we must prioritize the high-quality popularization of the standard language. This entails integrating historical and contemporary perspectives, both domestic and international, as well as theory and practice.
Modernizing national language
First, we need to focus on unleashing the potential of our large population, and stay demand-oriented as we optimize the services of the standard language. The imbalanced and insufficient development of the national standard language is a weak link in the modernization process. We should assess China's present linguistic conditions, concentrate on ethnic regions and rural areas, and pay attention to groups such as preschool children, teachers, young and middle-aged laborers, and grassroots officials. We should shift from "quantity-oriented" to "quality-oriented" development, while transforming human resources into talent capital while fostering social integration, innovation, and shared prosperity through barrier-free linguistic communication.
Meanwhile, we should attach importance to the improving language capabilities and literacy in the digital age. The internet has become a platform for exchanges and integration among all ethnic groups. It has provided a new domain for consolidating the sense of community for the Chinese nation and a new space for forging ideological consensus and disseminating Chinese cultural symbols. In the digital age, the standard language serves as the primary means of conveying information, and competence in this language is the foundation for human-computer interaction and social integration into the digital society. By providing appropriate and high-quality language services to the public, we can effectively foster the seamless integration of cyberspace and real-life society, thereby cultivating a broader consensus and collective wisdom.
Second, we must focus on promoting common prosperity for all via promoting their all-round development by enhancing their language and cultural literacy. School education is the main platform for making this happen. The language curriculum serves various educational purposes. The "compulsory education curriculum program and standards for Chinese" issued in 2022 included the term "national standard language" for the first time, with "language application" becoming an essential component of core language literacy. We should continue to let language courses in basic education stages play their roles in popularizing the standard language, in a way that enhances cohesion and consolidates a sense of community for the Chinese nation. This will also help us establish cultural confidence, cultivate new generations, and realize the great rejuvenation of the Chinese nation. We should fully utilize the leading role of colleges and universities in promoting the popularization of the language. By engaging in language practice activities, we can enhance people's language and cultural literacy, provide talent and intellectual support for achieving common prosperity.
Third, we need to focus on the coordinated development of material and spiritual civilizations. We should use the language as a carrier to inherit and promote traditional Chinese culture. Chinese language and characters are essential components of China's exceptional traditional culture. Projects and cultural activities, such as the "Chinese Poetry Congress," cater to the expanding spiritual and cultural needs of individuals while facilitating the dissemination of Chinese culture. The Chinese National Language Resources Platform provides language resources and quality language services, while the Chinese Language and Characters Digital Museum collects, researches, displays, interprets, and inherits excellent Chinese language culture using digital technology. These innovative, intelligent information platforms can help promote common prosperity for all in both material and spiritual terms. They can also help construct Chinese spirit, Chinese values, and Chinese strength.
Fourth, we should focus on building a community with a shared future for mankind, with Chinese language as the tool to promote exchanges and mutual learning among civilizations and to maintain world peace and development. The national language image is a symbolic carrier of the national image and national spirit. The "Key Concepts in Chinese Thought And Culture" project has sorted, translated, and interpreted core Chinese value terms to form a relatively complete Chinese cultural concept system, in a bid to present and disseminate Chinese culture to the world more accurately. International Chinese education is an important carrier and platform for enhancing the communication and influence of Chinese civilization. Thus, we should promote the innovative development of international Chinese education and cultivate international Chinese education brands. We need to display the spiritual symbols and cultural essence of Chinese civilization to help people from all over the world to better understand China and Chinese culture. By building bridges of friendship that blend Chinese and foreign cultures and facilitates communication with people from all countries, we can deepen exchanges and mutual learning between Chinese and foreign civilizations, and contribute to building a community with a shared future for mankind.
Chen Lixiang is from the Institute of Applied Linguistics, China Ministry of Education.
Edited by EWNG RONG