China depicted by new lexicon
YANG WEI and CHU YAQIU
|
2022-12-29
|
Hits:
Chinese Social Sciences Today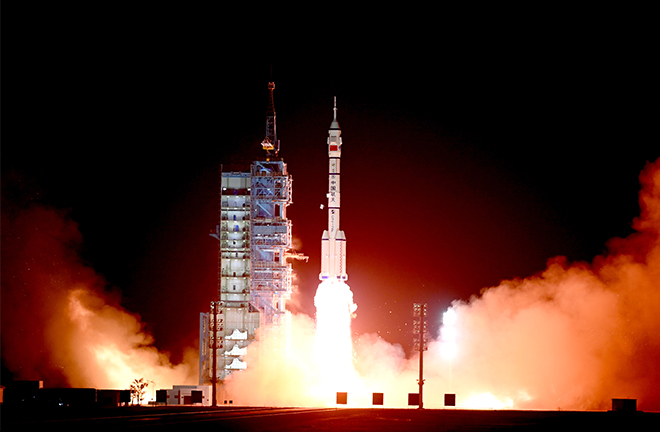 On Nov. 29, China successfully launched the Shenzhou-15 spacecraft with three astronauts on board. It made a fast, automated rendezvous and docked with the Tiangong space station the next day. Photo: CNSphoto
---
As a special social phenomenon, language records and reflects the times. As the barometer and weathervane, words which have newly emerged and entered the lexicon directly depict the country and society. On May 22, 2006, the Ministry of Education and the National Language Commission held a press conference to release the Language Situation in China 2005. Since then, annual reports on what is called "language life" in China have been published, covering linguistic policy and planning initiatives at the national, provincial, and local levels, new trends in language usage in a variety of social domains, and major events concerning the lexicon in China. Using statistics dating back to 2012, we found that a total of 3,337 new words have entered the vocabulary, greatly enriching the modern Chinese lexicon. 
Word-formation
There are several ways by new words are formed. The first category is the creation of new words or lexemes through compounding. The first mechanism is a direct compound, where a clear description is compounded to form one new word. For example, the "Chinese Farmers' Harvest Festival" is the first national festival dedicated to farmers, falling on the Autumnal Equinox according to the Chinese lunar calendar. The "DC/EP" is acronym of "Digital Currency Electronic Payment," a legal tender issued in digital form issued by the People's bank of China.
The second mechanism is another compound form, which uses metaphor, analogy, metonymy, and parody. For example, "ice screen" is a metaphor for an electronic device's screen that is as clear as ice and "A4 waist" refers to the waist of a person as thin as a sheet of A4 paper. "Melon eaters" is a metonymy that stands for onlookers who calmly observe without engaging, as is "prehistoric power," which means one has spared no effort. A series of "online +X" compound terms represent typical metaphorical compounds, such as an online-booked chef, online-booked tour guide, and car-hailing, and the similar structure "X+" such as "smart+" (smart city), "cloud+X" (cloud economy), "X+cloud" (poverty alleviation cloud), "X+style" (Zhenhuan ti, a popular trend which stems from refined dialogue of the popular Chinese TV drama "Legend of Zhen Huan"), "micro + X" (micro tax), "shared + X" (shared farm), "earthy + X" (earthy culture), and "contactless +X" (no contact delivery), and so forth. Compounding is a very productive way to create new words. In addition, there are new words created by exaggeration, personification, and other rhetorical devices.
The third mechanism is phonetic matching, where the original language material is similar in sound but not meaning. For example, "thin blue mushroom" phonetically harmonizes with the Guangxi dialect's way to express "feeling uncomfortable and wanting to cry." "Hou sai lei" is the Cantonese harmonic compound for "good job or wonderful."
The second category is conversion, which gives old words new meanings. For example, "mythological beasts" originally referred to ancient Chinese mythical creatures and is now used as a nickname for underage children in a family. "Dian xiao er" was the name for service personnel at ancient post stations, teahouses, hotels, or inns, but now it is used to describe people in government departments and enterprises who provide helpful services to ordinary people. A "magpie bridge" in Chinese legend is formed by a flock of magpies to reunite two separated lovers—the cowherd and the weaver—and now is the name for the Chang'e-4 lunar probe's relay satellite. A "sense of gain" originally referred to the satisfaction felt after earning profits, but now refers to people's happiness in sharing the results of policy reform.
The third category is abbreviation, creating a new word by contracting a phrase or sentence. For example, the "three new developments" is a simplified form of the new development stage, new development philosophy, and new development pattern. The "five connectivities" is abbreviated from policy, infrastructure, trade, financial, and people-to-people connectivities. "Two conscription and two discharges" is a shortened form of two conscriptions and two discharges of military service in a year. "Two new and one major" is a collective term for the construction of new infrastructure, the new urbanization form, and major public works such transportation, water conservancy, and others. 
The last category borrows foreign words or letters to create new words. For example, "SIP," which is an acronym for "Super Intellectual Property," also known as "super IP," refers to an original story or concept that could be adapted into a movie, television series, computer game, or any other commercially derived product or application, so the idea holds great sustainable value for cross-media reproduction. "To call" (Da kao) means to support someone with shouts and cheers. "Call" is borrowed from Japanese, initially referring to fans at a concert cheering for the act. 
Reflection of Chinese image
Our study of the Language Situation in China since 2012 shows that new words emerge in large numbers and at a fast speed, featuring the following characteristics. From the perspective of word formation, compounded new words are the most common category, whereas conversion, abbreviation, and words created by borrowing foreign words or letters account for a small percentage. Taking 2020 as an example, a total of 262 new words were formed, of which 216 were new compounds, accounting for 82.44%. Second, the new words were mainly polysyllabic, while the proportion of monosyllabic and double-syllabic words remained small. Third, the emotional color of newly formed words is mainly neutral. In 2020, there were 242 neutral words, accounting for 92.37%. 
In addition, some of the newly innovated words have vivid images, such as "zhongnian youni" (a portly middle-aged man), and "zhong cao" (influencing, or being influenced to long for a particular product or experience). When we look at the language, they are indeed reflections of the social reality. It can be said that the new words record a decade of contemporary China from different perspectives.
We can see China's political progress in the new words. For example, the Thought on Socialism with Chinese Characteristics for a New Era was established, the central Party leadership's eight-point decision on improving work conduct was issued, and a learning platform "Xuexi Qiangguo" was launched to raise people's ideological consciousness, sense of civic duty, and scientific literacy. 
In anti-corruption campaigns, the government insisted on cracking down on the "tigers" and "flies," converted words that symbolize high-ranking corrupt officials that undermine national interests and low-ranking corrupt officials who harm the people's livelihoods, respectively. In streamlining government procedures and upholding a people-oriented approach, governments at all levels strive to provide an inter-provincial service, and so primary communities have launched a "problem wall" of "handling cases immediately upon receiving them," and courts at all levels have implemented the working mechanism of "classification, meditation, quick hearing, and quick verdict" and encouraged "micro-hearings." 
Meanwhile, we have strengthened the Party's overall leadership, put forward the "Chinese Dream," adopt the "Five-Sphere Integrated Plan," which is meant to promote China's coordinated economic, political, cultural, social, and ecological advancement, implemented the "new smart city" and the "rural revitalization" strategies, won the "poverty alleviation" battle, and led the Chinese people into a "new stage of development." We have also proposed the "Belt and Road Initiative," and committed to "building a human community with a shared future."
In the economic sector, we proposed the development goal of building a "modern economic system," further deepened "supply-side reform," intensified efforts to "reduce subsidies," set up the "pilot Free trade zone" and "Xiongan New Area." 
New economic forms of business keep emerging, just as are words to describe them. There are intelligent models such as the "digital economy," "contactless economy," "screen economy," "internet-based economy," and "sharing economy," as well as different new economic forms such as the "night economy," "child economy," and "livestreaming e-commerce." Monetary forms innovate with the emergence of "DP/EP" and the "reform of social security income tax" and "tax burden shift" have been implemented, the "tax on overseas purchases" has been levied, and a "micro-taxation" platform has been launched. The scope of loans has expanded, such as "farmers' home-purchase loans," "resident loans," and "renters' loans." Changes in consumption patterns are evident, with new vocabulary for virtual pay such as "micro banks" "cloud flash payments" and "VR payments" gradually replacing cash. 
"Targeted poverty alleviation" was carried out, compiling a unified national poverty alleviation information system with a focus on households and individuals. The "three regions" (the Tibet autonomous region, Tibetan ethnic areas in the four provinces of Qinghai, Sichuan, Gansu, and Yunnan, and the four prefectures of Hotan, Aksu, Kashgar, and Kizilsu in southern Xinjiang) and the "three prefectures" (Liangshan Yi autonomous prefecture in Sichuan, Nujiang Lisu autonomous prefecture in Yunnan, and Linxia Hui autonomous prefecture in Gansu) were key areas for the success of building a moderately prosperous society in all respects.
The establishment of the "AIIB," and the construction of the "Silk Road Economic Belt," "Ice Silk Road," and "Digital Silk Road," as well as "BRICS Plus" initiative, "dual circulation," and "new development pattern" have attracted wide attention abroad and at home.
In culture, China emphasizes "cultural confidence," forges "a strong sense of community for the Chinese nation," develops the "Chinese Classics Recitation Project," and launches a "Chinese Characters Dictation Conference," showcasing a coexistence of "refined culture" and an "earthy culture." 
In terms of education, policies such as "double reduction" which refers to a reduction in the amount of and time spent on homework and a reduced after-school "subject-based" training program burden have been frequently discussed. Universities and academic disciplines included in the "double world-class project," "ensuring uninterrupted learning when classes are disrupted," and "cloud classrooms" were also widely quoted. 
In science and technology, we implemented the strategy of "innovation-driven development" and "new digital infrastructure." The "Chang'e" ongoing space exploration, "Jiaolong" diving into the deep sea, 500-m aperture spherical radio telescope (FAST) gazing at the stars, and BeiDou Navigation Satellite System (BDS) provide guidance service. "Internet+ e-commerce," "software information," mobile payments, the "sharing economy," and other new business forms and models subsequently emerged, signaling the arrival of the 5G era.
In the medical and healthcare fields we made building a "healthy China" a national strategy. Technology has been applied to the medical field, and "AI doctors" and "smart medical assistants" have been developed and applied to realize "precision medicine." 
In labor and employment, "stable employment" has been highlighted. In population and family planning, the impact of the "two-child policy" is felt across sectors. In community construction, "Internet+" is incorporated into the national top-level design, giving rise to "smart communities" and "interconnected communities." "Online celebrities" across industries gain fame. The "craftsmanship spirit" is practiced by people from all walks of life. "Positive energy" is highly lauded by the people, and the Chinese people's "sense of gain" is constantly enhanced.
In terms of ecological development, China has set the goal of "carbon peaking" by 2030 and "carbon neutrality" by 2060. The "Ten Action Plans for Air Pollution" and "Ten Action Plans for Water Pollution" were issued to reduce pollution and cut carbon emissions. Development of new-energy vehicles and clean energy are at the top of the agenda. The "APEC blue," "National Day blue," and "Winter Olympics blue" made headlines. "Green V Customers" and "Clean Walk" campaigns advocate for conservation and environmental protection, the "SBAG" initiative encourages garbage classification and recycling, and the "cloud tree planting" activity has gained popularity. Ecological and environmental changes are quietly taking place, and the construction of a "Beautiful China" is underway.
Yang Wei is from the International College for Chinese Studies at Heilongjiang University; Chu Yaqiu is from the College of Literature at the same university.
Edited by YANG XUE