Preventing separatism critical to ethnic issues
By Chen Xiaolu
|
2015-02-26
|
Hits:
(Chinese Social Sciences Today)
The picture depicts the unity of all the 56 ethnic groups of China.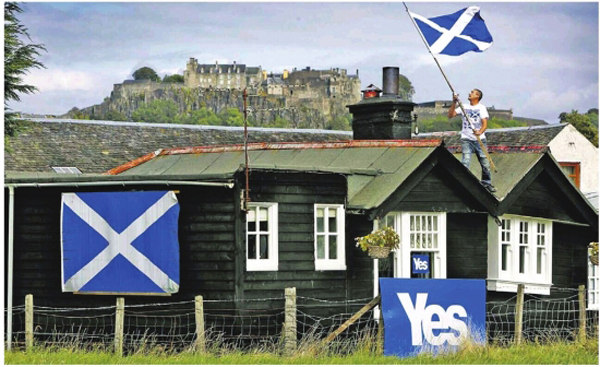 A Scottish nationalist stands on the roof demanding independence.
Ethnic conflicts, though common throughout history, have led to the split of some sovereign states in the modern age. Many violent conflicts worldwide gained prominence in academic circles after the Cold War. During the process of modernization, ethnic issues began to be closely related to nationalism with new qualities and connotations.

Modernization bred nation states
Stemming from the global pattern constituted by modern nation states, national secession went hand-in-hand with global modernization and the evolution of nation states. From a historical perspective, global modernization has bred nation states.

There have been signs of national separation since nation states were formed. Ethnic conflicts fanned separatist movements under the premise that the most effective way to weaken a rival is to split it. States therefore make territorial integrity a top priority of nationhood.

To realize their modernization, sovereign states must create a "national identity" suited to their situation. A national identity includes national concepts, common symbols, a series of rights and obligations for citizens, and even identification of common enemies. While modernization brought nation states into being, nation states have also advanced their own modernization causes in return.

Ethnic issues in two types of states
The nation state is a product of global modernization. However, intrinsic contradictions have persisted since its founding. Nationalism not only gives rise to modern states, but is also the most powerful weapon to divide them.

It is a realistic problem that the aggregate settlements of ethnic groups within a country are not equated to the territory of the modern sovereign state. To date, territorial issues are still the most difficult problem to solve.

In Europe, the Americas and Asia, no country features only one ethnic group. In addition to the immigration tide in the globalization era, the mix of different ethnic groups has been commonplace in the world, hence the universality of multiethnic states.

Ethnic issues amid modernization are concerned with whether all ethnic groups in a modern state can secure equal rights and share development dividends, which in the final analysis is about the allocation of various political and economic rights.

From this angle, existing sovereign states in the world fall into two categories: states that have accomplished modernization goals and those that have not. Ethnic issues facing these two types of states are vastly different.

By and large, states belonging to the first category have institutionally set up a framework for solving domestic problems of all sorts. All ethnic groups within this group can generally realize their own modernization goals on a common platform.

Although ethnic issues haven't faded away completely, ethnic minorities feel no urgency to seek rights for basic survival and development. In other words, ethnic problems are not predominant in these countries.

However, states in the midst of modernization are confronted with entirely different ethnic issues. While addressing their own ethnic problems, they are facing dual pressure imposed by development and reform, as well as internal and external stress.

There is an urgent need for these nation states to grapple with countless urgent developmental problems within a short period of time, so that different ethnic groups at home can share dividends generated by modernization fairly. To solve these problems, state apparatus should be prioritized and highlighted.

Amid globalization, developing countries should, under both internal and external pressure, strive to settle ethnic issues while coping with development problems. In recent years, a new wave of nationalism under the banner of "self-determination" and "neo-interventionism," which chants the slogan that "human rights override sovereignty," have posed grim challenges to the stereotyped conception of state sovereignty and put tremendous external pressure on developing countries when they are resolving ethnic problems.

Nation states and ethnic issues
After analyzing ethnic issues facing the aforementioned two types of states, it requires deeply understanding other related issues for coping with the challenges emerging within modernization from ideological and theoretical perspectives.

First, it is about the virtue of a nation state. The nation state is virtually a modern sovereign state on a legal level. It stresses integrating ethnic groups on state platform to strengthen safeguarding capability. Only by prioritizing prevention of ethnic separatism and keeping the unification of a state the top priority is it possible to create a reasonable platform for solving ethnic issues.

Second, it requires recognizing the fact that modern sovereign states are gradually established on the basis of the contest of all forces, rather than emerging naturally. In order to keep the initiative of building a modern country, it is necessary to clearly understand sovereign issues. A real sovereign state will not allow separatist activities within the country.

Finally, it is also necessary to comment on all kinds of ethnic theories from China's perspective. The dominant Western ethnic theories have a fundamental deficiency. Western scholars share a common answer: developed economies led by the US are the main parties needed to "resolve" ethnic issues of other countries and regions all over the world.

Ethnic issues emerging within the course of modernization virtually refer to the initiative of national development. The countries that can stand out from fierce competition and have a strong state apparatus will have the ability to take their fate into their hands and even intervene the ethnic issues of other countries. By contrast, nation states that cannot determine their fates will be bullied and even controlled by the rest. For these issues, we need to have a clear understanding.

Chen Xiaolü is a professor from the School of History at Nanjing University.