Eight trends driving China's future labor market
By YANG YIYONG, ZHANG QIANG
|
2016-12-08
|
Hits:
(Chinese Social Sciences Today)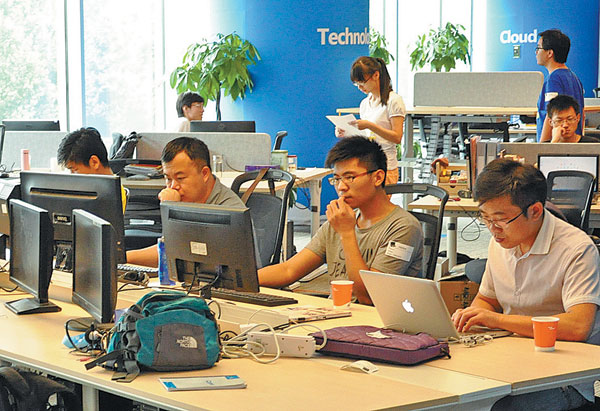 Young people involved in startups work with the aid of the Microsoft Ventures Accelerator incubation program in Zhongguancun, Beijing.
---
It is vital to research, estimate and grasp development trends of labor economics in the context of the new normal. Studies in this field have identified eight major trends, including talent dividend, active entrepreneurship and cooperative economy.


Talent dividend
Growth of talent scale and better use of talent can generate greater economic profits compared to inputting an equal amount of unskilled labor. In circumstances like this, talent dividend refers to the increase of economic profits. Hu Angang, a professor of public policy and management at Tsinghua University, said China's demographic dividend began to decline after 2010. The proportion of laborers whose highest educational attainment is high school or polytechnic school has increased by 2.63 percent much higher than 1.1 percent, the decrease in working-age population. This change marks the arrival of China's talent dividend.

The demographic dividend will abate and ultimately disappear, making it possible to obtain a talent dividend. The priority is to tackle the employment issue, and university graduates should be the focus. At present, the challenge of achieving full employment forms a sharp contrast with labor shortage. University students are facing crucial challenges in the job market. The higher education system should be optimized step by step and the differences between students who respectively specialize in fields with practical applications and academic research should be clarified based on market demands so that university students can make full use of their own talent.

Also, a perfected and upgraded industrial structure can offer more opportunities for talent. Relevant organs should strive to train and introduce high-level pioneering and innovative professionals and provide more favorable benefits, to attract more overseas talent to come back to China. In addition, a more ideal environment for entrepreneurship helps to offer the talented a better platform to start business.


Labor transfer
Industrial environment has changed due to a variety of factors, such as higher labor costs. Domestic labor is no longer sufficient for China's industrial development, so China can transfer some projects to countries with ample labor reserves, especially ones along "Belt and Road" corridors. China will increasingly utilize labor and other resources of other countries to promote industrial development.

Specifically, relevant government departments should focus attention on projects concerning the "Belt and Road" initiative in future development and make a detailed enforcement plan. At the same time, the Asian Infrastructure Investment Bank, Silk Road Fund and other organizations can raise funds to drive industrial cooperation so that China can transfer a number of projects to other countries and make full use of favorable costs and trade policies to achieve a better industrial structure.


Initiative entrepreneurship
China encourages public involvement in entrepreneurship and innovation. To respond to the fourth wave of entrepreneurship, China should motivate people to actively start their own businesses rather than passively find a job.

Government agencies at all levels ought to further reform the administrative system by streamlining regulations and creating favorable policies in a bid to motivate entrepreneurship. Educational departments should make supporting strategies to perfect the aspect of entrepreneurship and innovation in the education system.

A market advocating fair competition helps to accelerate reform of monopoly firms. State-owned enterprises should survive on core competitiveness in the fair market rather than completely rely on administrative resources. Local protectionism should be abolished to ensure fair market competition. Also, a credit system is necessary to streamline the behavior of firms. Laws should safeguard entrepreneurs in the process of starting businesses.
Fair employment
Fair employment needs to be further promoted because workers are paying greater attention to the protection of rights, laws and fairness.

First, efforts should be made to improve laws, regulations and administrative rules that are relevant to fair employment across China. Currently, there are a number of discriminatory terms that function in an invisible way. Terms of this kind should be eliminated gradually.

All members of society need to raise awareness of rights, which is the best way to reduce employment discrimination in the current situation. Governments and judicial organs should lecture the public about the harms caused by employment discrimination and strive to eradicate it. Labor unions should act as a third-party negotiator and representative of labor rights, thus playing a crucial role in fighting against employment discrimination.

Regions around China should push forward labor market reform through innovations to the household registration system. Such measures enable labor to freely flow among different regions, forming a unified and coordinated labor market in China. At the same time, more support should be given to the socially vulnerable group in terms of employment and professional training.


High wages, efficiency
The key to keeping wages and efficiency high while minimizing risk lies in the optimization of the industrial structure. The Chinese economy is at a crucial stage in which its engine has turned from factors of production to efficiency and innovation. China no longer only makes products for foreign countries in labor-intensive sectors, because China is developing new strategic industries, leading to shifts both in industrial structure and labor pattern.

Complete institutions form the basis of labor transformation. In the future, we should attempt to achieve full coverage of social welfare and promote its fair and sustainable development. At the same time, we should improve the treatment of skilled workers while opposing employment of child labor, illegal employment and the withholding of wages. We also should strengthen supervision of labor law enforcement to ensure all people have a decent job.


Collective bargaining
China's traditional labor relations are subordinate and individualist. Under this model, it is more difficult for individual workers to defend their rights and interests. The establishment of collective labor relations that are compatible with the development of a market economy is conducive to promoting social equity and justice. At present, employees are at a disadvantage compared to employers. Contradictions between the two groups can be resolved through collective bargaining, providing legal and effective channels to maintain social stability.

In labor law, the right to bargain collectively is the most important and basic, constituting the prerequisite and bedrock to ensure their independent legal status. Secondly, as a member of the tripartite mechanism, government agencies should pay attention to break and address the imbalanced pattern of labor relations between employees and employers. Ultimately, employees should better understand collective labor contracts and labor unions so that they can effectively participate in the process of safeguarding their own rights and interests.


Cooperative operation
The Third Plenary Session of the 18th CPC Central Committee approved of employees holding shares in enterprises with a mixed form of ownership, so capital owners and employees have common interests. Employee stock ownership is a long-term incentive scheme that allows employees to hold shares or options of companies, which encourages them to stay for a long time. In this way, the role of labor shifts from employees to partners.

The traditional employer-employee relationship has entered a new stage due to the arrival of economic new normal. Promotion of employee stock ownership and implementation of long-term employment will become the new labor normal under current conditions.

First of all, implementation of an employee stock ownership system is in an urgent need for legislative research to perfect related unified laws and regulations in China. Secondly, scientific and efficient allocation of share proportion determines the effectiveness of the incentive mechanism. The allocation should offer employees a wider range while ensuring efficiency. Also, loss of State-owned assets needs to be prevented during the process of reform.


Long-term employment
Whether a firm chooses short-term or long-term employment directly relates to sectors and companies' capital, labor intensity and technology as well as other aspects.

Short-term employment is prevalent in Chinese companies. Workers aged 25 and older in the service sector and those aged 35 and older in manufacturing may suffer discrimination. In most cases, companies fail to recognize the impact of short-term employment on labor psychology. In fact, skilled laborers tend not to stay in these types of companies, damaging enterprise performance in the long term.

In the new pattern of economic development, the emphasis should be on integrating soft technology and the long-term competition system to foster sustainable competitiveness. Tenure employment may not fit the current circumstances, but extending employment period and enhancing employee confidence is necessary to improve the competitiveness of enterprises.


Yang Yiyong and Zhang Qiang are respectively from the Institute of Social Development at the Academy of Macroeconomic Research and School of Public Management at Renmin University of China.