How intangible music inheritance unfolds in digital era
QI YUE and ZHANG YIFAN
|
2023-01-12
|
Hits:
Chinese Social Sciences Today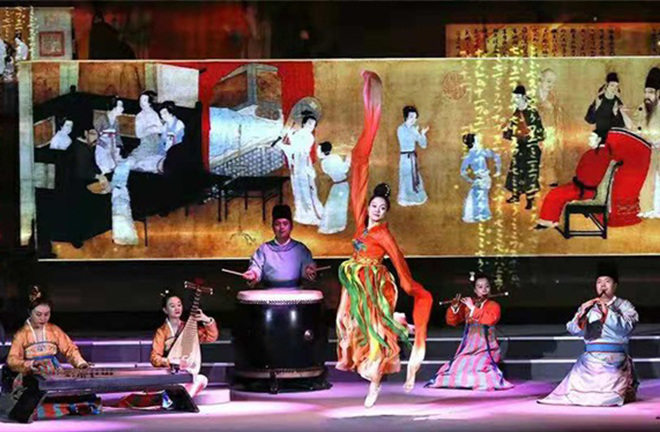 Members of Huaxia Ancient Music Orchestra of Henan Museum, an orchestra that performs ancient Chinese music, play traditional Chinese instruments and dance to classical Chinese arrangements. Photo: HENAN MUSEUM
---
By 2022, there were 3,610 sub-items on the national intangible cultural heritage list, among which 1,117 were music related, including traditional music, drama, and folk art, accounting for 30.9% of the total. As an important part of Intangible Cultural Heritage (ICH), music inheritance has unique rules and cultural characteristics. It relies heavily on live performance, vocal music or singing, and transmits knowledge, value, and emotion through the intellectual and cultural atmosphere formed by performers, local customs, and etiquette. 
As the social environment evolves, many musical forms of intangible cultural heritage are facing challenges such as reduced room for survival, limited dissemination range, and loss of traditional skills. As an emerging form of technology, digital technology can provide a variety of technical support for the protection, dissemination, and inheritance of ICH music. 
In a way, the application of new scientific and technological tools promotes the inheritance and development of ICH music in the contemporary era, which endows it with new functions and values outside the original setting. This represents the new path for ICH music's protection in the digital era.
Collection and management 
Digital collection and archival management of ICH musical resources are the first step in digitization, and also the first step in effective protection of musical inheritance in the information age. Best practices in selecting targeted technologies and applying them, based on the characteristics of music's cultural resources, are the central concern as ICH archives are constructed for music.
Aspects such as data acquisition, musical scores, field notes, and other materials can be stored with the help of high-definition digital photography and laser scanning technology to realize the digital conversion of paper materials. For musical instruments used in performance, acoustic measurement and spectrum analysis techniques can be used to collect key, pitch, decibels, amplification, and other data in a comprehensive way. For the whole performance process, in addition to video recording, motion capture technology can be deployed to track the performer's movement trajectory in three-dimensional space, and algorithmically render perfect reproductions of playing techniques, postures, and body movements.  
Moreover, as artificial intelligence advances from simple repetition to self-learning and optimization, and matures to data mining, intelligent algorithm development, and other technologies, new technologies are now fully capable of collecting and analyzing ICH musical resources in a holistic manner. This holistic process aggregates information, constructs a relevant semantic database, and displays related resources, thus improving the protection and effective use of ICH music.
In terms of data management, it is necessary to establish a set of metadata programs and description standards that not only conform to research objects' characteristics but also follow professional norms, so that ICH musical materials can be converted into electronic resources that meet international standards and are convenient for wider network communication. 
In the semantic description of ICH music network resources, China's current practice is to use DC metadata, which is a metadata standard that contains 15 core elements and is suitable for describing dynamic network resources. However, libraries all over the country are more familiar with MARC metadata, which is a metadata format designed for bibliographic information with complex and strict standards. Due to differences between the two data standards, there are challenges effectively integrating ICH musical resources and library resources. Therefore, many scholars propose that libraries should also use DC metadata to catalog ICH music network resources, to organize and save as much ICH music as possible and encourage information sharing. 
Compared to traditional written records, digital archives can capture greater detail, which is conducive to improving future generations' interpretation of ICH music. At a minimum, the agglomeration of multi-media and multi-dimensional information materials will facilitate the comprehensive interpretation of complex cultural phenomena and promote the integration of sci-tech and culture.
Multi-scene integration
After ICH music is digitally recorded and collated, information technology adds the secondary development of digital resources, which helps expand the influence and coverage of music's inheritance in society. Immersive and interactive platforms can be built through virtual reality, augmented reality, and other technologies to achieve the complete restoration and representation of ICH music. In addition, the core elements of music inheritance can be extracted and made into audio libraries using sound driven technology, which then can be combined with film art and digital games to realize diversified dissemination of its "derivative forms."
In this regard, Chongqing University set an example with the digital communication of "Jinqiao Chuida." Jinqiao Chuida is a folk musical performance involving beating drums and blowing trumpets, which originates from Jinqiao Town, Wansheng District, Chongqing. It emerged in the late Song and early Yuan dynasties, with a history of more than 700 years. In 2006, Jinqiao Chuida was included in the first batch of China's National Intangible Cultural Heritage List. Chongqing University later developed a WeChat mini program to attract more attention to this type of traditional music, in which the "scene reconstruction" function uses augmented reality technology that allows users to choose the real environment as a stage for display and visualize the performance in a three-dimensional setting by selecting different scenes, musical instruments, and musicians. As far as scene construction is concerned, it mainly creates a sense of "presence" for users through visual design and interaction, so that users have a comprehensive and profound perception of the content and cultural connotation of ICH music.
In the digital age, the rise of new media provides opportunities for the transformation of ICH musical communication. Qinqiang Opera is a thousand-year-old operatic genre. It was developed in the Qin Dynasty (221-207 BCE), the craft was greatly refined during the Han Dynasty (206 BCE-220 CE), it flourished in the Tang Dynasty (618-907), and was formally integrated as an opera form in the Yuan Dynasty (1271-1368), reaching maturation in the Ming Dynasty (1368-1644) and becoming widespread in the Qing Dynasty (1644-1911). As the earliest Chinese opera, it had a significant impact on the origin and development of great operas such as the Peking Opera. It exhibits bold, rough, and unconstrained artistic characteristics, rooted in the combination of local folk songs and dance forms from the Yellow River Valley of Shaanxi and Gansu provinces. 
However, under the constraints of modern culture, Qinqiang Opera's further development is slowed by single communication forms, limited dissemination channels, and a narrow viewership range. In recent years, a number of films and TV dramas have made attempts to integrate Qinqiang music into their narratives. Simultaneously, integration of ICH musical elements into digital games is breaking barriers between traditional art and real life, and greatly improves the digital communication of ICH music. For example, in the online action game "King of Glory," elements from the Kunqu opera, Peking Opera, and other operas are used in costume design and background music in the presentation of select characters. Wei Chunrong, a Kunqu opera artist, has been invited to dub the characters in "King of Glory." This cross-sector integration has enriched the public's understanding of traditional opera, which not only gives the game itself a unique national identity, but also helps traditional cultural symbols achieve effective communication among the younger generation.
Cultural inheritance
Without doubt, education is an important way to carry out ICH inheritance. In June 2022, an online forum themed "Intangible Cultural Heritage in Intangible Cultural Heritage Museums—Intangible Cultural Heritage Protection and Education under the Background of Cultural Digitization" was hosted by China Arts and Crafts Museum and China Intangible Cultural Heritage Museum, pointing out new directions and possibilities for the digital inheritance of ICH.
In education, the combination of ICH music and school digital teaching programs are conducive to ICH's sustainable development and ensures that cultural treasures are passed along from generation to generation. The government actively develops "internet+education," striving for digital transformation and intelligent upgrades in education. In this context, it is necessary to explore the methods for incorporating ICH music into online learning. For example, by integrating academic teaching resources related to ICH in fields such as art, library sciences, and cultural heritage, we can create an intelligent, systematic, and full-chain online teaching program. Meanwhile, inheritors can dynamically display their skills with the help of modern technology, to better demonstrate specific artistic image, language expression, and implication of ICH music. 
Online education can also integrate relevant academic theoretical research while teaching practical ICH musical skills in the cloud. Thanks to its diversity, limited temporal-spatial barriers, and low marginal cost, online learning could supplement offline teaching activities to establish organic connections between different levels and types of education, and support and meet the needs of learners at different learning stages.
Museums, cultural centers, and other cultural institutions are also forerunners in sharing ICH music in digital forms. Henan Museum, for example, has carried out various practical explorations on the inheritance and promotion of the ancient musical culture of the Central Plains, and established a professional institution—Huaxia Ancient Music Orchestra—which integrates exhibition, performance, research, and teaching. In terms of performance methods, Huaxia Ancient Music Orchestra pursues diversity and innovation, adding "dynamic" elements in interactive spaces such as digital pavilions. For example, through scene restoration, VR or AR presentation, the cultural relic prototype can be changed into the musicians of Huaxia Ancient Music Orchestra, providing immersive audience experiences by overlapping real and virtual media, and deepening audience understanding of the exhibition's cultural connotation. In the 22 years since its inception in 2000, Huaxia Ancient Music Orchestra has continuously and steadily provided popularization and inheritance activities for China's traditional music culture with an annual average of 600 daily performances, about 20 lectures, and 5 on-campus performances, revitalizing many ICH musical forms on the verge of disappearing and expanding inheritance groups and channels in the subtle cultural edification.
The development and application of digital technology not only creates opportunities for the protection of ICH music, but also provides more pathways for innovation of ICH music's artistic forms. Going forward, we need to effectively integrate the time-honored excellent traditional Chinese culture by using evolving digital technological means to pursue development, endow new connotation and contemporary expression to ICH music, and adapt the Chinese national cultural gene to the contemporary cultural atmosphere and social progress. In exchange and mutual learning with world civilizations, musical inheritance will certainly be a splendid chapter of Chinese musical art.
Qi Yue (associate professor) and Zhang Yifan (lecturer) are from the School of Art at Renmin University of China.
Edited by YANG XUE