New National Security Law maps out national security outlook
By Cui Qingxin, Wang Sibei
|
2015-07-16
|
Hits:
(Xinhuanet)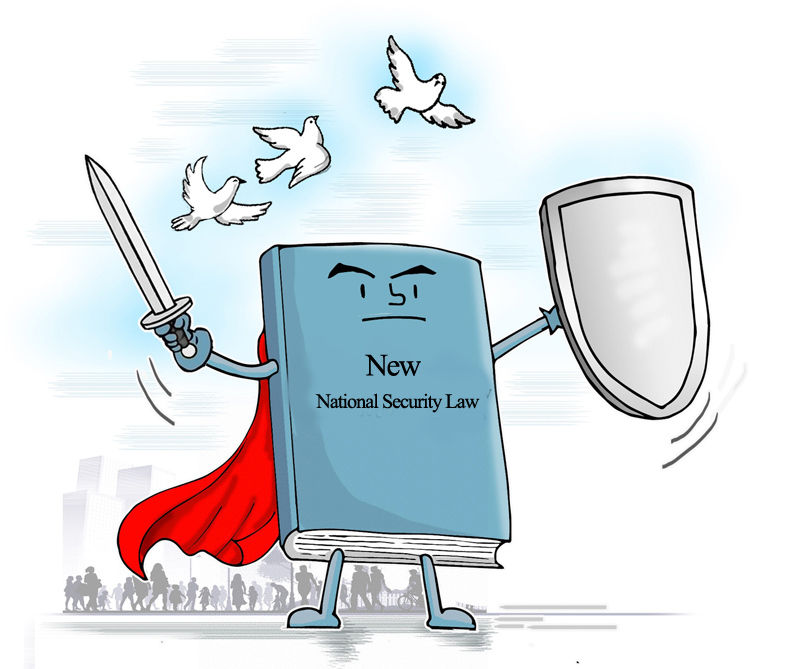 The enaction of the new national security law is a further step toward building up China's national security based on its situation while learning from the experience of some developed countries.
China's top legislature recently adopted a new national security law that highlights cyber security and demands the establishment of a coordinated and efficient approach to crisis management.

A total of 155 lawmakers at a bimonthly session of the National People's Congress Standing Committee voted on the legislation, with 154 in favor and one abstaining.

National security is defined in the new law as a "condition in which a country's government, sovereignty, unification, territorial integrity, the well-being of its people, the sustainable development of its economy and society, and other major interests are relatively safe and not subject to internal and external threats."

The general rules of the new law specify some key concepts, including national security, the overall national security outlook and the national security leadership system.

Chinese President Xi Jinping stressed the need for an overall national security outlook in April 2014, when he introduced the expanded scope of national security and noted its interaction among different aspects.

"Compared to the traditional outlook, the new one aims to construct a national security system involving political, homeland, military, economic, cultural, social, technical, informational, ecological, resource and nuclear security," said Wang Zhenmin, dean of the School of Law at Tsinghua University.

China's first security law took effect in 1993. It primarily regulated the work of national security agencies, whose major duty is counterespionage. As social situations changed, it could no longer meet the requirements of comprehensively safeguarding national security in various fields. In November 2014, the law was transformed into the Counterespionage Law and was adopted by the top legislature, abolishing the National Security Law.

Maintaining national security through legislation is a prevailing practice worldwide. Since the 18th National Congress of the Communist Party of China, the government has put forward its overall national security outlook, established the National Security Commission and formed a national security leadership system with high efficiency and authority.

"The establishment of the new law aims to legalize and systematize the overall national security outlook and construct the legal and institutional system of national security," Wang said.

Wu Hao, director of the Department of Politics, Law and National Defense at the Legislative Affairs Office of the State Council, said that China needs a comprehensive and fundamental law to cope with changing national security situations. It should cover all aspects and emphasize universal problems, leaving space for the formulation of related laws and regulations in the future, Wu said.

Economic security
The new law emphasizes the necessity of maintaining the basic economic system and the order of the socialist market economy, as well as protecting significant industries and infrastructure that are vital to the national economy.

It also says that the nation should establish a system and mechanism of reviewing and supervising national security, especially focusing on foreign investment, specific items and key techniques.

Ma Huaide, vice-president of China University of Political Science and Law, said that China has already implemented a system of supervising economic security, including import and export trade. "Taking Regulations on Nuclear Export Control as an example, it makes clear the necessity of enhancing nuclear export control, with the purpose of fulfilling international obligations and maintaining world peace. The new law reemphasizes the system and provides the legal foundation for amending and improving related supervision measures," Ma said.

The nation previously reviewed economic security through administrative actions rather than legal measures, said Wang, adding that it is necessary to build such a system. "Implementing the system does not mean that China is restricting foreign investments and slowing down the pace of opening to the outside. Conversely, it will provide a more healthy and orderly environment for foreign investment and Sino-foreign trade," Wang said.

Cultural security
Cultural security is also one of the significant components of the new law. According to the new law, the nation should stick to the advanced socialist cultural orientation, inherit and promote excellent traditional culture, cultivate and implement core socialist values, prevent and resist unhealthy culture, grasp the leading role in the ideological field, and strengthen overall cultural capability and competitiveness.

Cultural security belongs to non-traditional fields. Li Zhong, director of the Department of Research on the Strategy of the Rule of Law at the Chinese Academy of Social Sciences, said that cultural security embraces two aspects: cultivating and practicing core socialist values; and preventing the Westernization of traditional Chinese culture.

Some people also expressed their worries that it may restrict freedom of speech. Li said that unhealthy culture refers to the transmission of information related to violence, hatred, pornography and terrorism, which can trigger social instability. "Taking the behaviors of publicizing ethnic violence as an example, many countries regard it as a crime," Li said.

Li also said that in order to truly guarantee cultural security, China should continuously conduct fair dialogues and make contributions for all mankind, rather than limiting the freedom of expression and cultural communication among different nations.

Cyberspace sovereignty
One key element of the new law is a clause on cyberspace sovereignty. It stipulates that the nation needs to strengthen its management of the Internet, prevent and punish illegal and criminal acts, such as network attacks, cyber espionage and the spreading of illegal or harmful content, and safeguard its national cyber sovereignty and security.

"It is the first time for China to make clear the concept of cyberspace sovereignty, which is the embodiment and extension of national security," said Wang, adding that it is conducive to maintaining national security and interests as well as engaging in international cooperation on cyberspace governance.

With the rapid development of new network techniques, they have been widely applied into political, economic, social and military fields. Major developed countries have already adopted related laws and regulations and incorporated cyber security into their national security strategies.

"With regard to the network within the Chinese territory, China has the right to manage it through legislation and judicial measures, and other countries should respect China's cyberspace sovereignty," Wang said.

"There maybe some areas of overlap between cyber and real spaces, including network transaction, and it requires the construction of a legal framework in adjunction with international network governance and cooperation," said Wang, adding that an international common rule has still yet to be formulated in the field.

More new frontiers
Outer space activities and assets, as well as those at ocean depths and in polar regions, are also brought under the national security umbrella. Many people claimed that these new strategic territories have real and potential implications for national interests that face threats and challenges.

The new law says that the nation sticks to peacefully exploring and utilizing outer space, the international sea bed and polar regions to better develop resources, and also to strengthen international cooperation to preserve national security and interests.

Ma said that China's exploration and development of these resources are conducive to the common interests of mankind. "In fact, the development of these fields needs the joint effort of all countries rather than only depending on a single one," Ma added.

As a major developing country with one-fifth of the world's population, China has the right and obligation to explore and utilize these resources after joining some related international conventions. It also has the right to safeguard the security of its assets and personnel through laws, Ma said.