Unified pension system to improve equality
By Wang Guanglu, Deng Zhimei
|
2015-01-22
|
Hits:
(Chinese Social Sciences Today)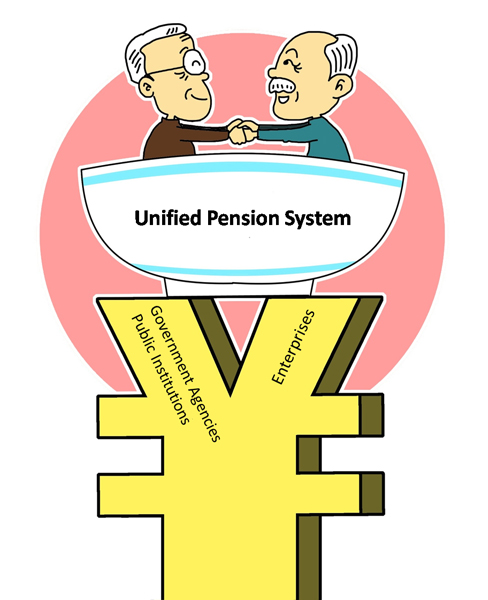 As home to the world's largest aged population, China is striving to unify its pension system to meet public demands for social fairness. (source: CFP)
China's pension scheme has ushered in a new era following the introduction of an insurance scheme covering workers in government agencies and public institutions on Jan. 14, 2015.

Insurance will now be paid by both employees and their employers, instead of through central financing. Employees will pay 8 percent of their monthly salary into the scheme, while employers will contribute 20 percent of each employee's salary, according to the Ministry of Human Resources and Social Security.

China has nearly 40 million people working in government agencies and public institutions.

China previously used the dual pension system in which pensions for those working for government agencies and public institutions were vastly different from other workers.

In the 1990s, reform of the pension scheme was initially adopted by enterprises, requiring enterprises and individuals to pay their share of pension premiums. However, civil servants and employees at public institutions were excluded from the system and therefore did not need to contribute to their pensions. Instead, the government fully supported them.

The dual pension system was formed to promote economic development and social stability under its historical context. But its negative effects, especially unequal distribution, have increasingly emerged amid society's development. In recent years, calls to reform the system have grown.
However, progress has been slow due to different factors. Substantial progress has now been made to overhaul the system.

Unfairness in dual system
Under the dual system, employees in the private sector usually received a pension equal to about half of their final salary after retirement, while employees in the public sector received much more without making any financial contribution. For obvious reasons, this created a strong public perception of unfairness.

China's pension system was originally designed to benefit employees of state-owned enterprises. Later, collectively-owned enterprises and foreign-funded enterprises were also included in the system. It once played a significant role in guaranteeing social stability and economic development.

However, employees of government agencies and public institutions were still excluded from the system. Zheng Wei, chair of the Department of Risk Management and Insurance under the School of Economics at Peking University, said that with the different adjustment of pensions for private and public sector employees, the income gap between the two groups has soared.

"In the 1990s, if one person was hired by an enterprise and another by a government agency for both the same salary, they would get very different pensions after retirement because of the dual system. In this sense, setting a dual system is an unfair action," said Zheng.

Creating fairness and sustainability
"Merging social insurance schemes reflects the public's strong demand for social fairness," said Zheng, adding that the Decision on Major Issues Concerning Comprehensively Deepening Reform adopted at the Third Plenary Session of the 18th Communist Party of China Central Committee paved the way for a fairer, more sustainable social welfare system. It directly highlights the dual system's unfairness and unsustainablity, claimed Zheng.

China Pension Report 2014, compiled by the World Social Security Research Center at the Chinese Academy of Social Sciences, found that China's pension system has two major problems: the lack of an automatic adjustment mechanism connecting three main indexes of premium rate, substitution rate, retirement age and change of the supporting rate; and the lack of an reporting system, resulting in poor predictions for expenditure surpassing pension income and funds being exhausted.

"We need to reform at least three areas to improve fairness," said Zheng, explaining that the first involves integrating the New Pension System for Rural Residents with the Old-Age Insurance for Urban Residents to establish a unified basic pension system for urban and rural residents; the second involves formulating the policy of connecting the two systems; and the third involves making achievements in the reform of pension programs for public sector employees. "The last reform, which involves transferring the dual pension system to a uniform one, is the most difficult task for the country," said Zheng.

Enhancing policy feasibility
In order to give full play to the system, theoretical and practical issues need to be perfected. Converting the dual pension system into a uniform one requires adequately considering the feasibility of policies, meeting the economic and social demands, and following the rules of development. Otherwise, reform policies are hard to sustain.

Since 2001, China has gradually funded individual pensions in some provinces and regions. However, a rapidly aging society and shortage of pension income means the golden period for funding individual accounts has ended.

Some Chinese scholars have shifted their attention to the notional account system and compared China's pension scheme to other countries' systems.

Notional accounts are designed to mimic a defined contribution plan, where the pension depends on contributions and investment returns. Pension accounts under such a system are called "notional" because there is no pot of pension fund money, just a series of individual claims on the future public budget.

Zou Nongjian, dean of the School of Social Development at Nanjing Normal University in Jiangsu Province, claimed that merging social insurances depends on the unification of system design, rather than totally leveling all pensions.

Zou said that the new system aims to gradually include all employees, and set differential grades related to different groups of people who have different salaries and career lengths. "The basic pension is the same for everyone, but the complementary pension is different to achieve fairness and equal distribution," added Zou.