Chinese modernization: A new form of modern civilization
HUANG QUNHUI
|
2022-10-27
|
Hits:
Chinese Social Sciences Today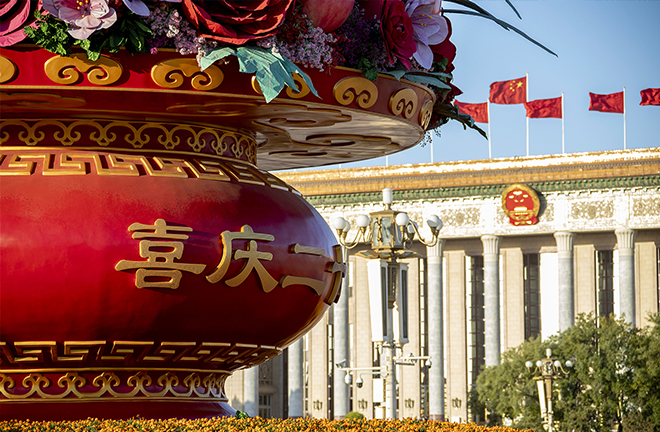 The 20th CPC National Congress is a congress of great significance convened at the Great Hall of the People at a crucial moment, Beijing, Oct.22 Photo: CFP
---
Chinese modernization is a form of socialist modernization pursued under the leadership of the Communist Party of China (CPC). Chinese modernization contains elements that are common to the modernization processes of all countries, but it is characterized by features that are unique to the Chinese context.
Putting people first
Chinese modernization observes common modernization theories and laws on employing industrialization, marketization, and economic globalization to develop productivity. However, Chinese modernization is fundamentally different from Western modernization. Chinese modernization forsakes the logic—observed by Western modernization—that productivity development purely conforms to capital. Chinese modernization is not centered on capital; rather it adheres to a people-centered development philosophy. Chinese modernization takes enhancing people's wellbeing, promoting people's well-rounded development, and steadily marching towards common prosperity as starting points, to solidly promote common prosperity, as well as constantly enhance people's sense of fulfillment, happiness, and security.
Chinese modernization coordinates economic, political, cultural, social, and ecological construction, facilitating the simultaneous development of new industrialization, informatization, urbanization, and agricultural modernization, promoting the coordinated development of material, political, cultural-ethical, social, and ecological civilizations, and forming a systemic and coordinated new modern civilization. Centered on satisfying people's need for a better life, targeting issues of imbalanced, uncoordinated, and unsustainable development, Chinese modernization supports revolutions in economic development's quality, efficiency, and driving forces. This is a modernization that strives to achieve high-quality development with innovation as the first driving force, coordination as an endogenous characteristic, green development as a common form, opening up as the path we must take, and shared development as the fundamental aim.
Successful practices in Chinese modernization have demonstrated to the world that even though a latecomer doesn't have the development conditions of a first-mover, as long as it is fixed on its modernization goal, based on its unique national condition, independently and autonomously exploring the modernization path that suits each nation, it can achieve leapfrog development peacefully and with stability.
Emphasizing innovation
A key difference between the modern industrial system and the traditional industrial system is whether it is driven by modern innovation. China has joined the ranks of the most innovative countries. Innovation will remain at the heart of China's modernization drive.
Effective industrial coordination is another key characteristic of the modern industrial system. An industrial system development paradigm with the effective coordination of the real economy, sci-tech innovation, modern finance, and human resources should be fostered. Currently, the discrepancy between sci-tech and industry has not been effectively resolved yet, and this is coupled with imbalanced development of the real economic industry and the virtual economic industry. These have been two prominent issues that restrict industrial system coordination.
Going forward 
Firstly, we should deepen sci-tech and industrial innovation system reform, forming a complete innovation system ranging from basic research to applied research and enhancing the rate of technology transfer. Secondly, we should deepen educational system reform, and cultivate talent in science, technology, engineering, and math, forming a mechanism where the real economy attracts high-quality talent. Finally, we should deepen financial supply-side structural reform, increasing the economic capabilities of financial service entities.
Huang Qunhui is director of the Institute of Economics at Chinese Academy of Social Sciences.
Edited by ZHAO YUAN