Biography profiles Daughter of Dunhuang
ZHANG XIAOLU and WU HE
|
2020-11-18
|
Hits:
(Chinese Social Sciences Today)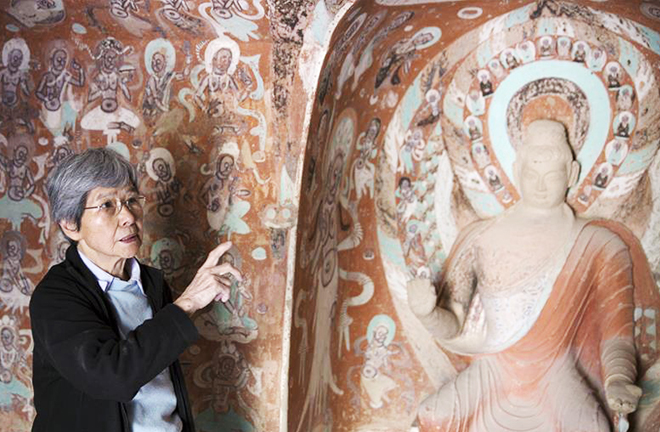 Fan Jinshi is an archaeologist and honorary president of Dunhuang Academy China. A graduate of Peking University, she devoted most of her life to the 735 grottoes of Dunhuang in the wild desert of northwest China's Gansu Province. People affectionately call her the "Daughter of Dunhuang." She explores and exercises approaches to cultural relic preservation in Dunhuang. Through persistent cave archaeology, Fan categorized the Dunhuang Grottoes into such periods as the Northern Dynasties (386–581), Sui Dynasty (581–618), early and middle Tang Dynasty (618–907). She took the lead to form regulations on cultural relic protection and theories and methods of cave preservation, contributing to the permanent conservation and sustainable utilization of Mogao Grottoes in Dunhuang. Photo: XINHUA
---
In 2019, Dunhuang Is Where My Heart Belongs: Biography of Fan Jinshi was well-received by readers. As of Sep. 2020, the book was reprinted 13 times, and the circulation exceeded 250,000 copies. Recently, Fan Jinshi attended a book meetup in Nanjing, Jiangsu Province. Gu Chunfang, the biography's author, and Zhou Xian, a literature professor at Nanjing University were also on site.
Fan Jinshi: I didn't intend to have this book written. In early 1984, many reporters came to interview me after Guangming Daily published the article "Daughter of Dunhuang." Everyone knows my story. I thought this was all I had to contribute, what else should be written about? Many people persuaded me "you need to have a biography written" or "it is advisable to put this on agenda." I saw that people wanted to know more, and I felt tasked to do so.
The Dunhuang Mogao Grottoes is a unique cultural heritage site. I don't think there is anything like it in the world. The construction of the site lasted for 1,000 years, but it did not have protection for about 500 years after completion, so it fell into disrepair. In the middle of the 20th century, a handful of famous artists like Chang Shuhong (1904–1994) and Duan Wenjie (1917–2011) arrived at these splendid but beaten grottoes. Based on their efforts, generations of scholars continued to preserve, study, and promote its heritage. Especially after the reform and opening up, the Mogao Grottoes have undergone tremendous changes, and so has the work of Dunhuang Academy China. I set foot on Dunhuang as early as 1963. I have both witnessed and exercised its changes, therefore, I'm obligated to extend and record the history of Dunhuang.
In 2014, several professors from Peking University conducted research in Dunhuang, and Professor Gu Chunfang was among them. Afterwards, she shared her publications with me, including monographs and poem collections. Her research focus was art and aesthetics, and she is proficient in drama analysis and poetry writing. After two years of contact, I found her to be a trustworthy scholar. Therefore, when she expressed the desire to interview me, I readily accepted.
Individuals in the context of history
Gu Chunfang: Fan and I exchanged ideas about the biography's framework. She had only two requirements. "I, Fan Jinshi, can never be isolated from history. If you write about me, you must keep an eye on history and the times that surround me. I'm an individual placed within a specific history." Also, "Don't compare me with a King Kong warrior. I don't have extraordinary abilities." This is why I connected Fan's life with her historical context, and the history of the Dunhuang Academy China where she works. I can't depict the true Fan Jinshi without mentioning her institute's history, her archaeological study, and cultural relic protection.
Over the course of four years, to me, Dunhuang has become a mirror, through which it has revealed the most beautiful and repulsive sides of our time. Generations of people, especially scholars like Chang Shuhong, Duan Wenjie, and Li Yunhe have devoted their lives to protecting the murals. Their repair work proceeded centimeter by centimeter. In many cases, it took them three to four years to repair a grotto. In their hearts, the murals are as lofty as faith. This book aims to make more people understand the significance of cultural relic protection because the Dunhuang Mogao Grottoes are a noble spiritual vessel of Chinese culture and civilization. Everyone has a responsibility to protect it.
Zhou Xian: This book is thick with meaning and history. It observes a rich sweep of time and Fan's personal experiences and perspectives. Several parts of the book deeply touched my heart.
The book deals with a very important truth, that is, the spirit of life. Fan is a student of archaeology. She was born in Beijing and grew up in Shanghai. She could have stayed in Beijing, or returned to Shanghai, or gone to other places, but she set out for Dunhuang, a deserted area. She couldn't have made it without spiritual support. Of course, her work was fulfilling, but what inspired her was the search for meaning. She spent her life explaining to us what "value rationality" is. We now live in a highly instrumental society. What do I mean? Let me illustrate it in scholarly terms.
At the outset of the 20th century, German sociologist Max Weber (1864–1920) raised a very significant question. He said that society at that time was an "iron cage," in which everyone behaved based on four types of rationality, but two are relevant in our discussion. One is purposive rationality, meaning that people seek to obtain the maximum outcome at the least cost. Nowadays, some people call this "instrumental rationality." The other one is described as "value rationality," meaning people pursue a goal out of belief, aesthetic, and interest, regardless of reward. This form of rationality, however, has begun to dwindle.
Fan left the metropolitan comfort of cities like Beijing and Shanghai and lived separately from her husband for 19 years. This must have been incredibly difficult. She has no hesitation as she pursued an intellectual goal with great spiritual value. This attitude touched me.
Also, Fan's life and personal philosophies have remarkably impressed me. Through a lifetime spent in very difficult environments, her mentality was to "be calm and determined" without this mindset she couldn't stay in Dunhuang. One section of the biography stays in my mind: She shared that several times she wanted to leave. We are not gods, nor saints, we are human, and we will come across all kinds of difficulties in life. Fan said that on the first day of a lonely Chinese lunar new year, she took a small campstool and entered a cave, seeking a moment of peace. She felt an immediate relief at the first glimpse of sunlight creeping into the cave. All worries faded away. This mentality matters a lot. In this age, we crave quick success and wealth. No one has the patience to take ten years to sharpen a sword.
In spite of her ascetic choices, Fan's life is abundant. I was surprised by Fan's extraordinary and intimate understanding of art. Her descriptions and visceral experience of Dunhuang art are unique. She plays so many roles. She is an archaeologist, which is her profession. She became the president of the Dunhuang Academy, managing more than 1,000 people. She also manages civil construction, the advancement of the Digital Dunhuang project, and all aspects of these projects. It's not easy to be a leader, I have been there myself. Fan taught us how to tackle the range of circumstances life throws at you, and to serve these roles.
Fan Jinshi: This is a long story. Dunhuang is a unique world-class heritage site and a rare national treasure in China. However, it was unprotected for 500 years and irreparably damaged. It is comprised of murals, painted sculptures, and caves made of soil, mud, wood, grass, and paint. These caves are of great value, but their materials are fragile, so the protection of cultural relics is truly of significance. In 1978, I started to build archives. Digitization wouldn't have come to mind if I wasn't already engaged in archival work. Looking through old photos, I began to see problems. It shocked me that the photos taken in 1978 and 1908—of the same caves—were tremendously different. At that time, I had just become the deputy dean in charge of protection. Technology and preservation were all new to me, but I thought it was necessary to spare no effort in protecting these caves. If they continued to degrade at the current rate, the murals would disappear.
Our protection work is very complicated. The first task was to protect physical materials, but we had neither funding nor staff. We first tried to enroll professionals from multiple disciplines, build a primary laboratory, and purchase equipment. A series of measures has elevated our work from rescue protection to scientific protection. Scientific protection refers to a deeper analysis of all of the cultural relic's materials. Why is it "sick"? What is the chemical composition and what outside influences are interacting with it? What caused the degradation? Based on this, we prescribe specific materials to protect it.
At the same time, we cannot provide treatment only when "diseases" show up, treating only the symptoms. We should focus on prevention, which requires monitoring equipment. We also need to take the natural environment into account. What if there is a flood? Are there cracks in the cliff? Will the cracked cliff collapse? Our instruments monitor and prevent potential problems. This is preventive protection.
However, both preventive protection or scientific protection can only slow the decline of cultural relics, extending its lifespan. They can't overcome the site's eventual fate. These caves stand in a harsh natural environment in northwest China, they simply won't last forever. Why do we stay in the Gobi Desert? I would argue that we stay because the cultural relics are too important and valuable. Our staff has shared joys and sorrows with these caves. We are unwilling to see them gone.
I learned about digitization by accident. I suggested adopting a digital approach in a report to the government, and the government funded my experiment. We collaborated with international experts for this digital trial. I put forward only one request: the permanent preservation and sustainable use of the site. The caves will physically collapse someday, but my goal is to preserve information about the caves forever. This would allow for continual study. It took us a total of 20 years to formulate standards and procedures for immovable cultural relics so that we could make qualified high-definition digital files that will never deform or discolor.
Digitization aids protection work. For example, as long as we provide mural data, the computer will copy it immediately, saving us half of the work. Digitization also extends the site's reach, we uploaded our data to the internet so that viewers across the world can appreciate the Mogao Grottoes online. After China's reform and opening up, Dunhuang's fame increased, and so did the number of tourists. The caves couldn't bear the damage brought by too many visitors.
With the Digital Dunhuang project, Mogao Grottoes altered its visitation model. Previously, visitors entered the caves with flashlights, but the air that each person exhaled caused damage to the murals, even though the damage was invisible to the naked eye. We spent ten years investigating each cave to study the maximum tourist carrying capacity within a day. The research has fixed the problem troubling my sleep and diet. Our approach balances cultural relic protection and tourist demands, creating a win-win situation.