Gathering
|
2019-10-24
|
Hits:
(Chinese Social Sciences Today)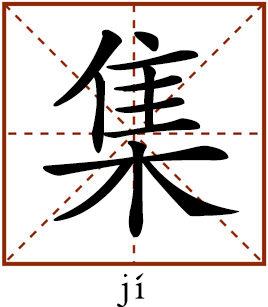 When used as a noun, this character usually refers to a gathering or a collection. When used as a verb, this character means "assemble, accumulate."
---
Lan ting refers to the Orchid Pavilion located on Mount Kuaiji in present-day Zhejiang Province. Ji is a collection and xu refers to a preface. This is the "Preface to the Poems Composed at the Orchid Pavilion" by the great calligrapher Wang Xizhi.
In 353, Wang Xizhi and other 41 literati gathered at the Orchid Pavilion to celebrate the Spring Purification Festival on the third day of the third lunar month. The literati had engaged in a drinking contest and composed 37 poems. Wang wrote the preface of the collection of the poems.
Wang portrayed how he enjoyed the scenic beauty of the gathering place—"Truly enjoyable it is to watch the immense universe above and the myriad things below, travelling over the entire landscape with our eyes and allowing our sentiments to roam about at will, thus exhausting the pleasures of the eye and the ear" (trans. Lin Yutang). Wang also recorded his observation of the other participants—"Some sit and talk and unburden their thoughts in the intimacy of a room, and some, overcome by a sentiment, soar forth into a world beyond bodily realities." Those joyful moments, however, stimulated his sentiments about life. "We are all happy and contented, to the extent of forgetting that we are growing old...in the twinkling of an eye, the objects of our former pleasures have become things of the past." The sad awareness of mortality always makes the Chinese scholars' enjoyment of life all the more keen and intense.
In the end, Wang expressed his feeling about the evanescence of life. He said that he often studied the joys and regrets of the ancient people and saw that they were moved the same as him, which made him sad. "Well I know it is a lie to say that life and death is the same thing, and that longevity and early death make no difference! Alas! As we of the present look upon those of the past, so will posterity look upon our present selves. Therefore, have I put down a sketch of these contemporaries and their sayings at this feast, and although time and circumstances may change, the way they will evoke our moods of happiness and regret will remain the same."